Estimated reading time 4 minutes, 50 seconds.
For helicopter pilots, the depth of their decision-making abilities can mean the difference between a safe arrival and a fatal accident. As pilots accumulate different types of flight experiences, they can make better decisions before their flight occurs and while they are flying the aircraft.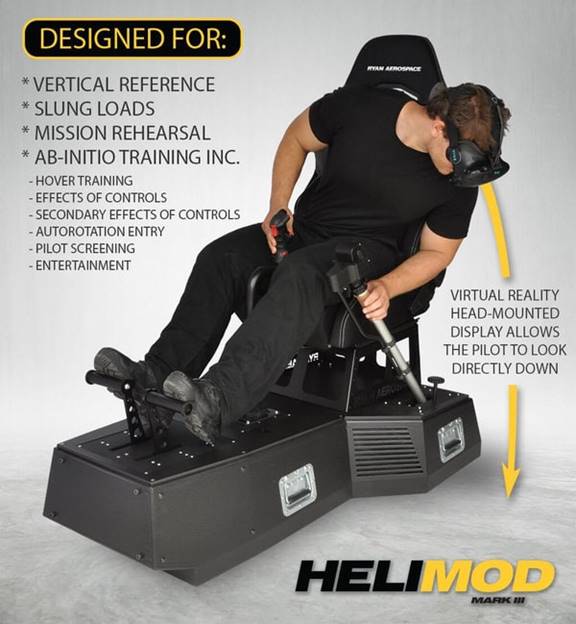 Scenario-Based Training
The U.S. Helicopter Safety Team (www.USHST.org) is supporting this concept as it teams up with Precision Flight Controls, Ryan Aerospace, Embry-Riddle Aeronautical University and Helicopter Institute. Precision Flight Controls and Ryan Aerospace have supplied the Embry-Riddle campus in Prescott, Arizona, and Helicopter Institute in Ft. Worth, Texas, with HELIMOD MARK III helicopter simulators that include virtual reality head-mounted displays.
The simulators will be using scenario-based training so that helicopter pilots can rehearse aeronautical decision making related to loss of control-inflight, unintended flight in instrument meteorological conditions and low altitude operations. Embry-Riddle and Helicopter Institute will develop the training scenarios for the virtual reality simulators. They are taken from detailed scenarios created by the U.S. Helicopter Safety Team in its Recommended Practice – Simulation Training for Aviation Decision Making. The training scenarios are scheduled to be running for pilots to use this summer.
UIMC and 56 Seconds to Live
A portion of the training deals with unexpected weather and visibility issues and throughout this year, the USHST is placing a strong emphasis on the fatal topic of Unintentional Instrument Meteorological Conditions involving helicopter operations.