Estimated reading time 6 minutes, 34 seconds.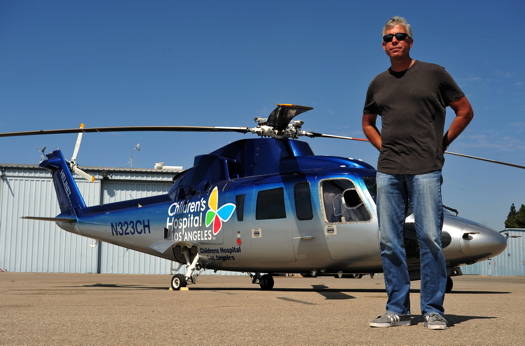 Through his business and charitable activities, Alan Purwin touched the lives of many, including countless patients of Children's Hospital Los Angeles. Skip Robinson Photo
Hundreds of people gathered in Van Nuys, Calif., on Sept. 19 to celebrate the life of legendary helicopter pilot Alan Purwin, the late chairman of Helinet Aviation.
Purwin, 54, was killed Sept. 11 in the crash of a Piper Aerostar that was en route from Santa Fe de Antioquia to Medellin, Colombia, after a day of filming for the Tom Cruise movie "Mena." Another pilot who was on board the aircraft was also killed, while a third pilot was critically injured. Purwin was reportedly riding as a passenger at the time of the accident.
While Purwin may be best known as a film pilot who worked on dozens of Hollywood blockbusters — including Pearl Harbor, the Transformers series, and The Italian Job — he was also a visionary entrepreneur and philanthropist who had a profound impact on the lives of many. Among other contributions, he funded a lifesaving air ambulance service for Children's Hospital Los Angeles, and captured historic footage of the aftermath of Hurricane Katrina that helped drive the response to the disaster.
As the son of a pilot, Purwin was born into a family love of aviation, he recalled in a 2012 interview with Vertical. He began flying airplanes at an early age and became a certificated fixed-wing pilot while still in high school. He then moved on to flying helicopters, cutting his teeth as a cropdusting pilot before landing a job flying the Bell 222 "Airwolf" for the television series of the same name.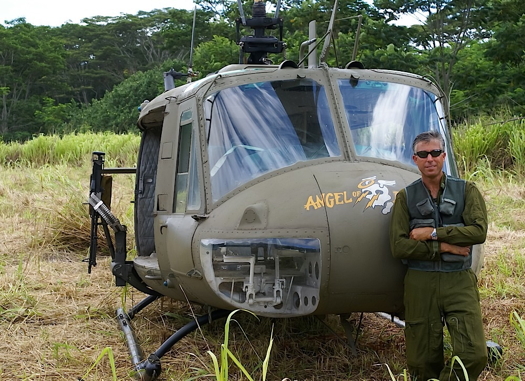 Both in front of and behind the camera, Purwin contributed to some of Hollywood's most memorable and popular films. Helinet Aviation Photo
His introduction to flying a camera ship came in 1984, when he was hired to fly for ABC Sports during the Summer Olympics in Los Angeles. He continued to build experience as a film and camera pilot, and in 1987 founded West Coast Helicopters with a Bell LongRanger. In 1991, West Coast Helicopters secured its first electronic newsgathering (ENG) contract with local TV station KTLA, launching an ENG empire that would grow to encompass nearly 30 contracts throughout the United States before most of that business was sold around 2007.
In 1998, Purwin acquired the Southern California helicopter operator Helinet Aviation, merged it with West Coast Helicopters, and began operating exclusively under the Helinet name. It was as Helinet that, in 2005, Purwin and camera operator J.T. Alpaugh took an HD-equipped helicopter and crew to the New Orleans area 24 hours in advance of Hurricane Katrina's landfall in Louisiana. Within two hours of the storm's passage, the helicopter was filming over New Orleans, capturing the first aerial images of the devastated city. Helinet distributed the footage to major news organizations at no charge.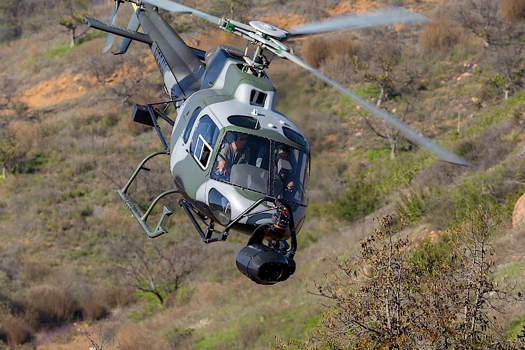 Purwin brought a methodical and safety-focused approach to his film projects, which took him around the world. Robert Gluckman Photo
"That was probably one of the most important things I've ever done in my life," Purwin said of his coverage of Katrina's aftermath. "We feel as though our images caused politicians to flood the region with resources." In the days that followed, Helinet also provided real-time video imagery to federal and local agencies to assist with their response to the disaster. Four years later, Helinet would build on that expertise with the creation of Helinet Technologies, which provides airborne law enforcement operators with comprehensive technical solutions for aerial surveillance and downlinking. Purwin was also a major player in aerial camera technology, growing Cineflex into a multi-million dollar business before selling it to Axsys Technologies, and more recently serving as the chairman of Shotover, a developer of high-performance aerial camera systems for the motion picture and broadcast industries.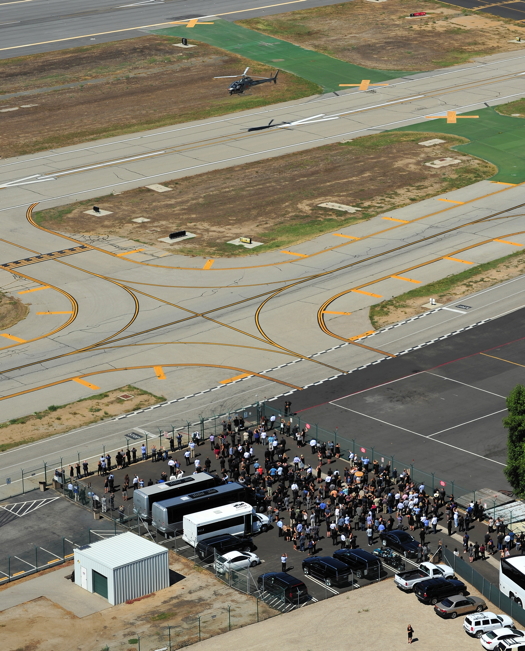 Purwin's memory was honored on Sept. 19 in Van Nuys with an 18 aircraft fly-by, representing multiple civilian operators and public agencies. Skip Robinson Photo
Purwin was a savvy businessman, but he cared about more than making a profit. In 1998, Helinet began an air ambulance program for Children's Hospital Los Angeles after the hospital's operations manager of emergency services described the need for the service to Purwin. In his 2012 interview with Vertical, he explained, "I really didn't know much about Children's Hospital. But, it was such a compelling situation that I basically said, on the spot, 'What do you need?'" Helinet initially provided the hospital with an Agusta A109, later upgrading to the Sikorsky S-76 series for an aircraft that was large enough to carry a parent along on transports.
In honor of Purwin, a donation page has been set up on the Children's Hospital Los Angeles website. To make a gift in Purwin's memory,
click here
. Purwin is survived by his wife, Kathryn; children Kyle and Michaela; mother Sheila; brother Steve; and sister Tina.