Estimated reading time 7 minutes, 16 seconds.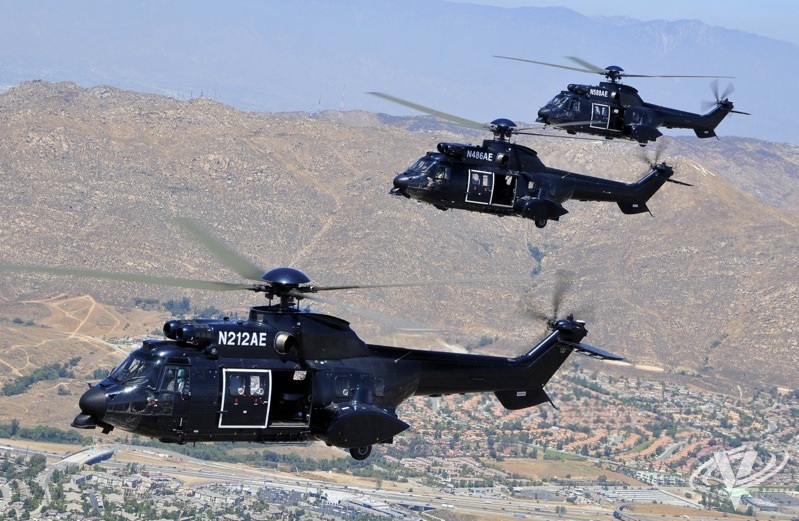 After a short process of inspection, purchase and delivery, the Los Angeles County Sheriffs Department (LASD) Aero Bureau is now in possession of three Eurocopter AS332 L1 Super Pumas. The three helicopters will replace modified Sikorsky SH-3H Sea Kings operated by the department since 2000.
Although still capable of doing their missions, the Sea Kings age, operating costs and power limitations " in addition to concerns about maintaining a reliable source of parts and support for them " guided the department into a replacement program. LASD Deputy Pat McKernan, Super Puma program manager, told Vertical: While the Sea King had performed admirably for us, our aircraft are approaching 50 years of age and our organization was becoming increasingly concerned that rising operational costs and deceasing aircraft availability rates were going to negatively impact future operations. The department looked at the Sikorsky S-92 and Eurocopter EC225 Super Pumas, but purchase costs were not within our organizations current budgetary limits. We also looked at the AgustaWestland AW139, and although a great package with plenty of power, its payload wasnt high enough for the equipment we carry. Frankly, we were in a dilemma until out of the blue we discovered three low-time and well-maintained AS332 L1 Super Pumas available for sale in the United States.
McKernan continued: We carefully evaluated the AS332 L1 aircraft and found them to be the right fit for the Air Rescue 5 program. We also knew they were highly desirable on the open market and immediately began the process of obtaining approval to purchase them. Being previously owned but in excellent condition, these 18,960-pound aircraft were bought for what it would typically cost to buy medium twins. Our projected yearly operating costs look like they will be substantially lower than we currently experience with our aging fleet of rescue aircraft.
Once purchased, the three Super Pumas were flown on a three-day cross-county flight from Florida to LASDs flight facility in Long Beach, Calif. They performed flawlessly.
All three aircraft were very reliable on the cross-country flight, said Deputy Mark Burnett, an Air Rescue 5 pilot for nine years, who took part in the delivery flight. It was the hottest they have seen in Louisiana, Texas and Arizona since the beginning of summer and although very hot, the helos had no problems and the engines were just loafing along, never getting near maximum power.
Regarding the departments future with the Super Pumas, he added: Its great having a modern aircraft with full parts and engineering support from the manufacturer. We are looking forward to operating the Super Pumas in our mission profile, including hot-and-high conditions. We start at 5,600 feet from our mountain base [at Barley Flats], so the strong engines are going to be a great asset to our operations. Additionally, the 130-knot anticipated cruise speed is considerably better than the Sea King, allowing us to get on scene and transport patients faster. With its power, speed and payload, I see many advantages that the Super Pumas will bring to our mission.
Unit supervisor Sgt. Morrie Zager then elaborated on that mission set. Air Rescue 5 flies many missions in a very diverse county, he said. Our Barley Flats base in the Angeles National forest is at 5,600 feet and we respond to incidents at over 10,000 feet. We might also perform a search and rescue in the hills above Malibu or fly offshore to a drowning or dive accident at Catalina Island. Air 5 also moves SWAT teams when needed and provides support in the L.A. Harbor [Port of Los Angeles] for our own boarding teams or U.S. Coast Guard boarding teams. Homeland security tasks and transporting deputies after earthquakes when freeways are gridlocked are other missions . . . . Said Capt. Louis Duran, commander of the LASD Aero Bureau: We are thrilled to have obtained Super Pumas for the Air 5 program. Our next-generation replacement program committee, through exhaustive evaluations, found the right aircraft for the mission. . . . The fact that we bought used aircraft saved the taxpayers a substantial amount of money, while giving us an extremely capable aircraft. The AS332 L1s newer technology is indisputable. The H-3 is a great aircraft, but is becoming difficult to economically support. Once the Super Pumas are fitted out and operational, we expect them to be an excellent rescue platform.
Heli-One in Delta, B.C., has been awarded the contract to complete the Super Pumas for their new mission. The LASD said it expects its crews to be trained and the aircraft to be completed and available to serve the citizens of Los Angeles County by mid-2012.