Estimated reading time 13 minutes, 58 seconds.
From 700 feet above Baltimore Harbor, you get the same vantage of Fort McHenry that British rockets, glaring red, had in 1814.
Not far away, near where a shipping channel marker now floats, Francis Scott Key stood aboard a British ship watching the bombardment. When he saw the American flag still flying over the fort at daybreak, he was inspired to write the poem "Defence of Fort M'Henry," which was later set to music to become "The Star-Spangled Banner."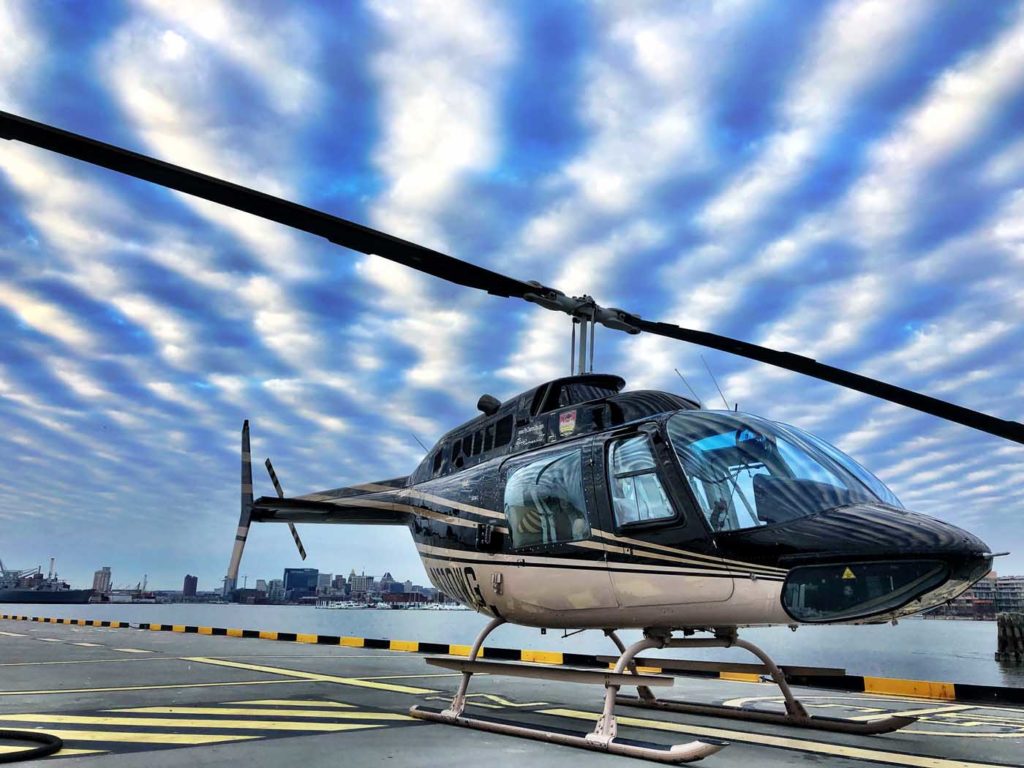 That immediate sense of history is part of the charm that Baltimore holds, and part of the allure of flying with Charm City Helicopters, headquartered just across the Patapsco River from the famous brick-and-earthen fortress.
Charm City offers a variety of tours in its four-passenger Bell 206, but the signature ride is above downtown Baltimore and its Inner Harbor. Vertical was invited along on a ride in late July, courtesy of chief pilot John Morris, also a flight instructor at Maryland's Middle River Aviation.
The 15-minute flight lifted off from Pier 7 on the western bank of the Patapsco, and took a counter-clockwise spin around the city, overflying the busy port where stacks of shipping containers waited to be carted thousands of miles across the ocean.
"You see that channel marker out there, just before the bridge?" Morris asked during our flight. "That's at the exact point where the ship was anchored that Francis Scott Key watched the bombardment from. Beyond the bridge is North Point, site of the largest-ever foreign invasion of U.S. soil during the War of 1812."
Morris is a trained tour guide and narrates the entire flight through headsets that are sanitized for passengers between every tour flight. All tours are private, meaning single-party trips at the moment, because of the ongoing Covid-19 pandemic. In normal times, the company will sometimes book two separate pairs for the same tour. Asked about his infectious interest in the city's history, he responds that it is part of the experience.
"We are all trained tour guides because we didn't want passengers to just listen to a pre-recorded tape and go to sleep," he said. "This way, I can be sure what folks are seeing and answer any questions we have while we are right over certain parts of the city. They really seem to like the personal touch."
Then an arc north of the harbor past Johns Hopkins University and through the canyon formed by Camden Yards (home of the Baltimore Orioles) and M&T Bank Stadium (home of the Baltimore Ravens), both at the time empty, as they have been since the pandemic struck.
The flight then headed for the Inner Harbor, where lies the USS Constellation, the fourth-oldest still-floating square-rigged warship in the world. Just beyond is the National Aquarium, almost as stunning from the outside as the fish are from inside.
On final approach back to Pier 7, the grand finale is Fort McHenry, the city's main historical attraction, with its enormous American flag wafting in the breeze. Only from this vantage point can you witness the entirety of the structure's star-shaped ramparts that successfully repelled the British in 1814.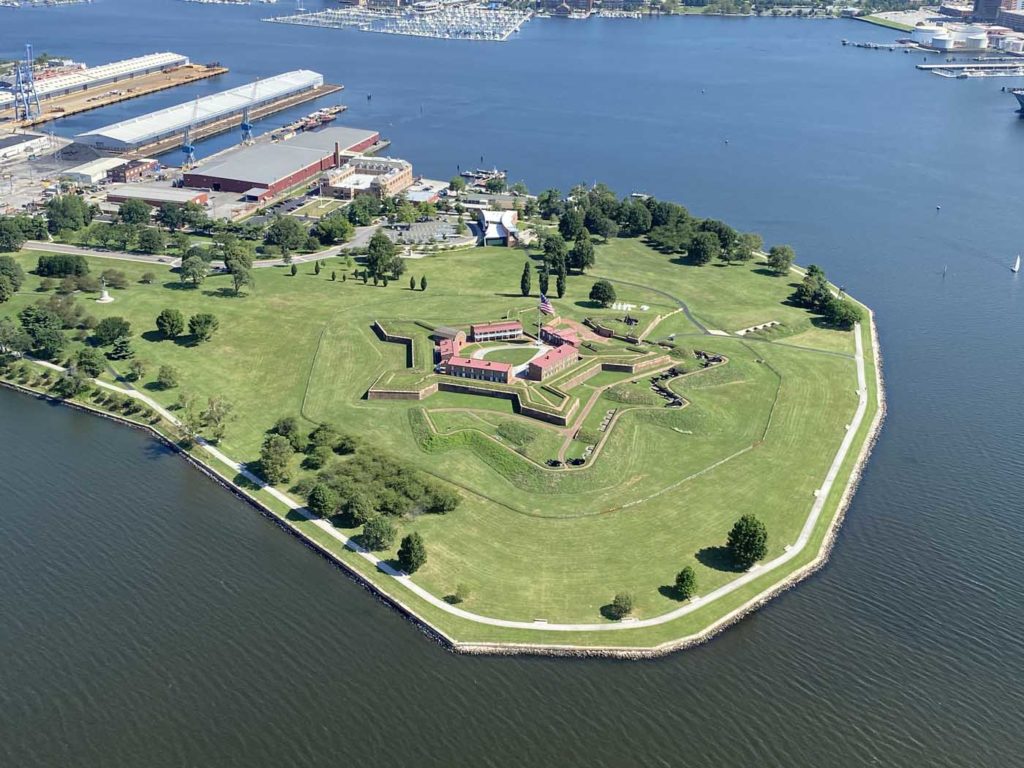 Female founded
None of this would be possible without the vision of Caitlyn Ephraim, who moved to Baltimore from Las Vegas with tour helicopter experience.
Trained at Bristow Academy near Cape Canaveral, Florida, Caitlyn moved to Baltimore to fly private helicopters out of Pier 7. There, she met her now-husband Freddie, who is a helicopter emergency medical services (HEMS) pilot for Stat Medevac, which has contracted with Johns Hopkins Hospital. She immediately saw the charm and deep history of Baltimore as ripe for aerial tours, but her salary from teaching at a Maryland flight school was not enough to launch such a venture.
"I didn't have the money as a flight instructor to do this, so we did it through financing," she said. "Being a female-owned business, everyone was eager to jump on that and help me."
With investment from a helicopter operator in New York City, they started in 2016 with a Bell 407, "which is bigger than the [aircraft] we have now," she said.
After a few months of operation, the original New York-based investor recalled all of his aircraft because of issues they were having with the city and needed to focus on home base.
"We had saved just enough that when they withdrew, we had enough to get another helicopter," she said. "We went down to a Bell 206 that we leased in California."
The couple ferried the 206 across the country to Baltimore, and resumed tours with the smaller turbine helicopter. The smaller aircraft, being more affordable to operate, allowed the company to increase its profit margin and save enough money to lease and eventually purchase a Bell 206 with a new investor.
Everything was set to establish a plucky, one-ship tour operation in this often-overlooked city that's mostly known outside the region for being the setting of the popular crime drama The Wire. The nickname "Charm City" was thought up by an ad agency in the 1970s in an effort to improve the city's image.
Baltimore has a reputation for being a beloved haven to those who live there, vehemently defended against criticism from beyond its borders, and the Ephraims are no exception.
For two years, Caitlyn was the owner, operator and sole pilot of the operation. Then she suffered a knee injury that limited her hours in the cockpit. When that happened, Charm City hired a full-time pilot.
"We got to a place where we were busy enough that we could afford to hire a full-time pilot, but we couldn't afford any more employees, so I ended up taking on reservations," she said. "No one sells your company the way you can yourself, so I don't get to fly as much as I used to."
Freddie says Caitlyn is too modest in describing herself as a reservationist. She remains the heart of the operation that she launched almost single-handedly, he said.
"She's the real deal," he said. "People want to talk to me like I had something to do with it, but it's her business. All I did was make the introductions."
The couple recently had a baby girl named Hylas Grace, before which Caitlyn was hopping on flights as a co-pilot three or four times a week. The doctor nixed her flying while pregnant and now she has a baby to care for, but she fully expects to return to the cockpit.
Covid concerns
Caitlyn gave birth just as the Covid-19 virus was spreading across the globe and beginning to take hold in the U.S.
Charm City temporarily closed in March, along with all other non-essential businesses in Maryland and most of the U.S. A state with particularly strict Covid closures, Maryland had, for a time, closed its skies to recreational flight, its waters to recreational boating and enacted a rigid stay-at-home order. Charm City was able to reopen under its part 135 charter certificate to transport charter passengers just like an airline, but tour flights were out for several months.
"When they issued that stay-at-home order, I'm not going to lie, we were financially terrified, as every company probably was," Caitlyn said. "Once the stay-at-home order was lifted, everyone just wanted to get out of their houses and we started offering upgrades to free private flights, so it was just you and one other person, which really helped."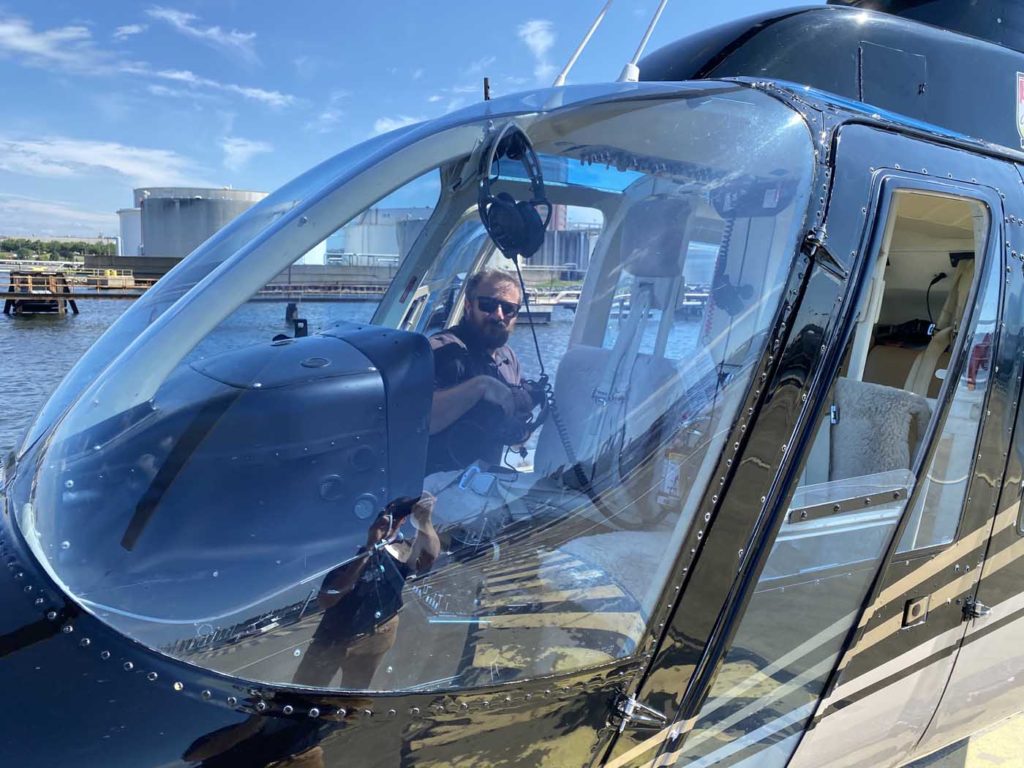 Before the pandemic, Charm City flew tourists from around the country, but mostly from the East Coast. Now that people have been released from confinement, residents of Baltimore and nearby Washington, D.C., have flocked to Charm City as a novel activity, Morris said. He regularly flies a dozen flights a day on weekends, with just enough time in between to sanitize the helicopter.
Charm City instituted antiviral sanitation measures to protect its pilots and passengers as much as possible. Now, the helicopter interior is sanitized before and after every flight, to include doors, windows, seats and headsets. Passengers and crew are required to wear masks on tour flights.
"Business has been skyrocketing to where we haven't seen this much success … I don't think ever, to be honest," said Caitlyn. "I know a lot of companies are hurting right now and we were definitely at that point, but we are very thankful that we are doing as well as we are."
Pier 7
Much of Charm City's allure begins at its base on Pier 7 — the only privately owned public-use heliport in Maryland. GPS will direct customers to the right spot, but not to the operation itself, which is tucked in behind MarineMax Baltimore. Past dry-stacked luxury yachts, Charm City and the Johns Hopkins medical operation share adjoining shacks at the base of the concrete pier. Freddie is at the HEMS shack six months out of the year on medevac shifts. Having gotten to know the then-owner of the pier, he was able to introduce Caitlyn when she was looking to establish her own company. She then did all the groundwork setting up the tour company.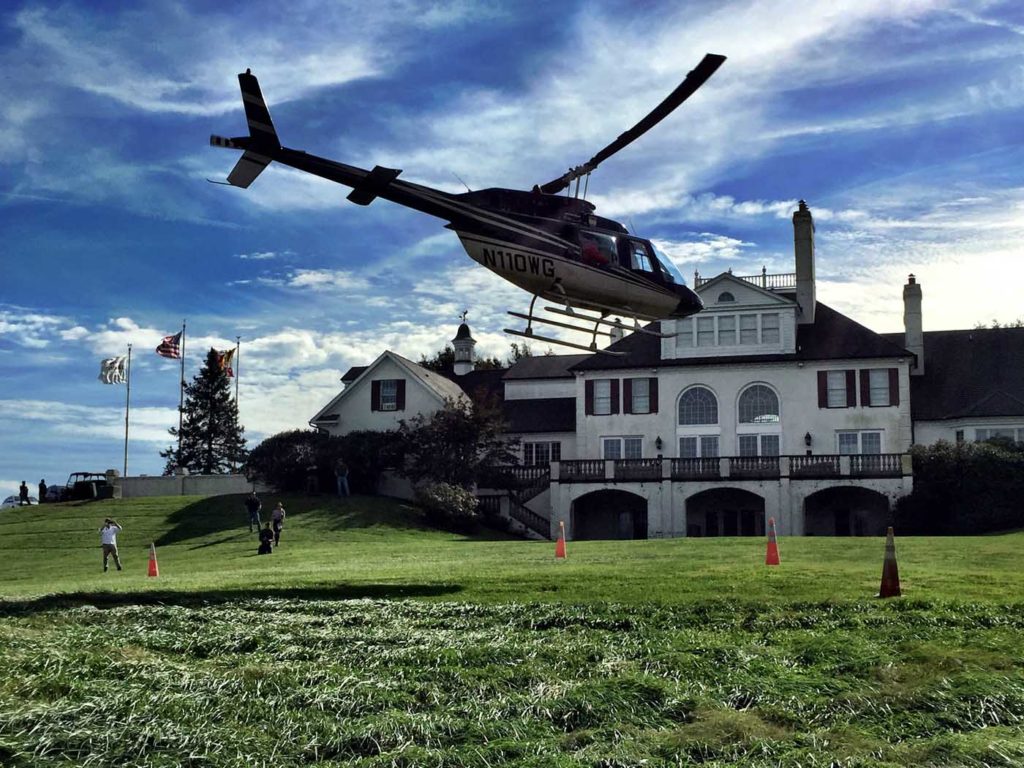 Part of that was gathering approvals from nearby neighborhood associations that would be impacted by helicopter noise. The company closes at 8:30 p.m., unless it is doing a charter flight, as a concession to its neighbors.
"We don't have to do that, but we do it because we don't want to upset the neighbors," said Freddie. "We saw what happened up in New York City and we wanted to avoid repeating that mistake where they basically tried to shut them down. Even though there are a bunch of other police and fire and EMS helicopters flying around at night, we just don't want to be categorized in that."
The couple's appreciation of the city is evident in their enthusiasm for showing tourists its charm from the air.
"People say, 'Why would you want to fly over frickin' Baltimore?' Unlike when you go to Hawaii, you have to do a tour because the scenery is amazing," said Freddie. "But there is a reason we don't have a British accent, and it's because of Baltimore, the War of 1812 and all that."
"People also don't realize that the Chesapeake Bay is so picturesque," he added. "I'd rather do a tour over the Chesapeake Bay than the Grand Canyon — it is that picturesque."
Charm City chief pilot John Morris readies the Bell 206 for takeoff at Pier 7. Dan Parsons Photo

Charm City's Bell 206 hovers over a Lamborghini and a Polaris Slingshot in a promotional shot.

Charm City shares Pier 7, the only privately owned, public-use heliport in Maryland, with Stat Medevac, which is contracted to provide air medical service to Johns Hopkins Hospital. Dan Parsons Photo

Charm City's Bell 206 at least on Pier 7 behind the Stat Medevac Airbus H145. Dan Parsons Photo