Estimated reading time 13 minutes, 13 seconds.
Photos by Anthony Pecchi
Blugeon Hélicoptères is a French aerial work company born from the passion of its founder. At the heart of its operations is an exceptional mountainous playground, a tight-knit family team, and the tool of its trade, the Airbus H125.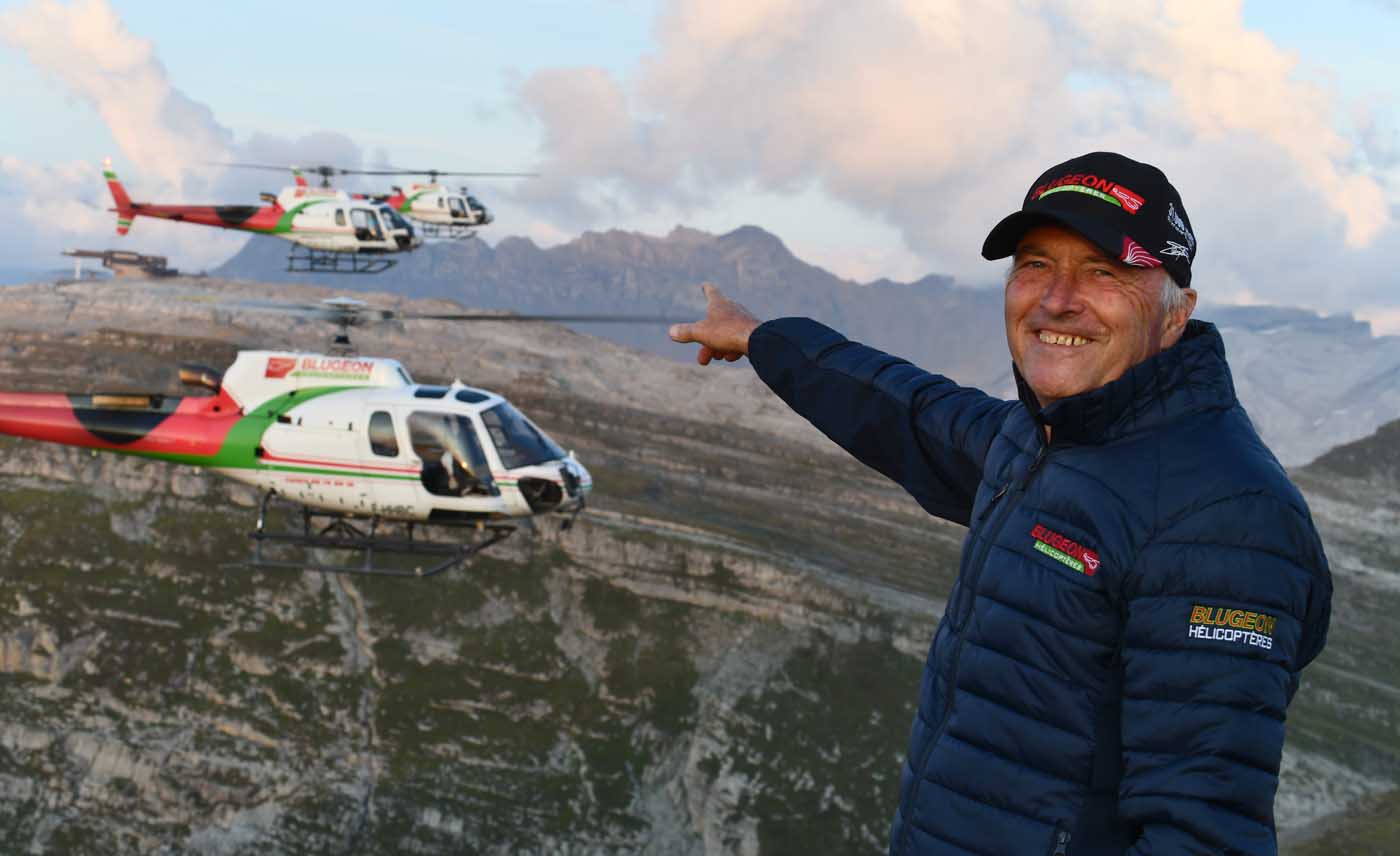 From the valley bottoms to the highest peaks, the name of Blugeon has been well known in the Alps for more than 20 years. At the head of the Blugeon family is Christian, the founder of Blugeon Hélicoptères. Between the ages of five and 16, he helped his parents on the family farm (resulting in him earning the nickname he holds to this day: "The farmer").
It would have been easy for him to follow the path traced by his parents, but Blugeon's long-held passion for helicopters pulled him in a different direction. Through sacrifice and tenacity, and while working in a variety of jobs including ski instructor and foreman in the mountains, he obtained his private helicopter pilot's license in 1982. Five years later, he was a professional pilot. He built his career flying a wide variety of aircraft, including the Aerospatiale SA 315B Lama, Alouette III, Gazelle, SA330 Puma and Airbus AS332 Super Puma, before creating Blugeon Hélicoptères in 1998. His flight logs now show more than 31,000 flight hours completed "in all weathers and in all situations," he said.
"Working as a family is much easier," said Blugeon, without hesitation. "We are all passionate and united in our work."
Enterprising and tenacious, Blugeon worked hard at his new company as a pilot and manager, helping it to prosper alongside his growing family. Today, his three sons — Sébastien, Hugo and Victor — are all professional pilots and work alongside him. Two other salaried pilots complete the team.
"Working as a family is much easier," said Blugeon, without hesitation. "We are all passionate and united in our work."
In addition to a pilot, Blugeon Hélicoptères' aircraft typically fly with a "flight assistant" on board. The crew is bolstered by seasonal workers, depending on the need.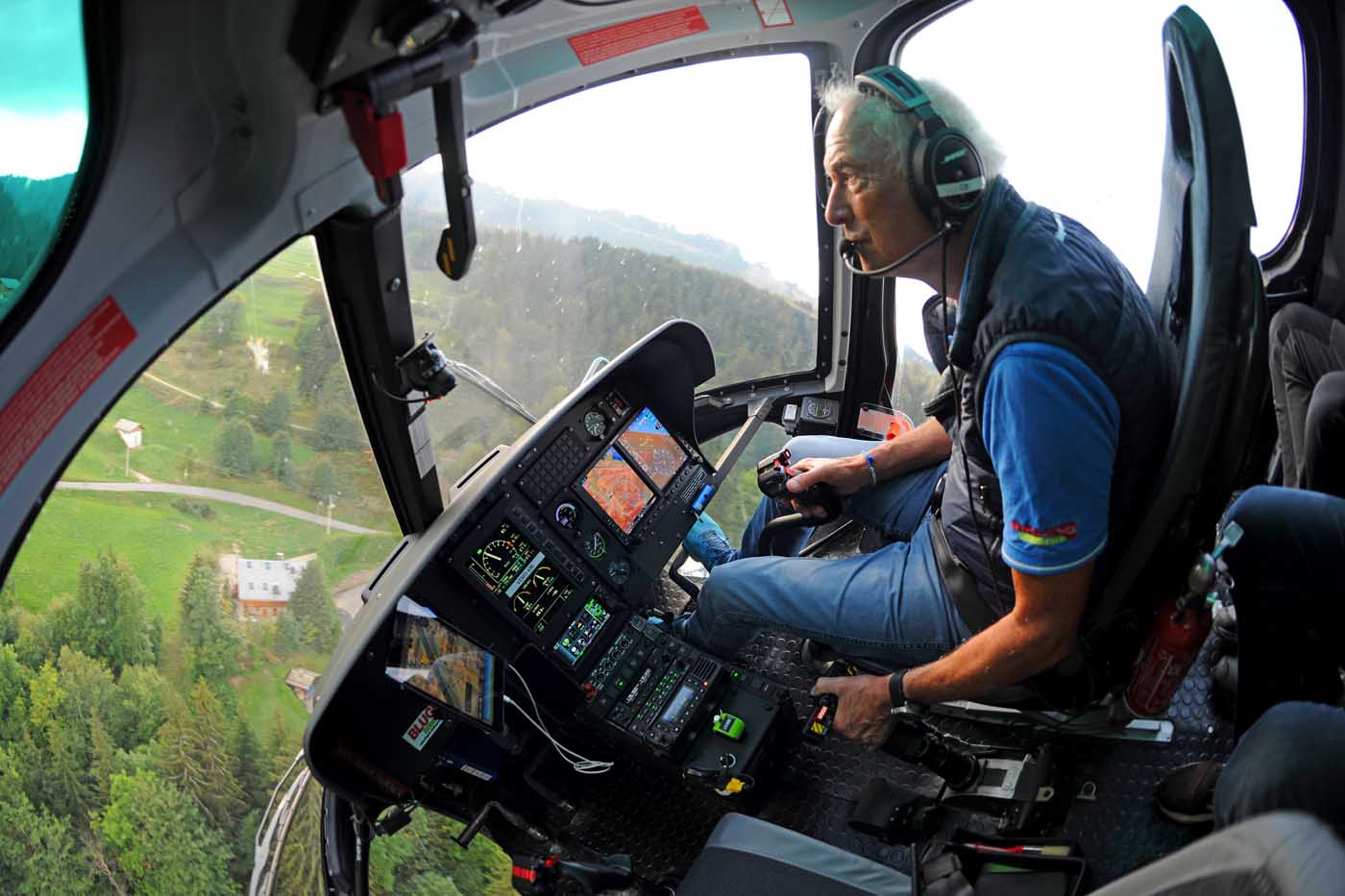 The flight assistant is essential for the type of aerial work Blugeon Hélicoptères completes, taking part in setting up the helicopter on the ground, and helping during refueling or sling work. They are in radio contact with the customer, validate the loads, and monitor the embarkation and disembarkation of passengers. However, flight assistants are rarely working alone, with Blugeon making it clear that he has "always enjoyed helping for the ground work. The other pilots in the company, who never hesitate to get involved, are like me," he added.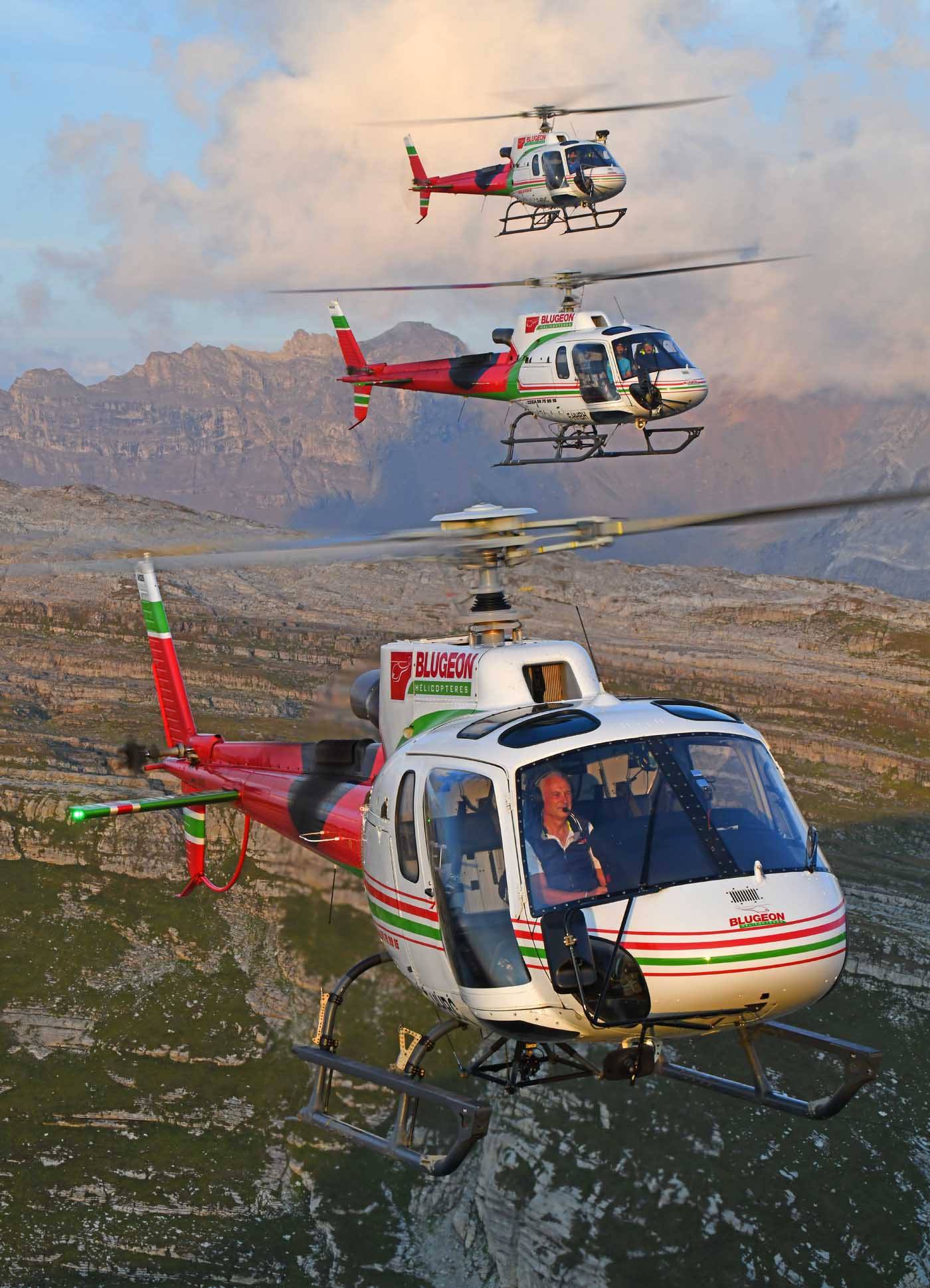 Evolving to the AStar
The company began operations with a Lama, and this was then traded for an Airbus AS350 B3. Over the last few years, Blugeon Hélicoptères has shifted to a fleet composed entirely of Airbus H125s — a helicopter Blugeon describes as, "efficient, worry-free, durable, very reliable and finally, extraordinarily versatile."
Blugeon Hélicoptères now owns five H125s, the last of which was delivered in July 2020. Four aircraft are operated by the company from bases in Morzine-Avoriaz, Bourg St Maurice, Crest-Voland and Ancizan. The fifth aircraft is currently leased out.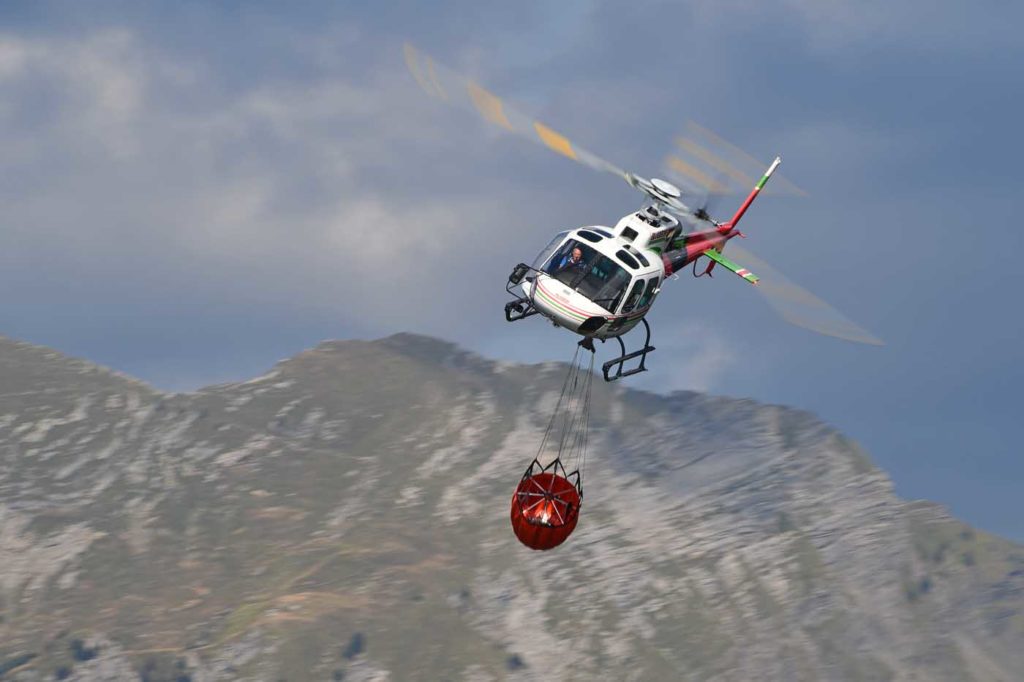 At the heart of the company's development strategy, the H125 can be easily reconfigured to suit different missions. Blugeon, however, is never short of ideas for further improving efficiency, and recently purchased the Maximum Pilot View Kit from Swiss Rotor Solutions. While he admitted that it represented "a significant investment" to equip all five aircraft with the kit, "it is perfectly suited for sling work, and provides greater comfort, greater visibility under the aircraft — and therefore better safety."
"This is essential for us, because we only work visually, without the aid of a camera," Blugeon continued.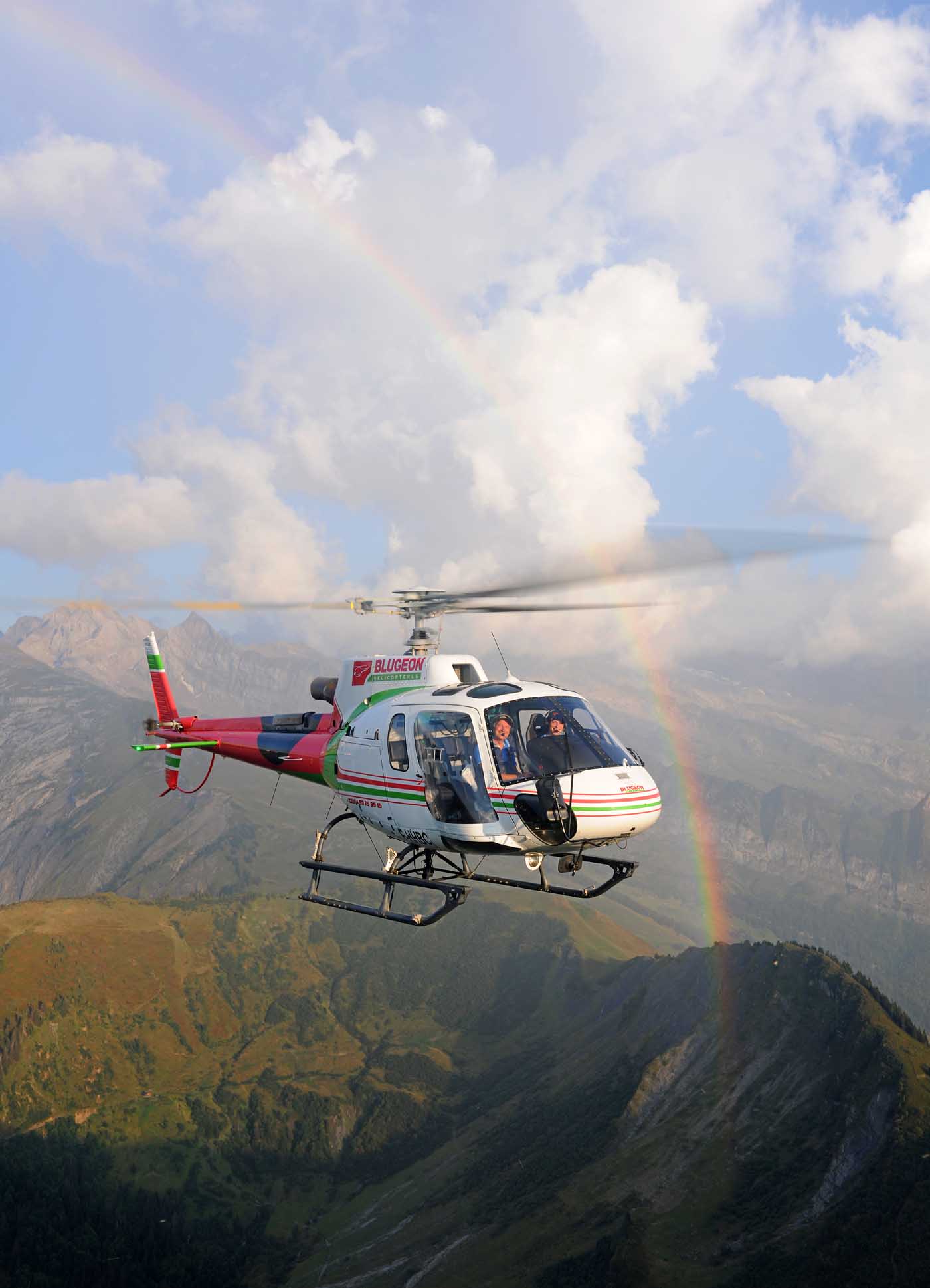 Still on his wish list is the ability for a pilot to see a copy of their instruments when they have their head in the window bubble, as well as a smaller dashboard to improve forward visibility. (On the latter request, Airbus is introducing a reduced-dimension instrument panel in 2021.)
"We refuel the helicopter 10 or 15 times a day, and a fuel door improperly locked warning would also be welcome," Blugeon added. "But I am well aware that our very specific needs alone cannot determine the evolution of the H125!"
When asked what his ideal helicopter would look like, Blugeon said the H125 limits loads to 2,755 pounds (1,250 kilograms) at sea level and around 2,425 lb. (1,100 kg) at 1,000 meters altitude or 2,200 lb. (1,000 kg) with an outside temperature of 68 F (20 C). "This is a very good level of performance for the H125, but we would like to have an aircraft capable of carrying 1,900 kg [4,190 lbs]," he said. "But I am well aware that such a level of performance would require a major rethink of the aircraft."
A focus on lifting
The versatility of the H125 allows its users to get involved in a variety of missions, and has made it well suited to Blugeon Hélicoptères' ongoing search for diversification in its mountainous environment. In the spring, the closure of the ski resorts kicks off seasonal construction work, as well as the development, maintenance and resupply of mountain lodges. In winter, avalanche control, repairs and rescue dominate the company's flight hours. Blugeon also cites VIP transport, filming, or even the unwinding of cables as various opportunities for work.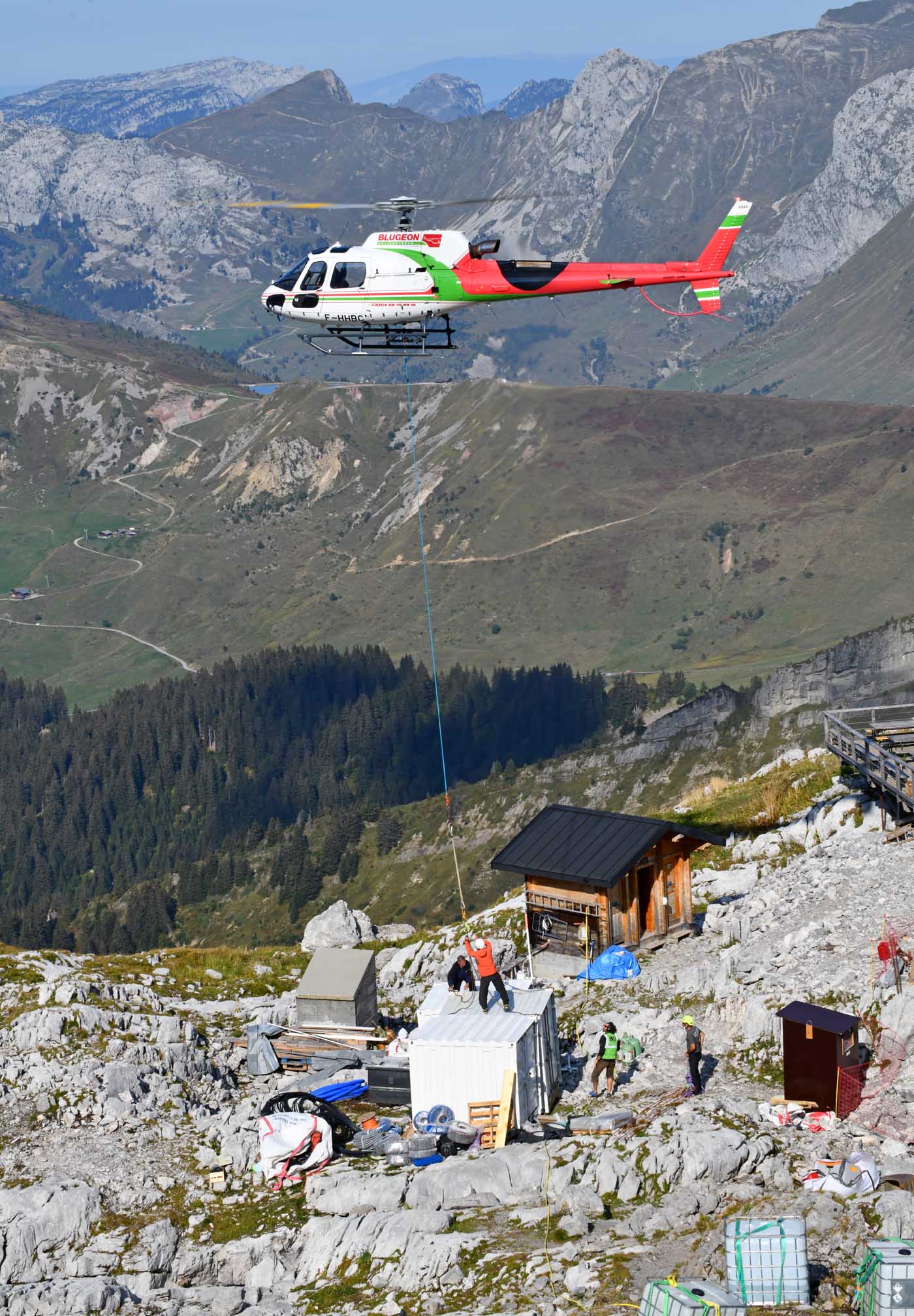 "In this month [October], we are carrying concrete for ski lifts; we are working on the construction of shelters, the consolidation of roads, [and] the replacement of poles," he said. "But we also remain available for rescue missions, with the capability to fit a winch on all our machines."
Intense lifting activity is at the core of the company's operations. "I started my activity in 1998 by targeting the transport of loads," said Blugeon. "It's something I knew there would always be a demand for."
Twenty-two years later, he continues to be proven right. "Transporting loads always pleases me just as much," said Blugeon. The work is done with long lines from 13 to 655 feet long (four to 200 meters), with most of the work being done using lines between 65 and 165 feet (20 and 50 meters). The longest slings are used for operations such as installing protective fences on the edge of cliffs.
"Internally, we have four qualifications for slinging," said Blugeon. "With HSLO [helicopter sling load operations] level 1, the pilot can work [with a sling length of] up to 20 meters. Beyond that are the HSLO 2, 3 and 4 qualifications, which allow you to progressively climb to greater sling lengths. In any case, these are always great missions that allow you to rub shoulders with very specialized and capable professionals in their fields."
The aircraft typically fly with a flight assistant on board.

The H125's Garmin displays are brought into sharp focus.

A Blugeon Hélicoptères H125 takes off to perform another lift.

The Blugeon name has become well-known throughout the French Alps.

Looking up through the Maximum Pilot View Kit.

Three of Christian's sons are also pilots at the company.

The company typically notched about 2,200 hours with four aircraft.
The company was moderately impacted by the first lockdown in response to the Covid-19 pandemic in the first half of 2020. By the time client companies put in place adequate health protocols, Blugeon Hélicoptères had lost around 250 hours of work over March and April. "We normally achieve 2,200 hours per year, with a break-even point of around 2,000 flight hours for four aircraft," said Blugeon. "To reduce operating costs, we are always seeking to pool flights by finely managing the setups between our different bases."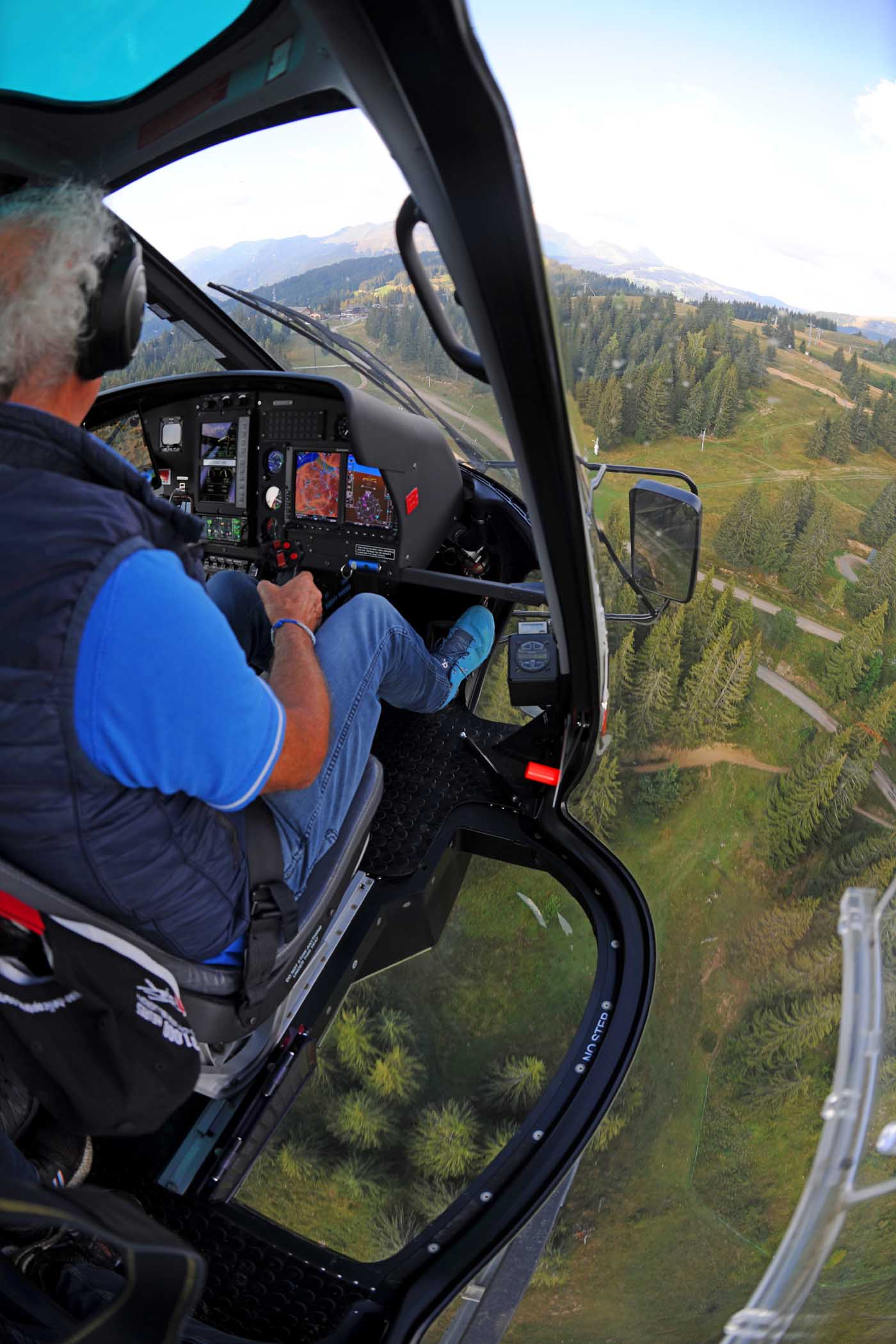 But for Blugeon, Covid-19 is unfortunately not the primary drag on his company's activity. Rather, he said the main obstacle the company faces is the entirely human-made complexity of the regulatory environment. He said he has even offered to take lawmakers to construction sites to show them the constraints of the profession and the concrete consequences of the regulatory inflation.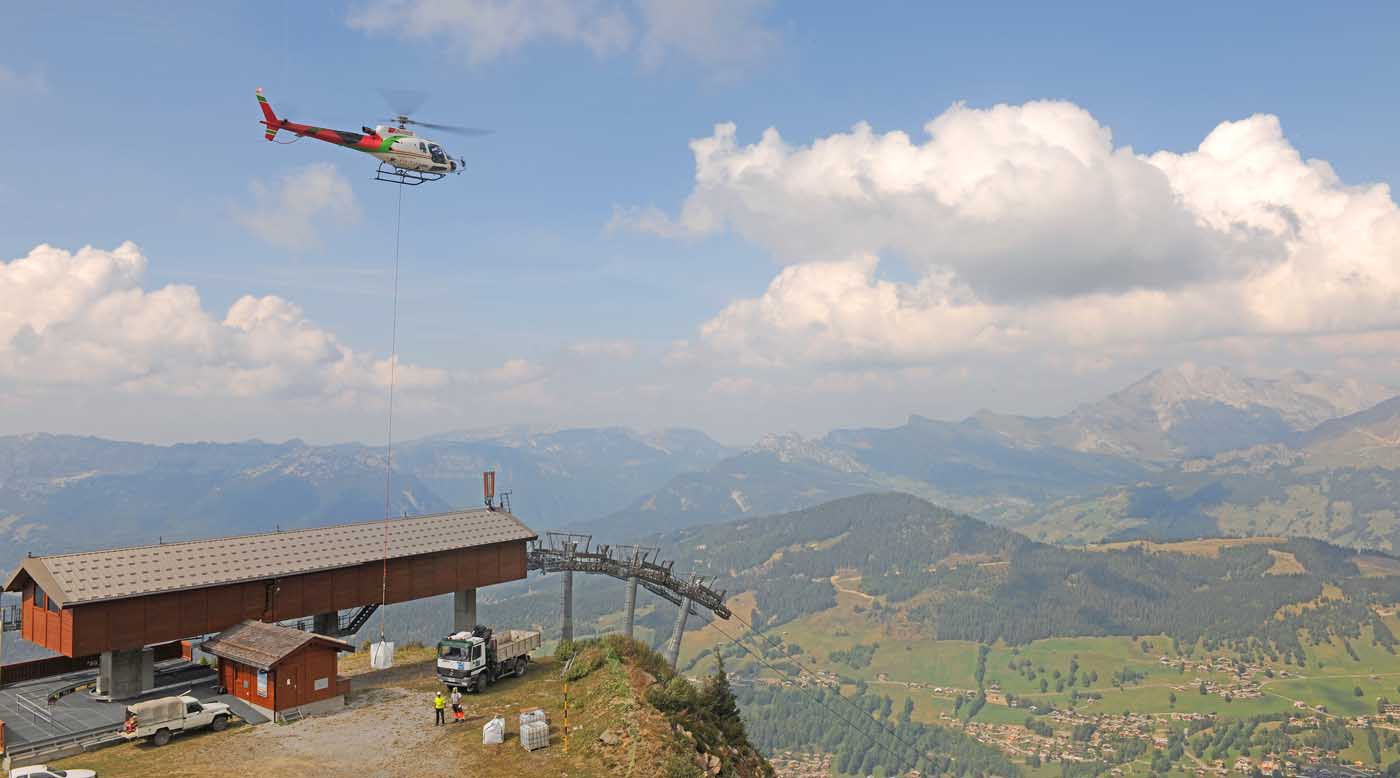 "I started my business in 1998, and it was an adventure that could still be attempted at the time," he said. "Now, with things having gotten so much more complicated from a regulatory standpoint, I would be much more wary."
"You have to write a novel before you can fly, and yet it is not by shuffling paper that safety improves," he continued. "For an operator of our size, it's overly burdensome. I have been doing this job for over 38 years, nothing has changed in the maneuverability of the helicopter, but now you have to write down everything you do. This is a lot of time wasted through the fault of legislators creating regulations that they are unable to interpret in the field."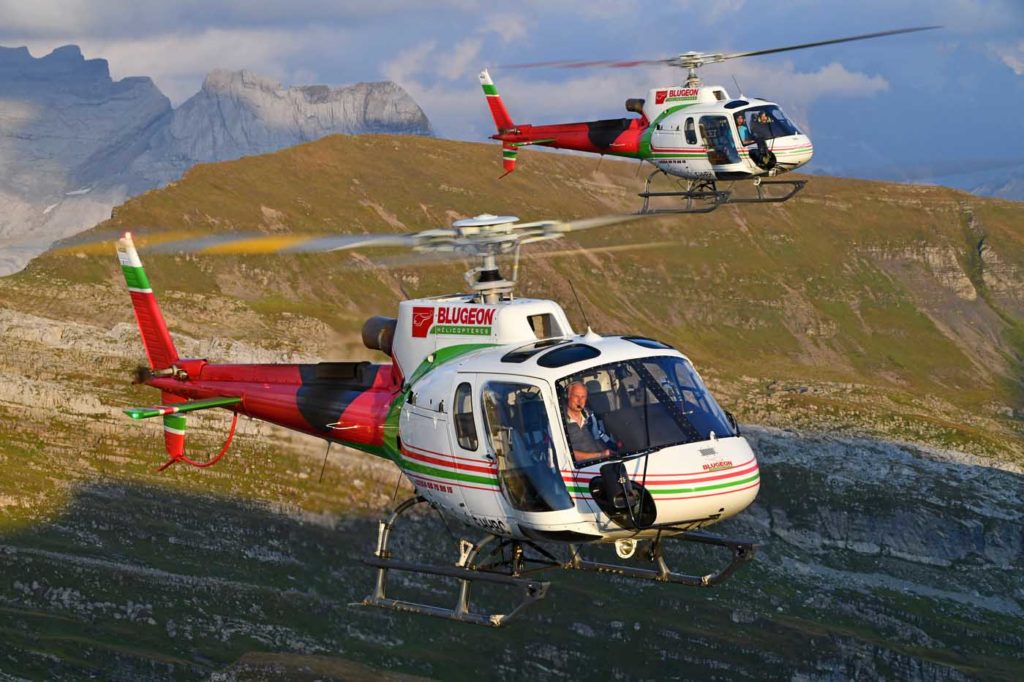 Despite the various challenges presented by operating in today's environment, Blugeon is confident in his company's continued success, thanks to a focus on safety born from his pilots' extensive experience in their work. "In our business, what matters most to ensuring safety is experience, wit and common sense," he said. "You always have to be vigilant, whether you have experience or not, and common sense is essential."