U.S. Coast Guard Lt. Craig Campbell was piloting an MH-60T Jayhawk on his first major rescue mission March 2 when the Canadian Coast Guard called for help saving, in the dead of night and foul weather, 31 fishermen from a disabled fishing vessel 130 miles south of Halifax, Nova Scotia.
He told "Rotor Radio" what it was like hovering at 90 feet while hoisting survivors from a bucking ship, without power or headway, taking 30-foot seas beam-on.
At 7 p.m. Tuesday, the Rescue Coordination Center in Halifax notified the U.S. Coast Guard that the 143-foot fishing vessel Atlantic Destiny was disabled, on fire and sinking.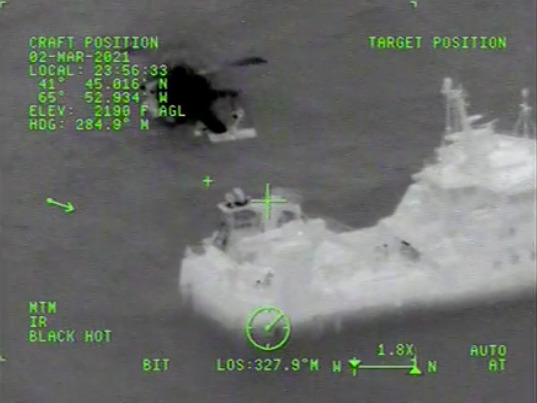 An HC-144 Ocean Sentry fixed-wing aircraft and two MH-60 Jayhawk helicopter crews launched from Coast Guard Air Station Cape Cod.
When they reached the sinking vessel, about 200 nautical miles from their base, a Royal Canadian Air Force CH-149 Cormorant helicopter crew from 14 Wing Greenwood, in Nova Scotia, was already on scene. The Canadians had hoisted six crewmembers from the vessel, and dropped off two search-and-rescue (SAR) technicians to assist in dewatering the vessel.
The U.S. Coast Guard Jayhawk crews hoisted another 21 fishermen between them and transported them to Yarmouth, Nova Scotia, where they were given medical treatment.
The remaining four crewmembers and two SAR technicians ceased "dewatering efforts" and were transferred to the Canadian Coast Guard Ship Cape Roger.