When wildfires are at their worst, as they have been in recent years, there are few more potent weapons than the giant orange dragonfly that is the Erickson S-64 Air Crane helicopter. 
Erickson bought the manufacturing rights to the S-64 Sky Crane from Sikorsky in 1992, changed the name to Air Crane and has been building, operating and improving the 70-foot-long (21 meter) bus-faced super-heavy lift helicopter ever since.
S-64 pilot and training captain Keith Gill joins Rotor Radio to discuss the unique helicopter's firefighting abilities. Flying for Oregon-based Erickson, Gill has followed the fire season around the globe from Australia to Greece to the western U.S. most years for the better part of four decades.
https://rotorradio.podbean.com/e/fighting-fire-with-an-air-crane/
"There's no magic to firefighting," Gill said. "The faster you get there and the sooner you put a lot of fire retardant on it, the faster you can put it out. It's really that simple."
Gill explained how the S-64's Sea Snorkel can gulp 2,600 gallons of water in 45 seconds from almost any source while flying at 35 miles per hour (50 kilometers per hour). If a fire is 15 minutes from a dependable water source like a lake or the ocean, the aircraft can drop 40 to 45 loads of water on a fire in under two hours. 
Exciting technological developments loom for Erickson, the Air Crane fleet and aerial firefighting in general. Erickson and Sikorsky have signed a development agreement to integrate Sikorsky's Matrix Technology for semi-autonomous and autonomous operation into the S-64.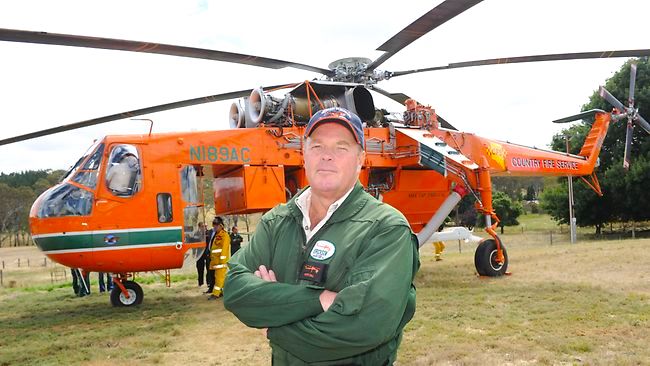 The company is also developing an enhanced version of the aircraft called the S-64F+ that will feature new full-authority digital electronic control (FADEC) engines — Gill would not divulge which engine but said it has been selected — composite main rotor blades, advanced cockpit avionics and flight control system and an improved water cannon.
With fire seasons not only becoming more severe, but also lengthening in many blaze-prone locations, aerial firefighters and their helicopters are feeling the stress, Gill said. The future holds more fires that need dousing and a potential lack of pilots and maintenance personnel that need specialized training to fill seats vacated by retiring veteran firefighters, he said.