Estimated reading time 1 minute, 47 seconds.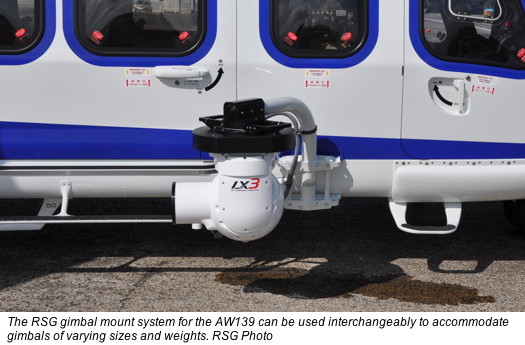 Rotorcraft Services Group, Inc. (RSG), an industry leader in aircraft services and product development, announced the successful development of a Universal Gimbal Mount system for the AgustaWestland AW139 helicopter. The lightweight mount design was completed to satisfy the requirements of Nippon Housou Kyoukai (NHK), Japanese National Broadcasting Corporation for electronic news gathering (ENG) and digital data link operations. All Nippon Helicopter (ANH) has delivered two AW139 ENG helicopters and recently signed a contract for a third AW139 helicopter to be configured in 2013 for delivery to NHK in 2014 for ENG operations.
"The system modular design can be quickly attached to mounting provisions on the LHS or RHS of the AW139 helicopter and can be used interchangeably to accommodate varying gimbal sizes and weights up to 16 inches and 120 pounds," said Fida Waishek, president of RSG AeroDesign. "The precision machined bayonet mount design with integral handles allows payload to be quickly installed and removed to satisfy mission requirements — gimbals can be securely released by removing two safety pins and rotating the turret to the unlocked position and lowering it into a storage receiver or an optional carriage assembly."
RSG is an approved supplier for leading Aerospace OEMs worldwide including Agusta Aerospace Corporation, American Eurocopter Corporation, Enstrom Helicopter Corporation, Hafei Aviation Industry Co., Helicopter Support Inc., L-3 Communications Ocean Systems, L-3 Communications Wescam, MD Helicopters, Sikorsky Global Helicopters and Sikorsky Aircraft Corporation.