Estimated reading time 2 minutes, 40 seconds.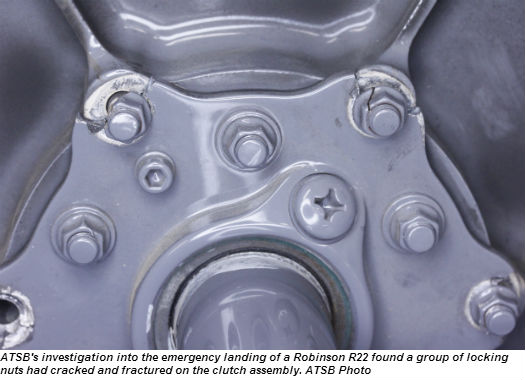 A helicopter pilot's prompt response to a rattling noise in a Robinson R22 helicopter avoided a potentially serious accident.
On Oct. 12, 2011, the pilot was performing aerial work near Saxby Downs, Queensland when he heard the rattling noise. He opened the clutch actuator circuit breaker and, at the same time, noticed a burning rubber smell. He immediately made a precautionary landing and shut down the helicopter.
The ATSB's investigation into this incident, traced the problem to the clutch assembly where a group of locking nuts had cracked and fractured. This cracking had stemmed from the likely embrittling effect of residual hydrogen generated during the cadmium electroplating process applied during manufacture. The nut failures led to a series of mating part failures and a breakdown of the clutch assembly, producing the symptoms experienced by the pilot, which led to the landing.
At the time of this occurrence the brittle failure of MS21042L-series nuts was an emerging airworthiness issue and several safety actions had already been implemented. Two months before this occurrence, the helicopter manufacturer issued service letters alerting owners and maintenance personnel to the potential for cracking and requiring the replacement of any cracked nuts on inspection.
On the same day as this occurrence, the Civil Aviation Safety Authority (CASA) issued an Airworthiness Bulletin alerting pilots and maintenance personnel of the need to closely monitor the condition of high-strength steel hardware (such as these nuts) with a view to identifying any failures that may have resulted from hydrogen-induced cracking.
In April 2012, the manufacturer of the nuts issued a Technical Quality Notice Bulletin addressing, in detail, many procedural improvements that were being introduced to reduce the potential for hydrogen-related failure of this nut type.
The prompt actions of the pilot who followed emergency procedure requirements by landing immediately avoided a potentially serious accident. This occurrence highlights the importance of being vigilant when conducting pre-flight and maintenance inspections. It also reveals the importance of pilots and maintenance personnel remaining attentive to the release of new information about new or emerging airworthiness issues that may affect their operations.