Estimated reading time 5 minutes, 4 seconds.
Critically ill and injured infants and children throughout the southeastern United States now have expanded access to the expert pediatric care of Wolfson Children's Hospital of Jacksonville through a new Kids Kare helicopter. The helicopter, which is the latest addition to Wolfson Children's Critical Care Transport Fleet, is dedicated solely to infants and children, staffed with a highly trained clinical flight crew, and has advanced medical capabilities. Along with Kids Kare Mobile Intensive Care Units (ICUs) and a fixed-wing aircraft that are part of the Transport Fleet, the new helicopter is being used for interfacility transport to bring patients from other hospitals in the region to Wolfson Children's.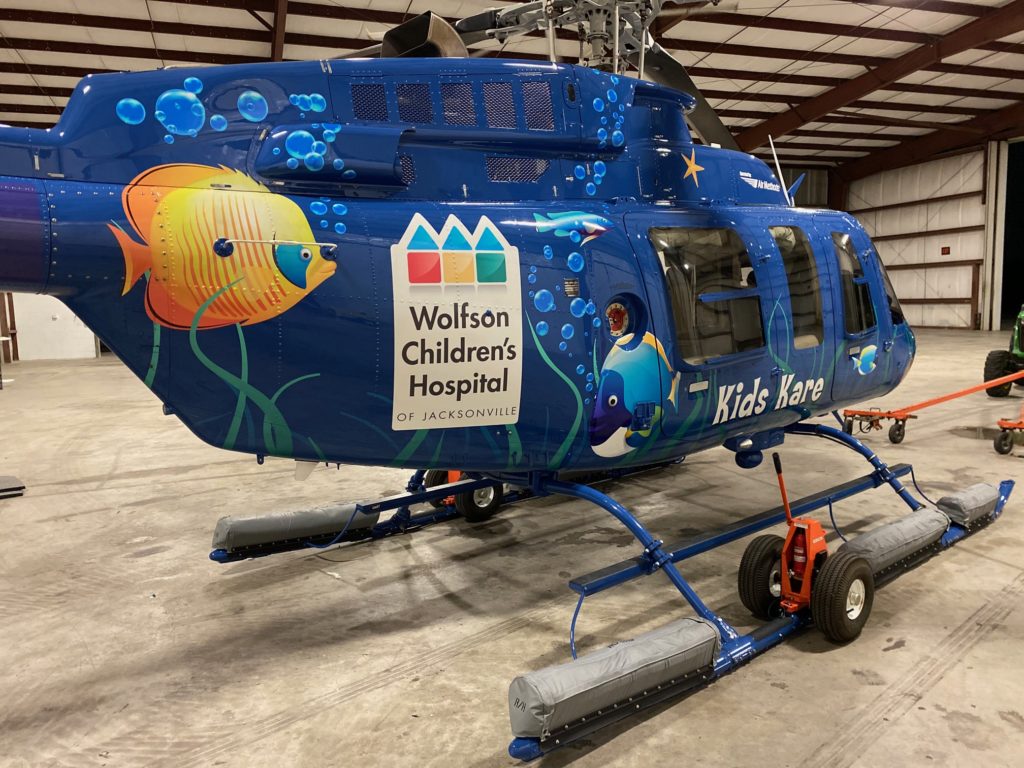 The Kids Kare helicopter carries pediatric-specific medical equipment for advanced life support, including:
Advanced monitoring
Defibrillator/pacemaker capability
Advanced airway management equipment
Isolette for newborns to regulate body temperature
Nitric oxide
The new Kids Kare helicopter is fully equipped with all medications and supplies needed to treat a critically ill or injured infant or child during transport. The helicopter also includes a satellite phone to ensure constant communication between the crew and pediatric physician specialists at Wolfson Children's during transport. It is staffed 24/7 by a Wolfson Children's crew consisting of:
A neonatal/pediatric transport-certified respiratory therapist
A neonatal/pediatric transport-certified registered nurse
A pilot.
With the addition of the Kids Kare helicopter, the Wolfson Children's Critical Care Transport Fleet is now comprised of a dedicated helicopter, fixed-wing airplane and three Kids Kare Mobile ICUs.
Amanda Kellum, director of the Kids Kare Critical Care and Trauma Transport Program at Wolfson Children's Hospital of Jacksonville, said, "Our transport fleet currently serves more than 1,800 infants and children every year, and with this new helicopter, our crucial services are even more accessible to children and families from throughout the North Florida and South Georgia areas."