Estimated reading time 2 minutes, 44 seconds.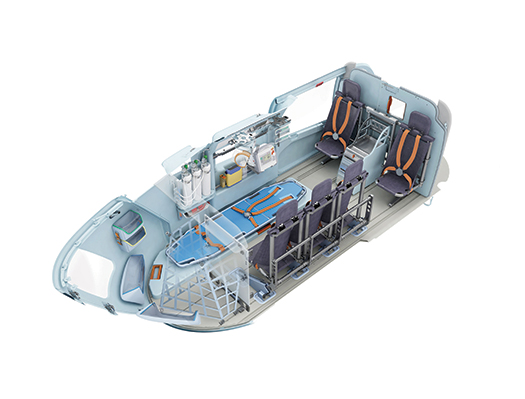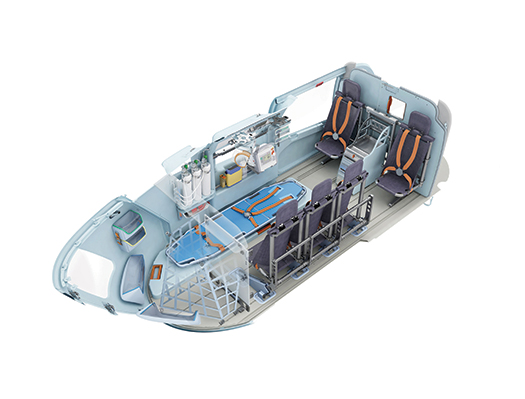 Mecaer Aviation Group (MAG) has delivered the first of multiple EC145 T2 HEMS kits to Italian EMS operator Airgreen. MAG's STC for the EC-145T2 was approved by EASA in October of 2014.
Key drivers for Airgreen's selection process were flexibility in multiple configurations, modularity and ergonomics of the system in relationship to the cabin area.
Various layouts are available for the system to include multiple stretchers or up to five (5) or six (6) EMS crew members on board. In addition, MAG's system includes the proprietary multi-mission, light-weight, heavy duty floor. The liquid tight, aluminum main central plate integrates heavy duty seat tracks allowing for installation of the stretcher system and EMS equipment, systems and components.
"Airgreen represents a major operator in Europe that has chosen our STC'd HEMS kits for operation on an EC-145 T2." said Armando Sassoli, Co-General Manager of Mecaer Aviation Group. "Our new modular system is gaining the attention of more and more operators and we are very pleased with how it is performing in comparison to other systems in the industry." Sassoli continued.
"Mecaer has been very professional to work with and we are extremely pleased with our decision." said Mauro Airaudi, President of Airgreen. "We are excited to see how the system stands the test of time and as we grow our fleet, include additional MAG systems in our inventory." continued Airaudi.
About Mecaer Aviation Group
With facilities across Italy, Canada and the United States, MAG offers Integrated Systems, such as flight controls, landing gear & actuation systems as well as cabin comfort systems, for Helicopters, General Aviation & Business Aircraft, and Basic Trainers. Capabilities include the development, manufacture, qualification and certification, noise & vibration abatement, together with completion, modification, and MRO services. More information is available at www.mecaer.com
About Airgreen
Airgreen has its headquarters in the north of Italy on the Alps, where every day, after 30 years, the mission is the same: "Try to do the best, to exceed our customers' requirements, in the safer way".
Most of Airgreen's work today is HEMS-SAR, fire-fighting, Oil & Gas survey, aerial work and training for pilots and engineers. Visit us at www.airgreen.it for more information.