Estimated reading time 2 minutes, 27 seconds.
Following a Board resolution of the Kopter Group AG, Marco Viola assumes the responsibility for the general management of the Company as its new chief executive officer (CEO), with immediate effect.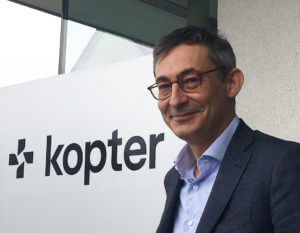 Marco Viola brings to Kopter a long established career in aerospace, from a variety of positions at Leonardo Helicopters, in addition to his previous role where he led the integration process of Kopter into Leonardo. During this time, he acquired in-depth knowledge of Kopter, its talented teams, and the SH09 program. Marco Viola will now lead Kopter to successfully complete the development, certification and entry into service of the next generation SH09 single-engine helicopter, with Leonardo's strong support. In parallel, he will position Kopter as Leonardo Helicopters' competence center for new light helicopters.
In 2019 Marco Viola held the position of Head of Blades and Composite Rotor Heads Production Centre of Excellence at the Anagni plant. From 2017-2019 he was the Head of Civil/Dual Use Light Platforms within Product Line Management.