Estimated reading time 9 minutes, 16 seconds.
A joint Total Force team led by the 74th Aerial Port Squadron peers into a darkened landscape masked by a moonless evening sky in preparation for an ambitious helicopter sling load mission dubbed "Operation Nightstorm." All of their other senses are heightened to compensate for the reduced visibility as Soldiers of Company C, 2nd Battalion, 149th Aviation Regiment "Alamo Dust off" descend toward the tactical landing zone in two UH-60L Black Hawks.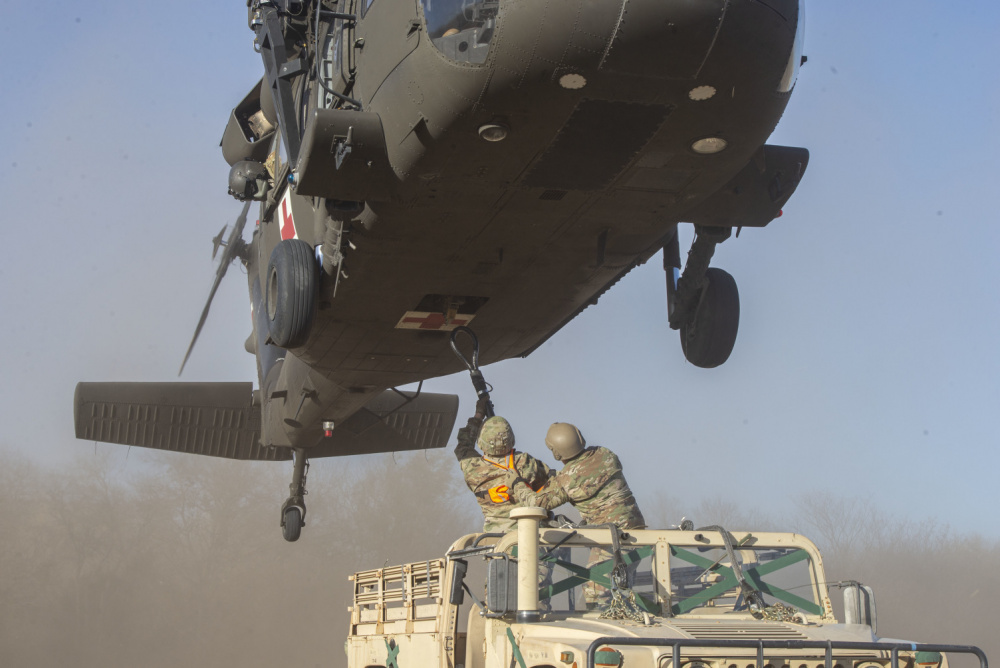 The piercing whine of four Pratt and Whitney turbine engines consumes the silence as the helicopter blades propel dust clouds across the site.  Soon, the team is immersed in the smell of burned JP-8 fuel, the unrelenting wind and dust against their skin, and the repetitive whirring roar of the rotor blades slicing through the air.
All the while, small dots of light marking a Humvee and three cargo bags of supplies to be taken aloft struggle to disclose themselves through the cloak of darkness that envelops the landing zone.
 While this could be the opening scene of a Hollywood action movie, it was reality for 34 joint servicemembers executing a sling load exercise at Joint Base San Antonio-Chapman Annex Dec. 15. 
This was a Total Force mission that integrated Air Force Reserve Component Airmen from the 74th APS, Texas Army National Guard Soldiers from the 2nd Battalion, 149th Aviation Regiment, 1st Battalion, 108th Aviation Regiment, and active-duty servicemembers from the Air Force Special Warfare Training Support Squadron, 343rd Training Squadron, and JBSA-Camp Bullis Training Support Company; all under the direction of the Air Force's senior Pathfinder.
 Coming on the heels of a successful daytime sling load mission on Sept. 9, the units increased their aerial cargo delivery expertise by conducting a similar operation at night. 
The coordinated air and ground teams executed 43 sorties to transport more than 100,000 pounds of equipment and vehicles, and 21 personnel by helicopter.
 Tech. Sgt. Rebecca Martinez, 74th APS Air Terminal Operations Center (ATOC) information controller, served as the pick-up zone non-commissioned officer in charge and ensured the smooth synchronization of air and ground forces before and during the exercise.
In explaining the importance of the mission, she said, "I experienced the vision of a joint partnership that had the outcome of an amazing exercise. We brought together different units and branches – Army, Air Force, special warfare, security forces, and other training units — to improve everyone's proficiency.
"It can be difficult for one unit to train on certain tasks just by itself without outside support," she said. "There was so much planning to create a small window of high-quality training, but by integrating all these units for this mission, it came together perfectly – we knocked it out of the park!"