Estimated reading time 1 minute, 56 seconds.
PHI Americas has named James Maner as its chief pilot, PHI Americas, effective November 16, 2020.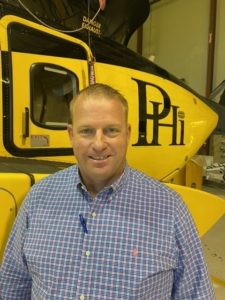 Maner's appointment builds on his extensive experience working as a line training captain for PHI in the Gulf of Mexico between 2009 and 2020. In early 2020, Maner joined Bristow where he worked as the chief pilot and director of training for their Gulf of Mexico and Guyana operations.
James Hinch, chief operating officer, PHI Americas, said PHI is pleased to announce the appointment of Maner. "As our chief pilot, PHI Americas, James will be our primary point of contact with the Federal Aviation Administration and will also be a full member of our operational leadership team and management oversight group."
"James has more than a decade of recent experience working with us as an S-92 pilot in command and a line training captain. He thoroughly understands our culture and unwavering commitment to providing safe, efficient, quality, service and he is committed to leading our Pilot workforce and Company into the future."
Prior to initially joining PHI, Maner served in the United States army for 21 years as an instructor pilot and a standardization pilot at the battalion and brigade levels.