Estimated reading time 1 minute, 51 seconds.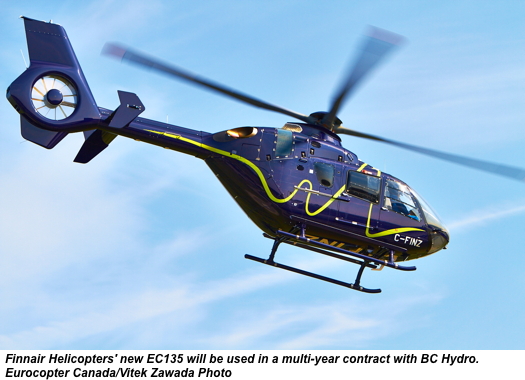 Eurocopter Canada has delivered a new EC135 to Finnair Helicopters Limited.
Finnair Helicopters' EC135 will be based in Naramata, British Columbia The EC135 will be supporting a variety of hydro missions across the province including; line inspection, vegetation surveys, construction/repair and environmental patrol.
"The helicopter industry is continually evolving and the selection of the EC135 allows us to be ahead of the curve in terms of safety and performance," said Wayne Finn, President and Chief Pilot, Finnair Helicopters Ltd. "Having the support of a twin-engine aircraft allows for an increased sense of security and operational assurance for our customers."
Finnair Helicopters currently holds a multi-year contract with B.C. Hydro and will support a large geographical area, including the two most active hydro areas in the province; Kamloops and Vernon. Finnair Helicopters has established a close working relationship with B.C. Hydro for the past 8 years.
"Eurocopter Canada is proud to support Finnair Helicopters' move to the twin-engine market with the EC135, " said Romain Trapp, President & CEO, ECL. "We are certain that this aircraft is the right asset for hydro activities. We are proud of Finnair's commitment to Eurocopter products and we look forward to their continued success."
The EC135 will be equipped with a cargo hook, hoist and harness. The aircraft will also have a mounted camera installed by Vector Aerospace.