Estimated reading time 4 minutes, 7 seconds.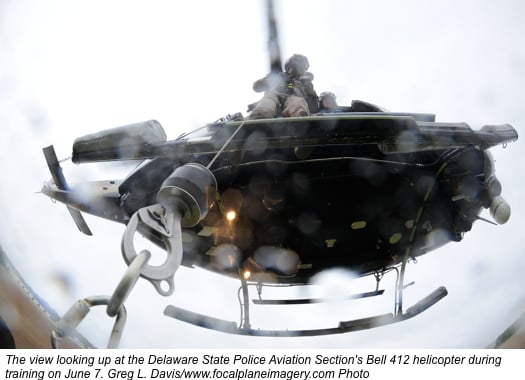 The Delaware State Police (DSP) Aviation Section has been conducting important annual training for its helicopter crews this month — including some training in challenging weather conditions.
The DSP Aviation Section operates three Bell 407s and a multi-mission-capable Bell 412. Its crews are frequent responders to life-and-death situations, and their skills must be up to any challenge. According to Bob McMahon, senior civilian training pilot for DSP, this month's training for pilots, paramedics and rescue specialists is meant to ensure each crewmember is fully qualified and ready to respond during the worst of times.
As the remnants of Tropical Storm Andrea moved through the area on Friday, June 7, bringing heavy rain and low cloud ceilings, the training in Middletown continued unabated with the Aviation Section's Bell 412. Trainers from Priority 1 Air Rescue, a leading provider of air rescue and helicopter emergency procedures, and their DSP hosts handled the dreary weather conditions in stride and pressed on.
"As long as we meet our weather minimums, we are going to be there for the citizens of Delaware and the surrounding area," McMahon said. "We fly in these conditions and could be doing hoists in extreme weather. We can't make uncomfortable conditions a reason to cancel."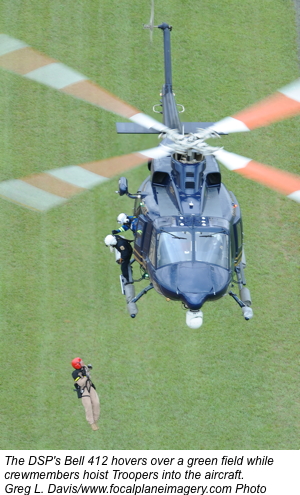 Echoing these sentiments was one of two Priority 1 Air Rescue instructors on site, Wil Milam, who is the lead search-and-rescue instructor for the company and certified by the United States Federal Aviation Administration to conduct Federal Aviation Regulations Part 133 Class B training in procedures, standards and external human loads. Milam explained that the company's philosophy is to train in realistic conditions, without compromising safety. In this case, he said, working through the weather on the DPS units' home airfield was an easy decision. "If the weather deteriorated too much, we could just set the helicopter down and call it quits in a safe manner. But creature comforts for the crews are not the drivers of how and when the unit answers calls."
Each crewmember was put through their paces during the soaking rain on June 7 and then in warm, sunny conditions on June 8 as they focused on safe, efficient operation of the 412's on-board rescue hoist. Captain Ron W. Hagan, Aviation Section Senior Officer noted, "Training is one of the most important things we do. Weather is a significant consideration for us at all times . . . as long as our visibility and ceiling minimums are met, we will fly."
Troopers operated the hoist before switching out with others to become the person being hoisted in to the helicopter. Training in this fashion builds confidence in the crews, and increases overall confidence in the aircraft and systems because each person knows they have been the "survivor on the line." Said Hagan, "In order to stay proficient and ready for any mission we must continually train for the worst case scenario, always taking into considerations the safety of our crew and those we're working to save."
Priority 1's Milam noted his company conducted the initial certification for the unit as part of the purchase package for the Bell 412, twin-engine helicopter. Initial qualifications were conducted in 2007 with 36 students. This year there were only five new students for Priority 1 to train, with the remainder being annual recurrency certifications.