Estimated reading time 20 minutes, 34 seconds.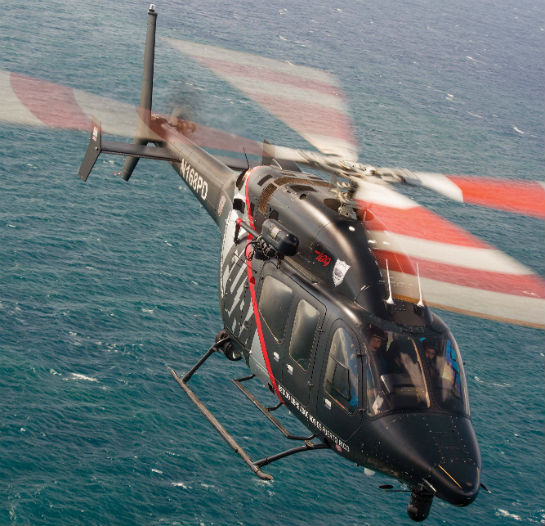 Just mention the Caribbean and it evokes images of beautiful tropical islands, palm trees swaying on white sandy beaches and warm crystal blue water. The thousands of islands throughout the Caribbean are some of the most alluring destinations on earth.
Near the eastern boundary of the Caribbean, about 1,000 miles southeast of Miami, Florida, and just under 500 miles from the South America mainland, lies the island Commonwealth of Puerto Rico. Encompassing only about 3,500 square miles, Puerto Rico is home to 3.5 million people. While most islands in the Caribbean are independent nations, Puerto Rico is a territory of the United States, making its people U.S. citizens. The U.S. dollar is the island's official currency, and its government in many ways mirrors that of a state within the U.S. However, Puerto Rico and its people maintain their own proud Latin American and Caribbean cultural identity.
I recently traveled to San Juan, Puerto Rico's capital city, to visit Ecolift Corporation, a relatively small full-service maintenance, repair, and overhaul (MRO) shop and completion center specializing in helicopters. In addition to introducing me to the company, Ecolift's proud employees explained how Puerto Rico's unique blend of geography, culture, and identity is serving to build bridges between the U.S. and Latin America — and produce exciting opportunities for the helicopter industry.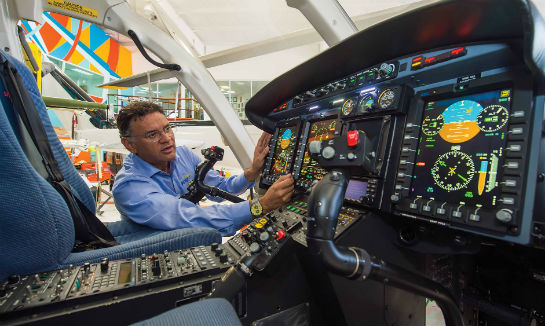 Ecolift was founded in 1998 by Ernesto Di Gregorio as a distributor and service center for Bell Helicopters. Born and raised in Venezuela, Di Gregorio was an aeronautical engineer and then a commercial helicopter pilot before he became a businessman. He established Ecolift in a convenient location within a chain of islands that formed a rotary-wing transit corridor between the U.S. and the eastern Caribbean and South America, and his new company quickly earned a reputation as a trusted source for service.
In the years that followed, the Ecolift name became known for first-rate workmanship, customer service, and its tenacity for problem solving. The company steadily expanded its capabilities to keep pace with the needs of operators and foreign governments, and not only within MRO; Ecolift also began providing solutions for larger and more complex projects for special mission aircraft.
Today, nearly 50 percent of Ecolift's customers are military operators. The company offers a broad scope of service, from spare parts, service and minor component overhauls; to refurbishment and structural customizations; to complete aircraft restoration. It also has extensive experience in engineering, fabricating and installing complex avionics packages and customized aircraft interiors and paint. Ecolift is certified by the Federal Aviation Administration (FAA) as a Federal Aviation Regulations (FAR) part 145 repair station, and holds similar certifications from the aviation authorities of Argentina (ANAC) and Venezuela (INAC).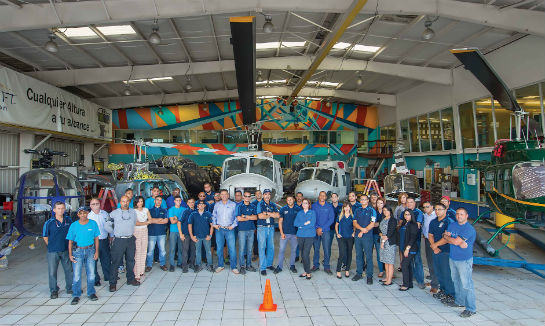 Ecolift's expertise is also recognized by the original equipment manufacturers (OEMs), and it serves as an approved service center for Bell Helicopter, MD Helicopters and Leonardo Helicopters (formerly known as AgustaWestland), and has maintenance and overhaul capabilities for Rolls-Royce and Pratt & Whitney. It is also an authorized distributor for Bose, L3 Communications, Garmin, Aspen Avionics and Chelton Flight Systems, among others.
Ecolift's 18,000-square-foot facility at Puerto Rico's Isla Grande Airport houses seven specialty shops: paint, parts, turbine overhaul, avionics, precision machine, electrical harness, and structures. A crew of 46 skilled technicians and administrative staff, most of whom are native Puerto Ricans, are at the heart of the operation.
About 70 percent of Ecolift's customers are from South America, and while the company's service offerings are attractive, it is also interesting to consider the cultural and economic factors at play that contribute to its success.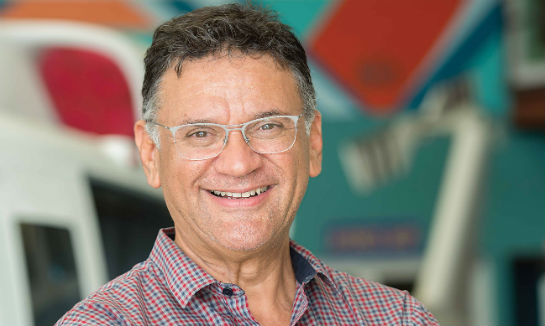 "If you understand how the economy works in South America, you'd see they have different currencies and in many cases money exchange is a problem and unpredictable," said Di Gregorio. "Also, those countries often have complicated rules, taxes, and tariffs for importing products — thus increasing costs and time to complete a project."Puerto Rico's status as a U.S. territory gives it an advantage. Namely, it provides a more predictable business environment, combined with the convenience of using U.S. currency. Perhaps more importantly, shipments from suppliers and OEMs arrive via reliable overnight carriers, just like shipping on the mainland. And for those visitors from the U.S., there's no passport required.
To most people in Latin America, Puerto Rico is still considered a Latin American entity, sharing a common culture and language. "We're looked at as a neutral state," said Di Gregorio. "Sort of like a Switzerland of the Caribbean and Latin America — and I can navigate both cultures."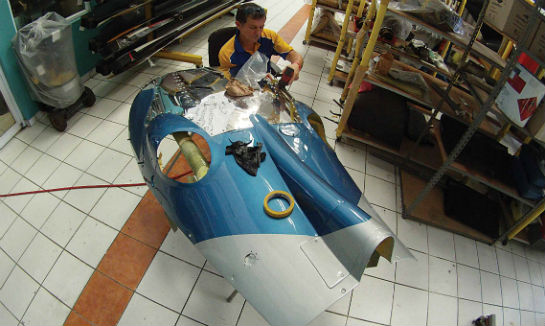 He said that Puerto Rico's proud ethnic heritage, convenient location, and lower cost of operation provide an attractive framework for services. "As a U.S. Territory in the middle of the Caribbean basin, Puerto Rico enables super efficient logistics and a fertile business environment that is heavily promoted by the local government," he added.
Developing a specialization
While MRO is the foundation of Ecolift, it may be the increasing number of special projects, each with their own unique challenges, that most excite and inspire Di Gregorio and his crew. One of the earliest was in 2005, when Ecolift received the first of what would eventually be 11 Bell UH-1H and 212s from the air forces of Chile and Argentina. The aircraft were earmarked for United Nations humanitarian missions, and each had an extensive punch card of work to be performed, including complete component overhauls, airframe refurbishment, new avionics — including weather radar and multi-function displays — electrical rewiring, special mission equipment, new interiors, and paint.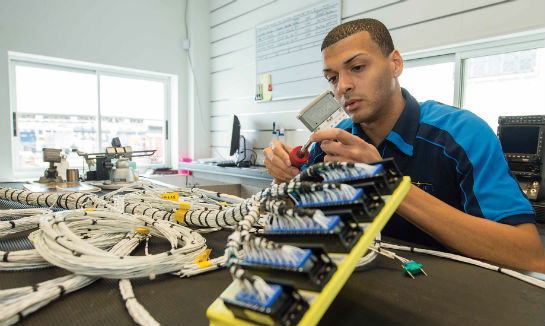 The success of the project led to more work down the line. Eric Ortiz, now working as operation manager for Aviación Civil Salta in Argentina, was a military pilot at the time of the 212 upgrade project, and has subsequently sourced Ecolift for similar projects. "We found not only solid technical skills among Ecolift personnel," he said, "but also — and more important — passion to get the job done well, attention for the details, and direct access to the head of the company to rapidly solve any technical, logistical or budgetary problems."
Perhaps the company's most ambitious project to date started in January 2014, when the Puerto Rico police took delivery of a new fleet of helicopters: three factory-new Bell 429s and one Bell 407. A second high-time Bell 407 from the existing police fleet that desperately needed refurbishment was removed from service and added to the project.
Each 429 required a substantial modification of its instrument flight rules (IFR) avionics suite, which included the replacement of the Garmin GNS 430 with a touchscreen GTN 750, and the addition of an L-3 Avionics SkyWatch 497 TCAS, a radar altimeter, and a Becker digital audio panel. The police mission equipment included a Wescam MX-10 electro-optical/infrared camera, a Spectrolab SX-16 Nightsun and an external Goodrich rescue hoist. A special requirement called for an internal video recording system with geolocation and a microwave downlink system for the infrared camera.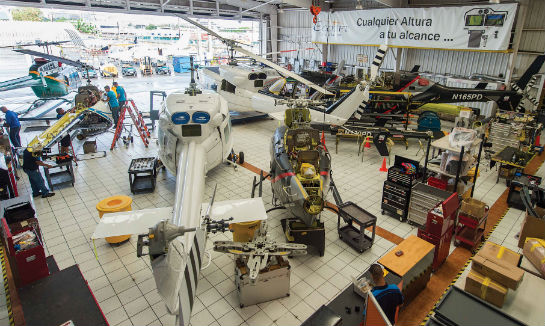 The 407s received similar treatment, but they utilized the smaller Spectrolab SX-5 Starburst searchlight. The 407 that had been removed from the fleet also required a complete paint strip and a structural refurbishment, plus an avionics upgrade using a Garmin G500H, GTN 750 and a microwave system.
If that scope of work wasn't daunting enough, there was also a requirement to complete the job in just 14 months. Di Gregorio referred to it as "a very unique tsunami program."
The first major hurdle for the Ecolift crew was dealing with the relative infancy of the 429 as a law enforcement platform. At the time there was not an abundance of supplemental type certificates (STCs) for accessories to configure the aircraft for the police mission. So Ecolift was forced to develop, engineer, and manufacture several critical components from scratch.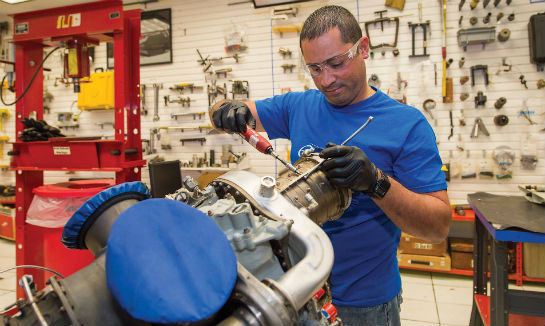 There was also the issue of how Puerto Rico police operates its patrol aircraft, utilizing a crew of three: a pilot and copilot in the front, and the tactical officer in the rear. As a result, the need for a custom rear cabin mission console was a critical element of the 429 package. It needed to house monitors for the camera and moving map, police radios, an audio panel, video downlink and controllers for the camera and searchlight. Oh, and it needed to be easily removed."The aircraft came with a standard passenger configuration and the police didn't want to lose that," explained Ecolift's avionics manager, Billy Roldan Ortiz. "They wanted to be able to transport non law enforcement personnel without them seated among all the mission equipment. So our challenge was coming up with a console that could be easily removed and allow the cabin to be easily reconfigured to standard seating."
Ecolift's designers came up with a concept that would remove the center/aft facing seat and utilize the existing seat rails in the floor to anchor the console. They created a cardboard mockup to evaluate the design's form and function, and this was followed by a more robust wooden mockup. Only after thorough evaluation did the team draw the final design on the computer and submit it to a structural engineer.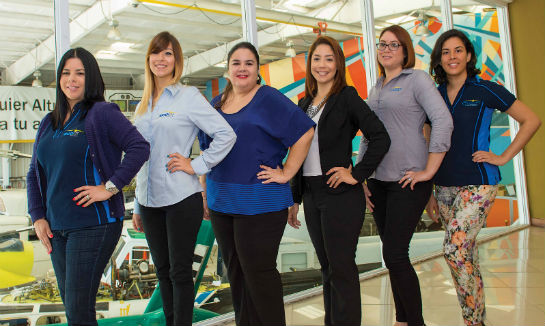 It took three months from initial concept to final product, but the console fit the bill beautifully. It was constructed from a lightweight honeycomb composite and made for a clean installation of the entire suite of mission equipment, including two 12-inch HD ViewPoint displays. The console weighs in at 70 pounds, and is easily removable via four floor rail attachment points and a few cannon plugs.
"It definitely is state-of-the-art in design," said Captain Jose Fernandez of the Puerto Rico police. "It's solid and the configuration of the monitors allows the operator to have full control of the situation while working comms [radios] as well. The quick disconnect plugs allow the maintenance crew to reconfigure the cabin for cargo, rescue, or full passenger in a few minutes."
The structural nose mounts for the Wescam camera and SX-16 searchlight also presented design hurdles. While mounts existed on the market for the Wescam, there was nothing available for Bell's newly designed nose radome on the 429. Similarly, there was a mount available for an SX-16 installation, but only at the base of the 429's tailboom. The police felt that would create an obstruction for personnel wanting to access the rear clamshell doors. It was up to Ecolift to determine a more suitable location, and they settled on a spot far aft on the belly. This didn't limit the light's travel, and provided clear access to the doors.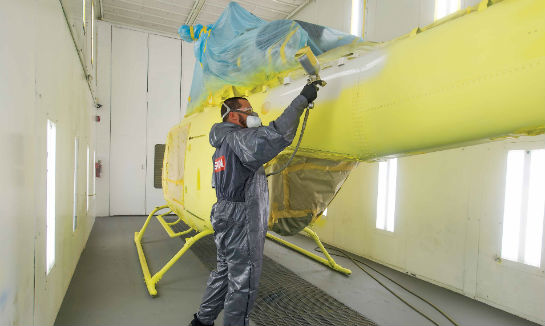 For both the camera and the spotlight, Ecolift designed, engineered, and manufactured their own structural mount, which they adapted to the quick disconnect mounts supplied by Meeker Aviation.
A VIP finish
Ecolift's crews pride themselves on their ability to take on new challenges and exceed customer expectations. And nowhere is their creativity and enthusiasm showcased more than in Ecolift's emerging specialty, which they call "Unique Custom Helicopters" (UCH). This was created for the discerning customer seeking the finest, most upscale completions or restoration for their aircraft.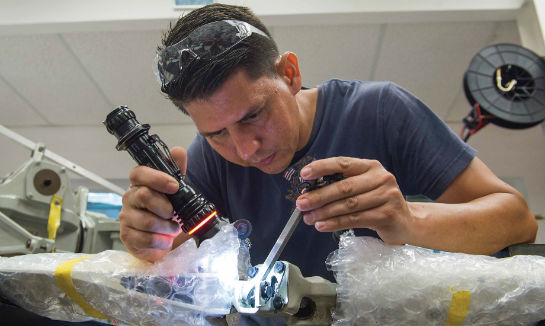 Custom interior accents include carbon fiber or polished metal panels, fine leather with decorative stitching, or custom cabinetry. Exteriors have infinite possibilities for unique custom paint designs, perhaps highlighted by a high polish to the exhaust stacks.
"When it comes to aesthetics, we go the extra mile," said Di Gregorio. "We put every resource and effort into it, and everybody tunes into making the project a work of art."
Di Gregorio compares UCH with the restoration of a classic car — albeit at a significantly steeper price tag. "It's a product that creates a show piece," he said. "It makes it unique. Every customer selects his own everything, from the stitches on the seats [to the] materials, colors, textures, [and] special equipment. We've had customers who don't like to use headsets, so they they've asked us to build a soundproofing system. Or they want music, so we add a boombox to an audio system. It could be considered excessive, but we've found there's a market for it."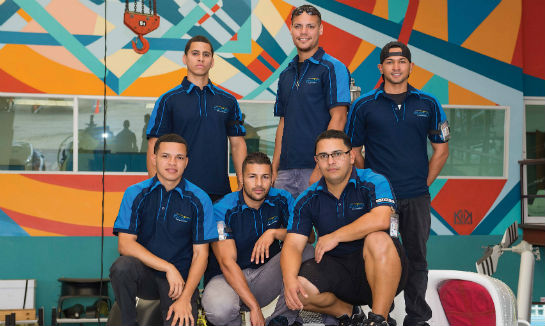 Since launching UCH five years ago, six aircraft have been through the process, including Leonardo AW109s and light and medium Bells from South American and Caribbean customers.At Ecolift, it's hard not to notice the unique energy that's palpable throughout the business. This atmosphere has been created and is fostered by Di Gregorio, through his gregarious and optimistic personality, attention to detail and genuine passion for the industry. The Ecolift crews and administrative staff reflect his energy and enthusiasm. It's clear that they all take great pride in who they are and the job they do.
"I try to manage by example," said Di Gregorio. "I don't have a book full of rules, but I make sure they understand the passion they must feel about this business, the importance of treating customers well and how details matter. Because details are everything."