Estimated reading time 5 minutes, 12 seconds.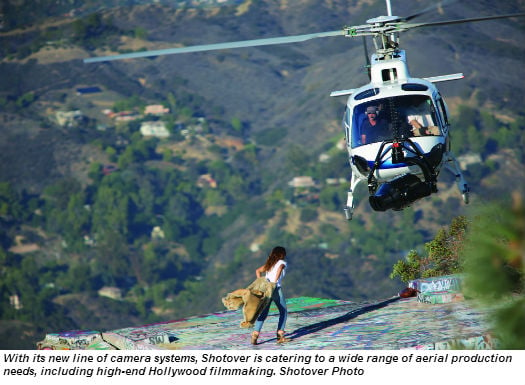 In 2004, Helinet Aviation Services acquired Cineflex from founder John Coyle, the creator of the world's first high definition aerial camera system, the Cineflex V14. Over the next three years, Helinet established the V14 as the standard in the television broadcast and production, electronic news gathering, and aerial surveillance markets before the company sold Cineflex to Axsys Technologies (now part of General Dynamics) in 2007.
Seven years later, Helinet and Coyle are back in the game with a new company, Shotover Camera Systems, which showed off its K1 and F1 camera systems at Heli-Expo 2014. Acquired by Helinet in December 2012, Shotover was, like Cineflex, initially founded by Coyle, who remains heavily involved with the company as its general manager and a shareholder. With additional involvement from some of Hollywood's top aerial cinematographers and pilots, Shotover is seeking to have the same revolutionary impact that Cineflex did — but across a broader spectrum of the aerial production market.
"When we saw the potential for the system, we all got very excited about it," Shotover investor and world-renowned aerial cinematographer David Nowell told Vertical. "It's just amazing what it's capable of."
Whereas the Cineflex V14 was too small to tackle high-end Hollywood filmmaking, that's exactly the market being targeted by Shotover's flagship camera system, the K1, which has already been used on blockbuster productions including The Hangover Part III, X-Men: Days of Future Past, RoboCop, and Transformers 4. Billed as the world's first integrated platform for capturing aerial footage in Ultra High-Definition (4K), the K1 competes with the Spacecam and Eclipse platforms that currently dominate the moviemaking business (although, unlike those platforms, the K1 is digital-only).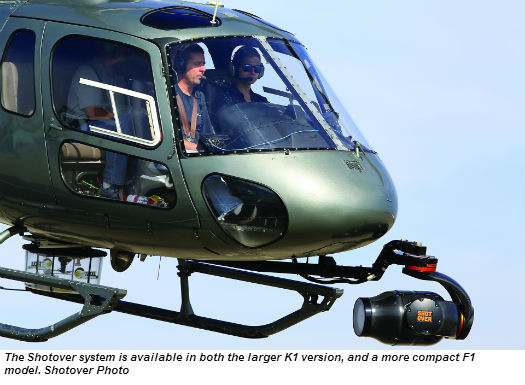 Designed to be easily transportable and configurable, the modular K1 can accept a broad range of lenses and cameras, including the Red Epic, Red Dragon 6K, Arri Alexa, Phantom Flex4K, Canon C500, Sony F55, F65, and IMAX 3D Digital. It can shoot conventional single-camera 2D, or 3D with the installation of a twin-camera package. It also has extraordinary six-axis gyroscopic stabilization with look-down and pan capability, plus a manual mode that, in conjunction with the system's other enhancements, allows cinematographers like Nowell to use it in new and imaginative ways.
"With the Shotover, I've been able to roll with the helicopter . . . and make it look as if the camera were actually flying," said Nowell, who praised the system for "opening the door" to a new range of creative techniques. "It gives you a bigger palette. . . . It's almost unlimited in what it can do." At the time of his interview with Vertical, Nowell had recently returned from using the K1 on the Transformers 4 shoot in China, where it captured "incredible" footage, he said. (That brings up another advantage of the Shotover system: because it uses new technology that is not subject to International Traffic in Arms Regulations, it can be sold and transported to locations like China more readily than some older platforms.)
The F1 offers many of the same capabilities as the K1, but in a more compact, lightweight package — less than 122 pounds (55 kilograms), compared to the 175- to 240-pound (80- to 110-kilogram) weight of its larger sibling. That makes it ideal for television broadcast and surveillance missions, and gives Shotover the potential to capture a large share of the ENG and television production markets as previous-generation Cineflex systems enter a replacement cycle. "The entire world is migrating to 4K," remarked Helinet executive vice president Alex Giuffrida, noting that Fuji TV in Japan will soon become the first station in the world to broadcast live 4K using a Shotover system. Shotover has sold 30 camera systems so far, and Giuffrida estimated that "the market itself is in the hundreds of gimbals."
In addition to reuniting many of Cineflex's original players, Shotover is also tapping many of the regional distributors they worked with previously, including Totsu in Japan, Hildemann + Partners in continental Europe, and Flying Pictures in the United Kingdom. Like Shotover's principals and investors, they see promising potential for the system across a range of applications. "This caters to any type of aerial production," said Giuffrida. "We've been able to manufacture and create something that addresses everyone's needs."