Estimated reading time 7 minutes, 49 seconds.
As 2020 closes out, Sikorsky and Boeing continue to fly the SB>1 Defiant coaxial helicopter as the team puts the final touches on an official pitch to replace the U.S. Army's long-serving UH-60 Black Hawks.
Nearing the second anniversary of its first flight in March 2019, Defiant has tallied 26 hours of flight during 31 separate test sorties, the Defiant team told Vertical in a recent email. Data gathered during those flights is backed up by 1,500 hours in Sikorsky's X2 Systems Integration Laboratory and 135 hours of runtime on the propulsion systems test bed (PTSB), a ground-based drivetrain identical to Defiant's.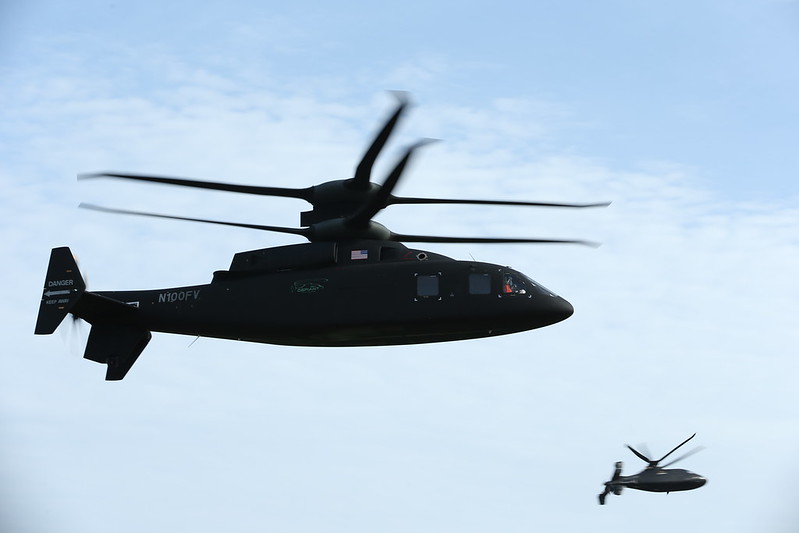 Defiant is all but assured an official spot in the Army's Future Long Range Assault Aircraft (FLRAA) program when it kicks off next year. Its only likely competitor, Bell's V-280 Valor advanced tiltrotor, was developed alongside Defiant in the lead-in Joint Multirole Technology Demonstration (JMR-TD) program.
"With Defiant, the Sikorsky-Boeing team is prepared to provide U.S. Army Soldiers with the next-generation weapon system that will offer the decisive edge in future multi-domain operations. Our long partnership with the Army gives us great insight into their mission, and we understand that future operations will require a survivable, agile weapon system with unsurpassed training and sustainment," a spokesperson for the Defiant team said in an email.
"For FLRAA, the Sikorsky-Boeing team will provide a transformational weapons system that is built for decades of growth in the same operational footprint as the Black Hawk. This weapons system will meet any mission and win against any near-peer threat, especially in highly contested environments where low-level flying is paramount."
After a disappointing 2019 during which Defiant was grounded from April to September as engineers worked to fix "bearing creep" issues in the main gearbox, the aircraft has roared past test flight milestones in 2020. The Sikorsky-Boeing team continues to expand the aircraft's speed and maneuverability envelopes.
In January, the 33,000-pound Defiant hit 100 knots in forward flight. In February, Defiant made its first public demonstration flight before Army officials, lawmakers and media, hitting 130 knots in level flight alongside its smaller cousin, the S-97 Raider. That achievement was followed by a competitive demonstration and risk reduction contract — Bell also received a CD&RR contract — from the Army in March. In June, Defiant clocked 200 knots in level forward flight at just 50 percent power.
In August, Sikorsky put both of its Future Vertical Lift offerings on display when Defiant and Raider flew a formation sortie at the company's flight test facility in West Palm Beach, Florida. October saw the aircraft hit its target 230 knots in a descent and 211 knots in forward flight with two-thirds torque applied to the aft propeller.
"Defiant's speed and maneuverability gives it the reach and survivability to penetrate enemy defenses while reducing exposure to enemy fire in half," the Defiant team said. "These advantages make the difference between mission success and mission failure. Defiant is the right solution for the Army mission at the objective."
Though it has significantly less air time than the V-280, Sikorsky and Boeing are leaning on five years of flight test data from the S-97 Raider, which shares the coaxial main rotor and pusher prop configuration of Defiant. Raider, an 80-percent surrogate for Sikorsky's Future Attack Reconnaissance Aircraft (FARA), has 93 flight hours, 102 ground run hours, 2,500 hours in the system integration lab and 365 hours on its transmission system test bed.