Estimated reading time 3 minutes, 35 seconds.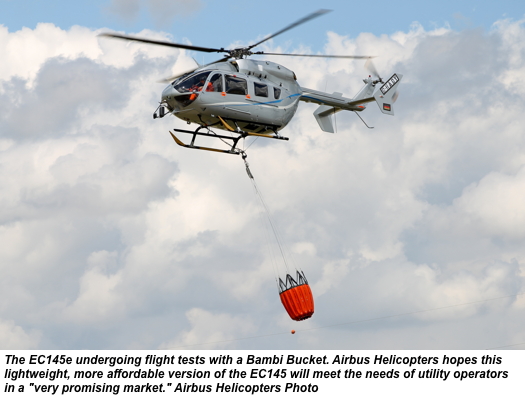 Airbus Helicopters is developing a new variant of its EC145 specifically designed for the utility market. Known as the EC145e, the aircraft will offer an increased payload of 324 pounds (147 kilograms) over the standard EC145 utility configuration.
Airbus Helicopters, Inc. president and CEO Marc Paganini hinted at the aircraft's development
 at the company's press breakfast at Helicopter Association International's Heli-Expo 2014, in Anaheim, Calif., when he told Vertical that the company had been looking at offering a more affordable medium-twin helicopter to suit the needs of utility and commercial operators.
"We [have] looked at this market; we think it is a very promising market," he said at the event. "We are looking at the [EC]145 with a very simple interior . . . in order to be more competitive in terms of price, and deliver the aircraft that the utility operator needs for their mission."
In technical data sheets released by the manufacturer, the EC145e, with the designation Bk117 C-2e, is described as a twin-engine, multi-purpose helicopter in the three-four ton class, with up to 12 seats for pilot/s and passengers. The aircraft, powered by two Turbomeca Arriel 1E2 engines, will be certified for single pilot VFR (visual flight rules) day/night operation with a new cockpit concept, increased payload, and increased pilot visibility.
The equipped empty weight of the EC145e is 4,156 lb. (1,885 kg), which allows for a payload of up to 2,031 lb. (921 kg). This compares with an equipped empty weight of the EC145 reference utility configuration of 4,486 lb. (2,034 kg), resulting in a payload of up to 1,707 lb. (775 kg).
The weight of the basic configuration of the EC145e has been kept minimal through the removal of items such as the tinted sun shades for the cockpit windshield roof section (saving 4.6 lb./2.1 kg), automatic flight control system (67.3 lb./30.5 kg), MEGHAS sensor kit (45.9 lb./20.8 kg) and the co-pilot flight controls (14.6 lb./6.6 kg).
The slimmed-down instrument panel for single pilot operation will have the Garmin G500H as primary flight displays and multifunction display, suited with two 6.5-inch LCD displays. The GPS and communication functions are provided by a Garmin GTN 650, while the central panel display system, consisting of two additional LCD displays, includes Airbus Helicopters' first limit indicator. The manufacturer said this system simplifies engine and torque monitoring, allowing pilots to dedicate more of their attention to the mission requirements.
Optional equipment will include a rescue hoist, internal long-range fuel tank, and cargo hook. "The EC145e is ready to take diverse missions ranging from firefighting support to internal and external load transport, or passenger transport," the technical data sheet states.
The aircraft successfully performed flight tests
in August 2013, and European Aviation safety Agency (EASA) and United States Federal Aviation Administration (FAA) type certification 
is expected by the third quarter of this year, with deliveries scheduled to begin in the fourth quarter.