Estimated reading time 17 minutes, 6 seconds.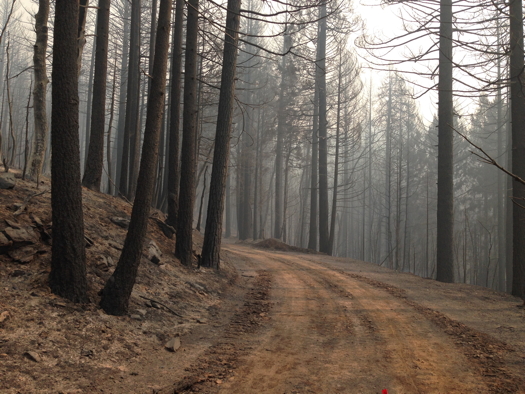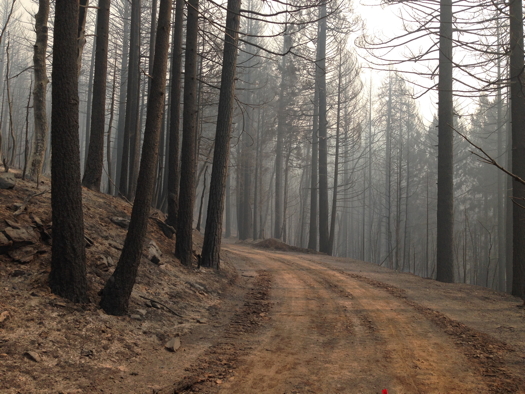 On Sept. 15, a dozen firefighters assigned to the King Fire ran 1,600 yards down this road through a gauntlet of fire, trusting in helicopter pilot Gary Dahlen to direct them to safety. All of them lived to tell the tale.
It was mid-September in northern California, and the King Fire east of Placerville in the Sierra foothills was entering its third day.
The morning had started out relatively calm, with an atmospheric inversion having slowed fire activity. Heavy smoke lay low among the treetops in the canyons.
For fire crews, protecting the small community of Pollock Pines along Highway 50 was the order of the day.
A 10-man inmate hand crew headed by Cal Fire Capt. Kevin Fleming was beginning its second day of labor, having spent the previous day and overnight cutting line within the perimeter of the fire. The lack of relief personnel during the early days of the King Fire had forced Fleming and his crew to extend their shift, continuing their work cutting fire line.
Ten miles away, at the Placerville Airport, helicopter firefighting veteran Gary Dahlen was also on his second day on the fire, and had just landed his bright yellow Bell 205 to refuel.
Dahlen was approaching the end of his 28th season as a fire pilot, his ninth flying for Atlanta, Ga.-based Helicopter Express. The company's 120-day U.S. Forest Service contract had ended several days earlier; however, the fire activity in the region held Dahlen over on a day-to-day extension.
This day, Dahlen had been out early working his Bambi Bucket on a 50-foot long line with other aircraft in the area of Pollock Pines. After taking on fuel and prepping for his next assignment, Dahlen took a few minutes to relax and refresh before air attack would likely request him back in the air.
The relative calm at the helibase was broken when, over the deck frequency, came an ominous broadcast: "All available helicopters prepare for an emergency launch!" Dahlen thought, "I've been fighting fires for 28 years and I've never heard that terminology before."
Dahlen began a brisk walk toward his helicopter, still completely unaware of the nature of the emergency. As he neared the door of his aircraft, the order broadcast was repeated, this time along with a set of GPS coordinates.
As Dahlen strapped into his helicopter, a helibase worker rushed out and began plugging the coordinates into his GPS. The worker told Dahlen that the emergency could be related to a fire shelter deployment.
In the Forest Service, announcing a fire shelter deployment is comparable to broadcasting "shots fired" in law enforcement circles — it means that someone is in a perilous situation and urgently needing assistance.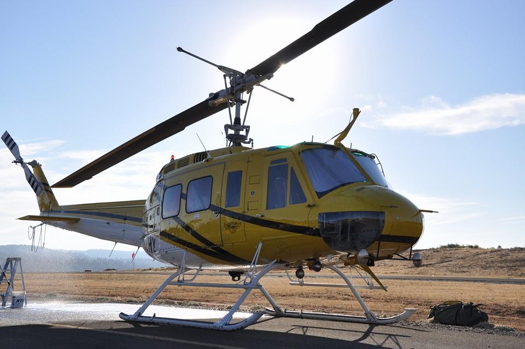 Gary Dahlen was flying this Helicopter Express modified Bell 205A-1, N17HX, referred to in radio calls on the fire as "Hotel X-ray." Cal Fire Photo
Meanwhile, up on the mountain, Capt. Fleming and his crew had spent the calm early dawn hours cutting line around a relatively small spot fire among groves of tall timber.
As they were tying their fire line into a dirt road mid-slope, they noticed another small area of flame several hundred feet downslope. Fleming was surprised by this, as he had not been aware of any other active fire.
A bulldozer — dozer 1642 out of Santa Clara — was dispatched to aid the crew.
Within minutes of 1642 arriving and beginning work to access the flames, the atmosphere over the fire began to change, and very quickly. Light breezes turned to hot upslope winds as the inversion layer lifted, allowing the smoke to billow up out of the trees.
The clearing visibility through the trees now revealed a much different — and far more menacing — scenario. Fleming and the dozer operator immediately determined they would be unable to hold what was now apparently a large front of fire.
The dozer operator quickly began to back the machine back up the hill, and Fleming ordered his crew back to the designated "safe zone."
As Fleming began walking up the hill to join his crew, he heard the sound of the dozer accelerating to what he believed to be full throttle, and the tractor's track squealing to grab traction.
"I turned around to look, and saw sustained independent crown fire [fire jumping tree to tree in 100-foot-plus tall timber] coming right behind him," Fleming said.
Before the dozer could make it back up to the road, the fast-moving inferno overtook it, causing the fuel tank to explode. Thankfully, before that happened, the operator managed to bail off the machine, and begin running uphill.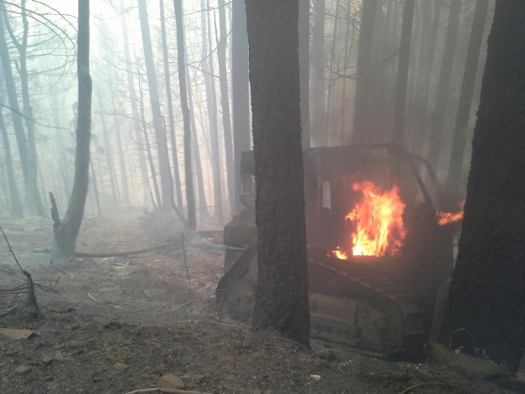 The operator of dozer 1642 bailed off the machine minutes before it was overtaken by fire and its fuel tank burst into flames.
Via his portable radio, Fleming advised operations of the situation and the burn over, but dying radio batteries cut his message short.
Problems were compounded when Fleming discovered that, because of the unexpected extended shift, the batteries in his GPS had died as well.
He recalled, "I knew at this point that we were in trouble, and I knew we had to get a lat and long [latitude and longitude] out, and I knew we had to get something coming our way. But at this point I didn't yet think we were going to deploy shelters."
With weather conditions changing and fire behavior intensifying literally by the second, Fleming quickly realized the stakes were becoming grave. "The atmosphere was changing. It was so violent," he recalled. "The sun disappeared and there was an ominous glow and extremely loud noises, with burning pine needles, pine cones and branches falling all around us. We were just seconds from being overrun."
Surrounded by fire, Fleming ordered his crew and the bulldozer operator to discard all of their personal items and firefighting tools and take cover in their fire shelters along the narrow dirt road. "I was the most scared I have ever been in my life. I knew we were trapped and I knew we were in an extremely dangerous and violent fire area," he said.
Before covering up in his shelter, with trembling hands, Fleming was able to swap out the failed batteries in his GPS. To his astonishment, the device immediately grabbed on to 11 satellites and provided accurate location information.
With the burnover imminent, Fleming was now able to broadcast his location and make a last plea for air support. He concluded that broadcast saying, "We're getting into our fire shelters. We're being overrun by fire."
Fleming estimates it was perhaps three minutes from the time the bulldozer was overrun to when he ordered his crew into the fire shelters. As they huddled in their shelters, the crown fire in the treetops burned over the top of the crew, raining down burning pine cones, tree limbs and bark.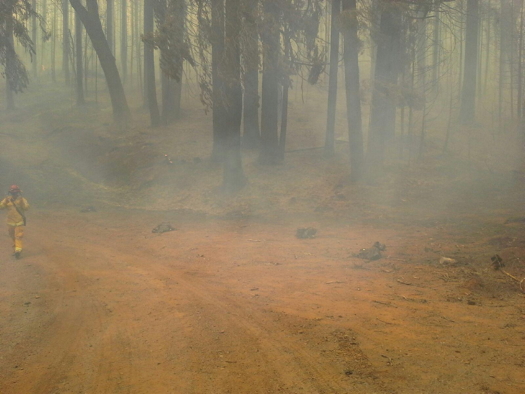 This shot taken after the fire passed through shows the crew's discarded packs at the scene where they deployed their fire shelters.
Dahlen was one of the first helicopters off the helibase. He raced to the coordinates, his machine's Bambi Bucket still attached.
Air attack called him enroute, suggesting he stop by a nearby reservoir and fill his bucket. Dahlen said, "Nah, I refused. If it's a shelter deployment I'm going straight there and see what we've got. The helicopters behind me can get a bucket of water."
Approaching the coordinates, smoke was heavy. Dahlen slowed his machine and made a call to the crew on the air-to-ground frequency. To his surprise, Fleming responded, telling Dahlen that he and his crew were in their shelters on a road.
Dahlen began searching along the many dirt logging roads that crisscrossed the mountain. Fleming's voice again came over the radio, "Okay, I see your helicopter! I'm at your nine o'clock!
"I hovered down a little bit further and looked down through the smoke and I cold see the 12 shelters deployed along the logging road," said Dahlen. "I started looking around to see what was coming at them and it was just a wall of fire. There was fire everywhere."
Dahlen thought to himself, "Shit, you're in a bad spot, you're not going to make it!"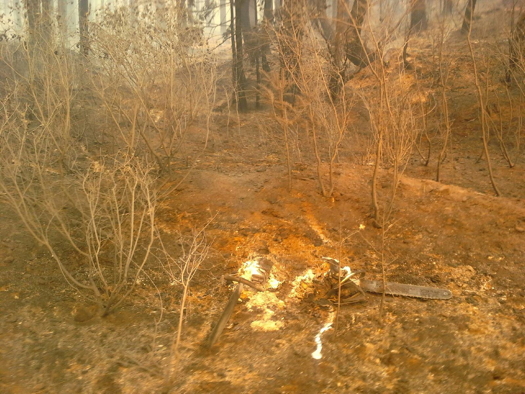 Chainsaws discarded by the crew were melted by the fire that swept over them.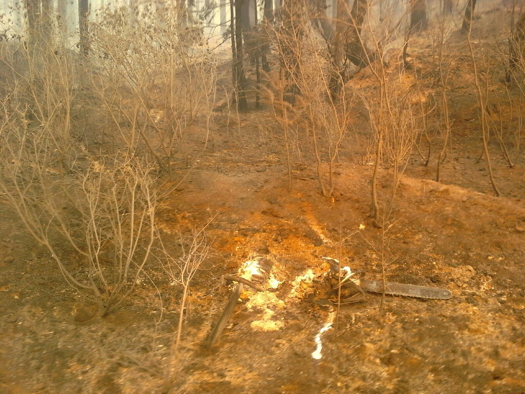 After quickly assessing the situation, Dahlen estimated the crew had literally minutes before the wall of ground fire over ran them. In a calm but firm tone, he began crafting a plan for Fleming and his crew.
He told Fleming to get his crew to their feet and run as fast as they could 200 yards to the north. He believed this would, for the moment anyway, put them in a position of relative safety. Fleming recalled, "It just clicked in my head that [Dahlen could] see something that I couldn't. So I went with it."
Fleming mustered his crew to their feet, and they began sprinting down the road in single file.  Everyone's legs began cramping from exertion and dehydration, but slowing or stopping was definitely not an option.
Fleming recalled Dahlen saying over the radio, "You've gotta run faster, you're not going to outrun it. You've gotta get out of the way of that thing!"
"At this point I thought we were truly dead," said Fleming. "The fire was all over the road above us, behind us, in front of us . . . It was like riding inside a wave on a surfboard. We were literally running through a tunnel of fire."
After sprinting what was later determined to be 1,600 yards through the tunnel of fire, covering his head with his fire shelter and clutching his radio, Fleming finally emerged with his crew into a safe zone clear of the active fire area.
Dahlen stayed with them, directing their several-mile trek to safety along game trails and through thick, unburned brush — all the while carefully maneuvering to keep his Bambi Bucket clear of the trees.
Soon, the "helco" (helicopter coordinator) arrived on scene in a Bell 206. After being oriented to the plan, the helco took over directing the crew. Dahlen was given the mission to fly ahead to scout out a suitable landing zone (LZ) where he could land and load the crew.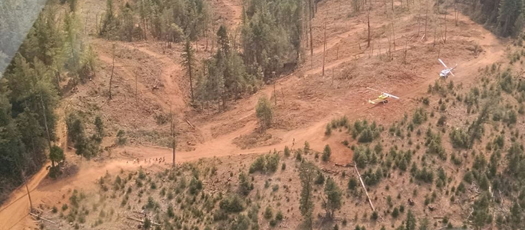 The ordeal ends: Fleming and his crew emerge from the tree line (left) into the clearing where two helicopters are waiting to lift them to safety.
Minutes later, Cal Fire copter 104 — equipped with a hoist — arrived overhead. Fleming was comforted knowing they had the capability to perform hoist extractions if necessary; however, at this point the crew was most thankful for the bottles of cold water that were thrown down from the hovering helicopter.
Dahlen located a suitable LZ: a logging clearcut was located some distance away. A Siller Helicopters Skycrane made two dust abatement water drops on the site before Dahlen and a second Bell medium set down to wait for the crew to arrive.
About an hour later, Fleming and his weary crew emerged from the tree line. Dahlen and the manager from the second helicopter walked out to greet them. As they got close, Fleming looked to Dahlen and asked, "Are you the guy flying Hotel X-ray [the aircraft's abbreviated call sign] — the yellow helicopter?"
"When I said yes," said Dahlen, "he just threw his arms around me and gave me a hug that lasted a few minutes."
Dahlen told Fleming, "You're the luckiest son-of-a-bitches on the planet." Fleming could only respond, "I know… I know."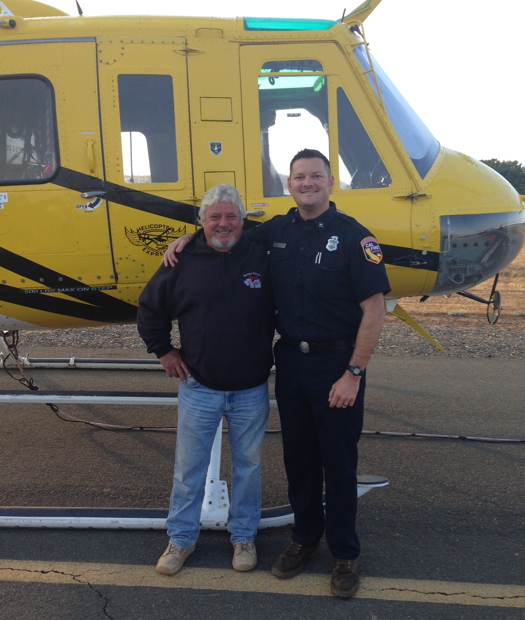 Helicopter Express pilot Gary Dahlen, left, and Cal Fire Capt. Kevin Fleming just days after the burn over incident on the King Fire.
Through it all, the only serious injury was sustained by Fleming, who stumbled while running. The fall resulted in injuries to his face and knee, but he is unable to recall the details of how it happened.
The serious accident review team concluded that, at the time the fire burned over the crew in the overhead canopy of 130- to 150-foot tall timber, it was consuming fuel at a rate of two miles in just four minutes. Dahlen said, "It was one of those firestorms that was consuming 100 percent of the vegetation ahead of it."
Following the ordeal, Dahlen and Fleming had opportunities to reflect on the day, discuss how things went down, and just get to know one another a bit. In doing so, they discovered that they were both cancer survivors, with Fleming beating testicular cancer four years back, and Dahlen beating prostate cancer just last year.
Dahlen said, "What's a better thing to have in common than fighting fire, surviving cancer and running for our lives that day?"
It's also quite remarkable to know that, the day before Fleming was assigned to the King Fire, he was at his wife's side as she underwent a sonogram. That was when these first-time parents discovered they are to be blessed this winter with a little boy.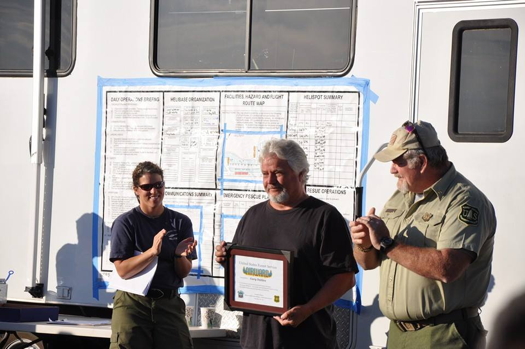 Dahlen was recognized for his quick thinking on the King Fire with an "Airward" from the U.S. Forest Service. Cal Fire Photo
The King Fire began as a relatively small one- to two-acre fire. Despite the steep terrain, fire crews made what they believed to be an effective initial attack to contain the blaze.
During overnight mop up operations, a spot fire was identified outside their containment, but the dry conditions and steep terrain made attacking it difficult.
Ultimately, the fire exploded and burned over 97,000 acres, destroying 12 homes and nearly 70 other structures. Over 3,000 personnel fought the blaze along with eight helicopters and 14 dozers.
Days after the ordeal, Dahlen received an "Airward" from the Forest Service, recognizing his actions and crediting him with saving the lives of the crew.
"It's a situation I never want to be put into again," said Dahlen. "I'll tell ya what, we had to make some decisions fast and every one of them had to be right. I think there was some higher being helping us that day because it all worked out. Every decision was the right one and we had only minutes to do it all in."