Estimated reading time 15 minutes, 53 seconds.
Editor's note: This story originally appeared on therotorbreak.com
I have always been attracted to the continent of Africa — I was just never sure when I would start exploring this vast land. I finally got my chance a few years ago, after a good friend of mine told me the company he worked for was looking for a seasonal pilot to fly in the bush for the safari industry. While I have traveled quite a bit since I started flying, the idea of being able to do it over a huge expanse of land filled with wildlife was just exhilarating.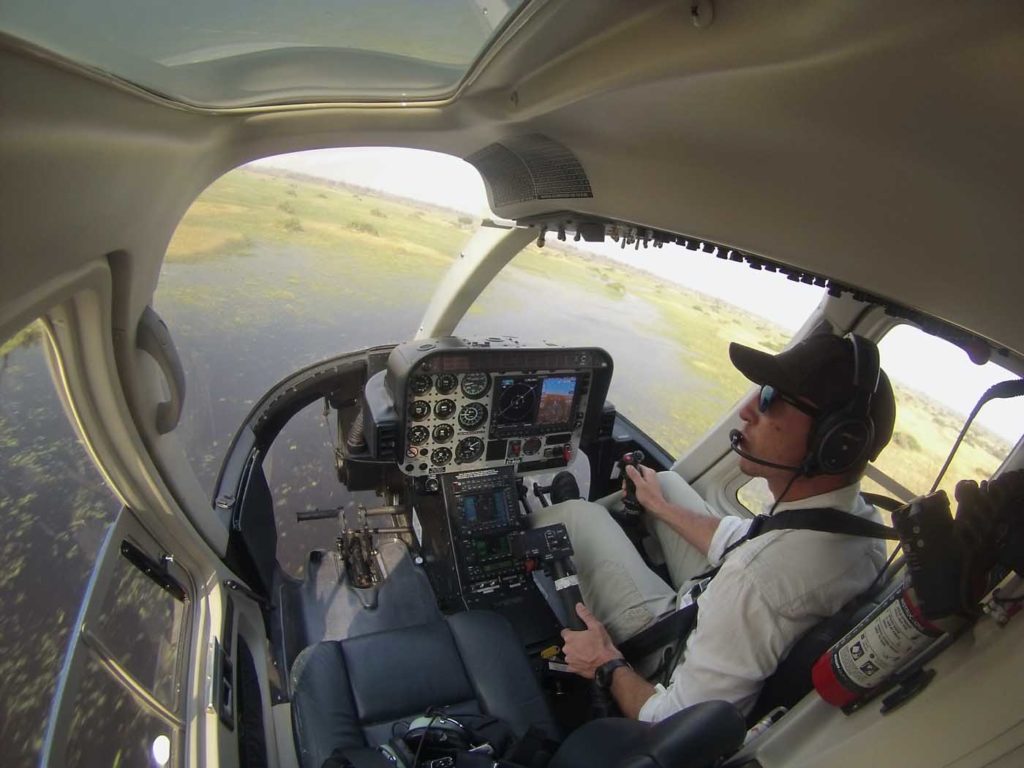 A couple of months later, I was on a flight bound for Botswana. At the time, I wasn't even sure where this country was on the map, other than somewhere in southern Africa. I had no clue what to expect, similar to many of us who get a new contract far from home, but it turned out to be one of the best moves of my life, opening many doors and opportunities for me all across the continent.
The main operation was to transport tourists around fancy lodges and perform sightseeing tours over the Okavango Delta. But during my first few days on the job, the chief pilot brought me with him on a more unusual task — game capture. I had heard of it and seen videos online of guys flying R22s around cattle in Australia, but I had never thought I would be in a helicopter doing such work myself.
A herd of buffalos had roamed too far into community land, and the wildlife department wanted them captured and brought back to the protected area, away from human contact. I was sitting next to my chief pilot, who was flying and throwing the machine around to push the dozens of visibly annoyed and angry beasts towards what we call a "boma" — a manmade trap that would allow us to load the animals into trucks. I was a bit worried at first, but I soon got the feel for it and started to enjoy the challenge. Welcome to the bush!
Back from our trip, I was given time to get familiar with the area before being sent on my own to one of the lodges. This was deep into the flooded plains of the delta, where I would be spending most of my time for the next few months. My eyes couldn't even begin to process the amazing landscape in front of me. This area is extremely difficult to access by ground vehicle. Boats can be used seasonally, but air is the most efficient and fastest way to get where you need to go.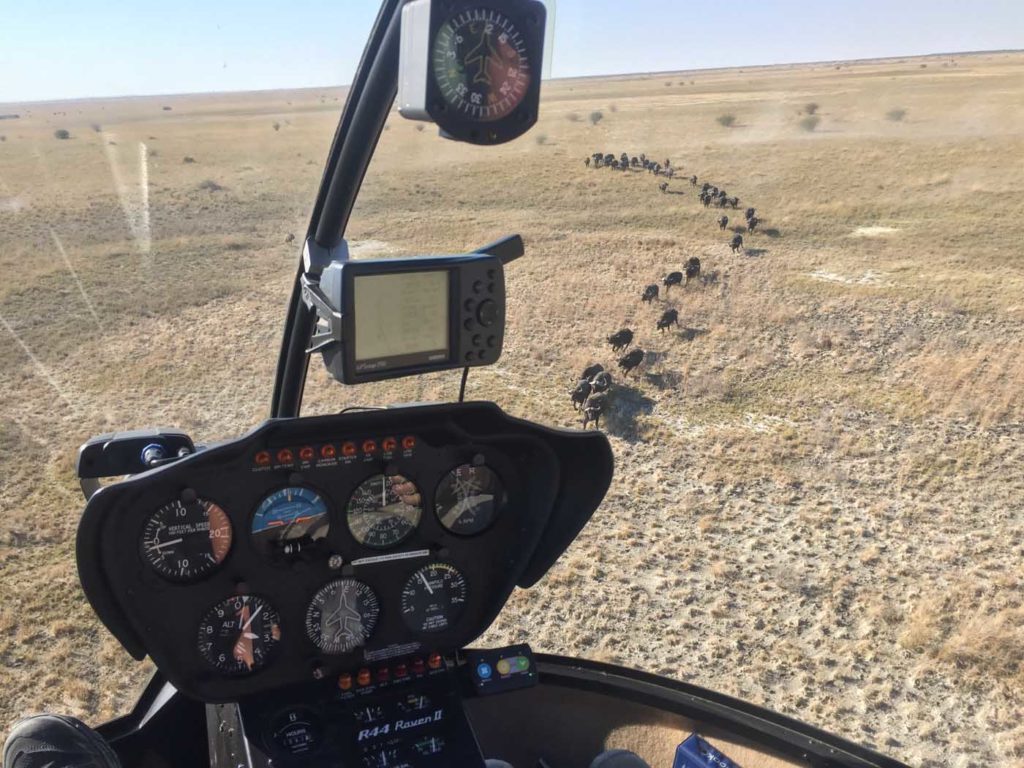 During the busy season, there are lots of Cessna Caravans crossing from east to west, or north to south, to reach all the different lodges. You need to be on top of your radio communication while controlling the helicopter and being a guide to your passengers — which is not an easy task at first. And, as I was sharing the airspace with a large number of fixed-wing planes, I was flying under 500 feet. I couldn't get over the fact that I was flying over huge herds of elephants, zebras, buffalos, and sometimes I was even lucky enough to spot prides of lions or a leopard. Predators aren't easy to find, as they hide from the heat during the day and are more active at night.
Being in the bush among the wildlife, you need to learn how to live with them — and you quickly realize that you need to be very careful. The lodges aren't, for the most part, fenced all the way around, so you need to be aware of your environment when you walk to your helicopter to get ready. Sometimes, it's better to just drive a car, as hippos or buffalo might be standing in your way and believe me, you don't want to be on foot when they are around.
On a typical day, I would have a full day of short scenic flights to do. On these, we have lot of freedom and don't have a specific route to follow. We just go and see what we can find. After a full day of flying, refueling, giving safety briefings and sharing my knowledge of the delta with the passengers, it is finally time for a good rest and a beer. I get to chat again with the people I flew earlier in day, and if they are all thrilled with their experience (which they always are), it's mission accomplished.
The bush pilot life
Being in the bush, we need to be able to turn our hands to many different types of operation. On one occasion, I was sent with the company's medevac helicopter to the Makgadikgadi Epic — an annual skydiving event over a prehistoric salt lake. I was supposed to be on standby in case of any emergency, but after a few days on site, I also ended up dropping some of the skydivers out of the aircraft. As I had never done it before, I needed to get some tips from my chief pilot. One of the skydivers was highly experienced, and gave me more advice and information on how he had done it before.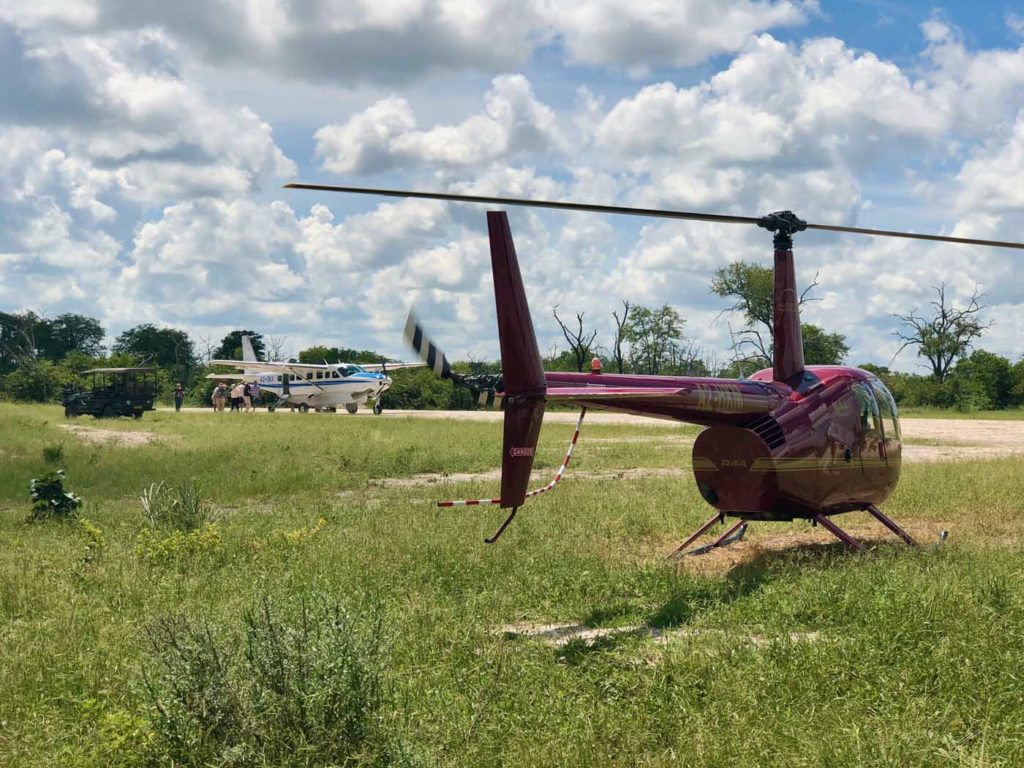 With three people on board, we climbed to 4,000 feet (1,220 meters) above ground level. When I was ready and stable over the landing zone, they gently got on the skid. In one move, they all let go and started falling like rocks. I ended up being all by myself in the cockpit, descending in a right-hand turn back to the ground to pick up another load of jumpers. What was likely going to be a quiet few days turned out to be pretty fun and interesting.
When you live in the bush, you become very familiar with conservation. Wildlife is precious, and lots of organizations and people are working extremely hard to try to protect animals from over-hunting or poaching, while also reintroducing them into their natural environment. The rhinoceros is one of the animals most at risk, and I got the chance to be part of the effort to reintroduce them back into the Okavango Delta. Agreements between countries allow rhinos to be moved and relocated as long as they are guaranteed to be protected and helped to thrive in their new home. While there is still much work to be done – such as having proper security forces to protect the animals, educating the community, and stopping the demand for their horn — it's good to see that we are moving in the right direction.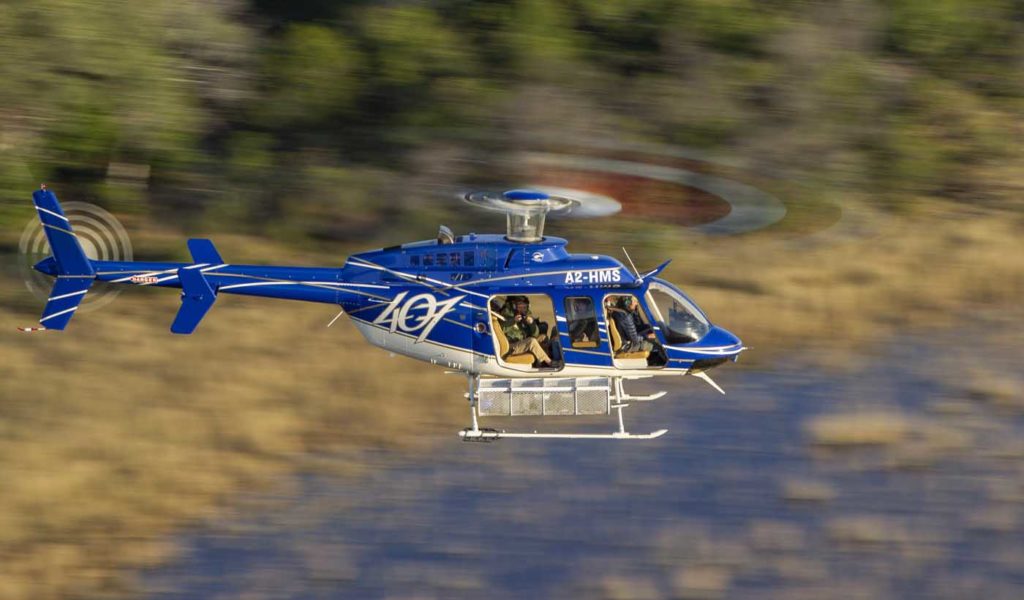 This wasn't the only rewarding work I had in Africa. In March and April 2019, Mozambique was hit by two Category 4 tropical cyclones, which caused catastrophic damage across the country's coastline. Local authorities requested helicopters to help with search-and-rescue, and food and medication delivery to remote villages. As soon as our boss got confirmation, my chief pilot and I left Botswana to play our part in the recovery efforts. Two days later, we reached Pemba, Mozambique.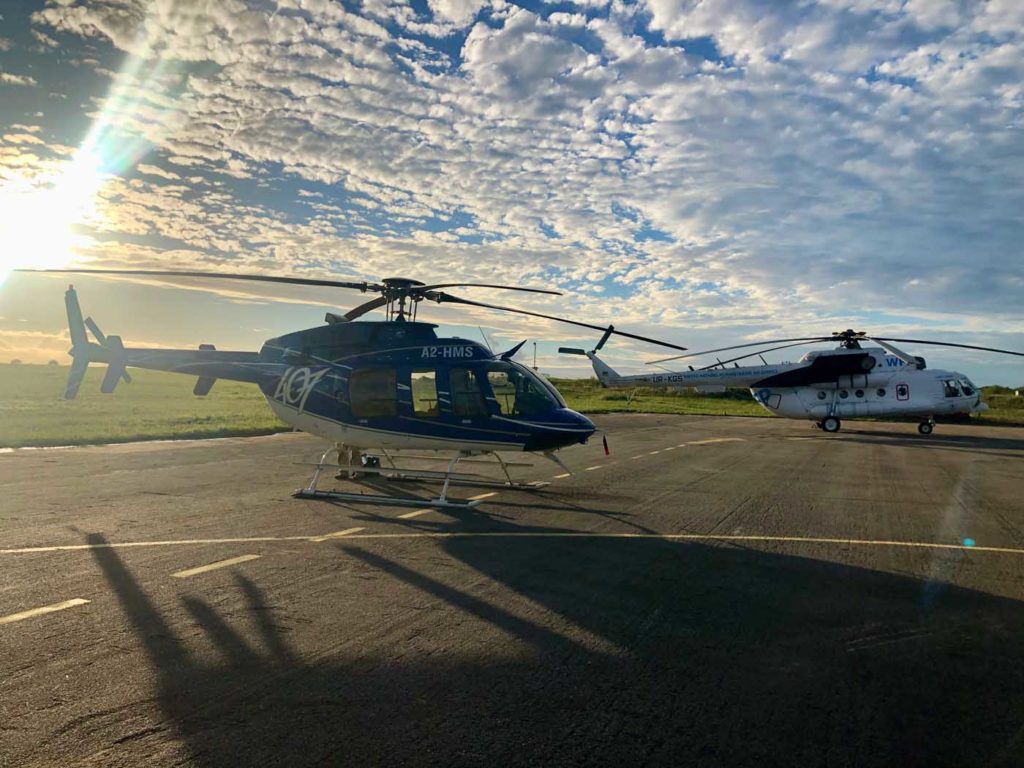 NGOs were all over the place, along with helicopters from different parts of Africa, which had arrived to give a hand with first response. It took a few days before we were all operating at full efficiency. First, we were assigned to take officials along the coast and to some islands for damage assessment. We saw that several villages had been flattened out, leaving nothing standing and the residents in need of urgent help. For the next few days and weeks we were on a mission to get everything we could to the local communities, until the roads were fixed and help could be brought in via truck or car.
Hitting the campaign trail
Another day, another contract. It was election time in Madagascar, and the candidates were busy campaigning around the big island. This piece of land is quite difficult to get around, with villages and towns spaced so far apart, therefore the best way for politicians to get to the people is to use helicopters (if they can afford them). A couple of candidates were able to do so, so I spent three months flying one of them with his staff.
First, I needed to get there from South Africa, which meant cruising over the beautiful coast of Mozambique, all the way up to the city of Nacala, before crossing over around 250 nautical miles (460 kilometers) of water to Madagascar. That's quite an adventure and it was the first decent ferry I did in Africa across multiple countries. There were several helicopters making the journey together, and it was good to have company for this kind of trip. After four days, we finally reached our destination in Antananarivo, the capital of the country and the start of the campaign trail.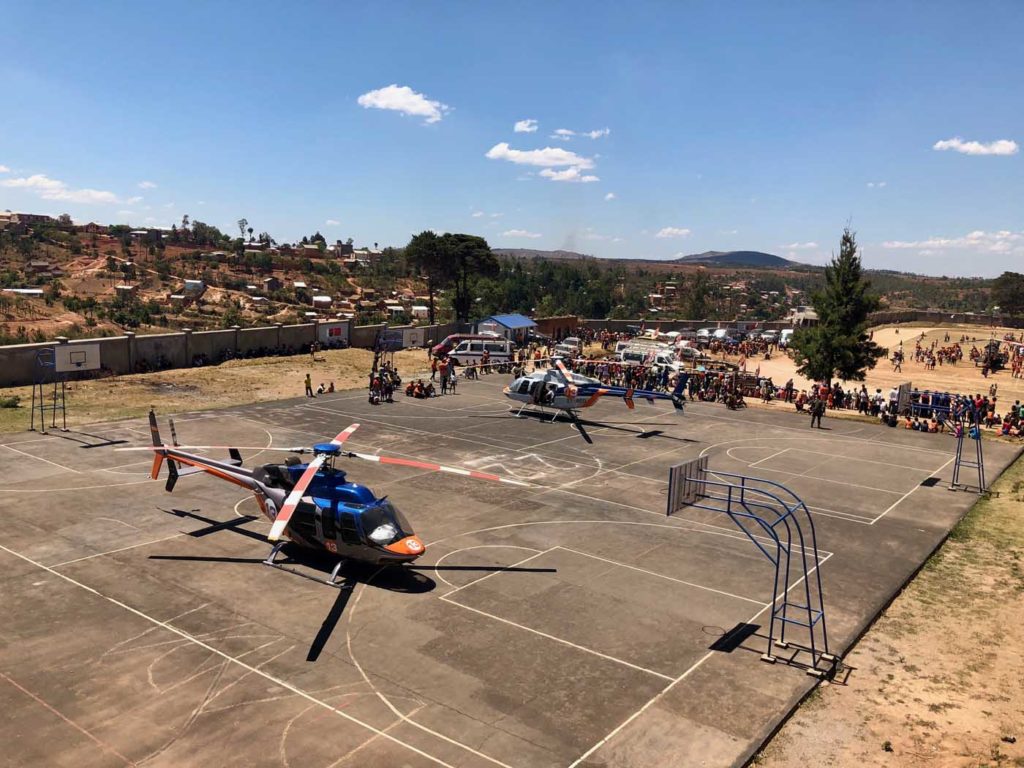 Over the three-month campaign, we flew the whole island — from coast to coast and inland. We admired the beauty of a unique environment, but it was also one that suffered from deforestation and loss of habitat for the local fauna.
One of the more memorable safari experiences I had during my time as a bush pilot was in Angola. It was a unique first safari to take place along a route from the southeast corner of Angola all the way up to the source lakes of the Okavango River, which feeds the whole Okavango Delta during the flooding season. This part of the country had been untouched since the Angolan Civil War, and there were still plenty of minefields around. The idea was to go spend a couple of days next to the Cuando River, and then make our way up to the highlands to find the origin of the water. This river flows down to the south and crosses three countries.
A Robinson R44 is watched by a herd of zebras.

Ranger training in Benin.

Photographers take advantage of the exceptional views on offer in the 407. Horizon Helicopters Photo

An elephant casually walks past a parked Bell 407. Horizon Helicopters Photo

The wreckage of a helicopter downed in the Angolan Civil War.

On the presidential campaign trail in Madagascar.

A hot air balloon takes off for a late afternoon flight as a Bell 407 looks on.
I was really excited about this trip. Being one of the first expeditions by helicopter in this part of the country since the end of the war, we needed to be sure everything was well organized. For that, our guide was in contact with some people at the Angolan Ministry of Tourism, who turned out to be very helpful on our journey. Routing deeper inside the country following rivers, we planned to stop at a famous battlefield southeast of the city of Cuito Cuanavale — the Battle of the Lomba River — where remains of tanks and helicopters can be found to this day. We reached our final destination at the lakes a couple of hours later. Here, we set up camp and enjoyed the peace and quiet of this little paradise.
I could never have imagined being in this part of the world if it was not for my job. But, after three busy seasons based in Botswana, it was time for me to move on to a new adventure – and one that would bring me to a whole new part of Africa. An anti-poaching contract opened in northern Benin in the Pendjari National Park, and they needed a French-speaking pilot to work in the area. I leapt at the opportunity.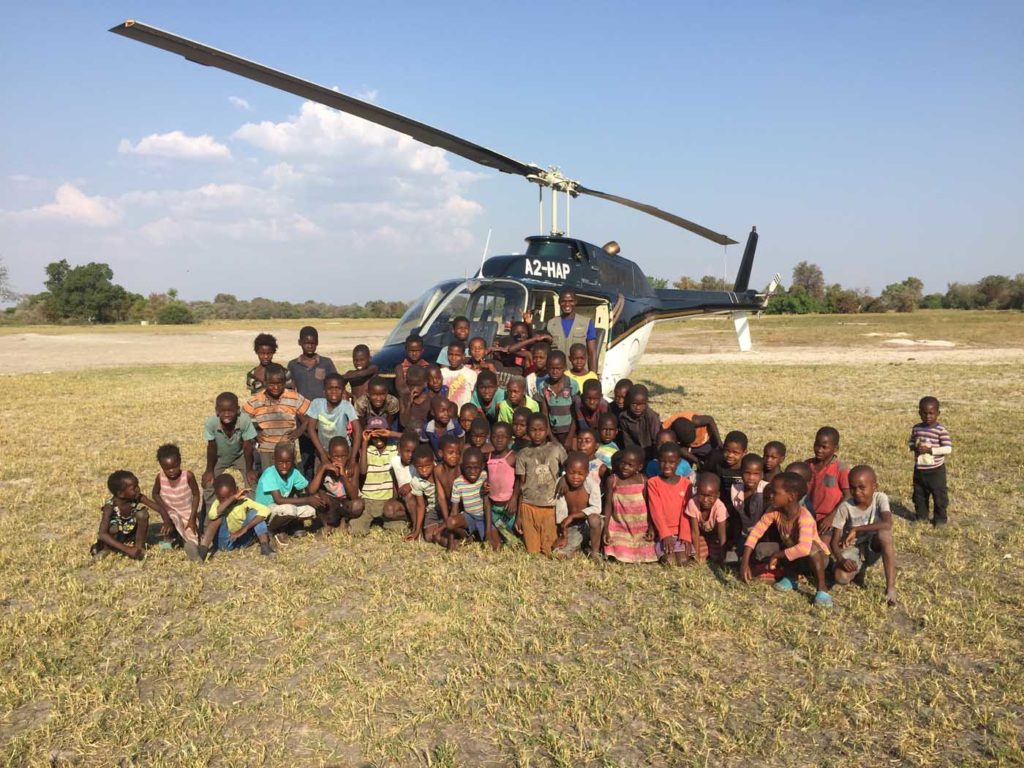 I had to ferry the helicopter from South Africa all the way up to Benin, which is the longest and most challenging ferry I have ever done. In total, I crossed 10 countries and flew almost 3,000 nautical miles (5,550 kilometers) over five days, all by myself. It was one of the best experiences of my flying career, and it brought me back to what I love the most besides flying in Africa: conservation work. Here, under African Parks Network, rangers are being trained and deployed in the bush to protect animals, the landscape and people from poaching, illegal fishing and logging, as well as threats from extremists.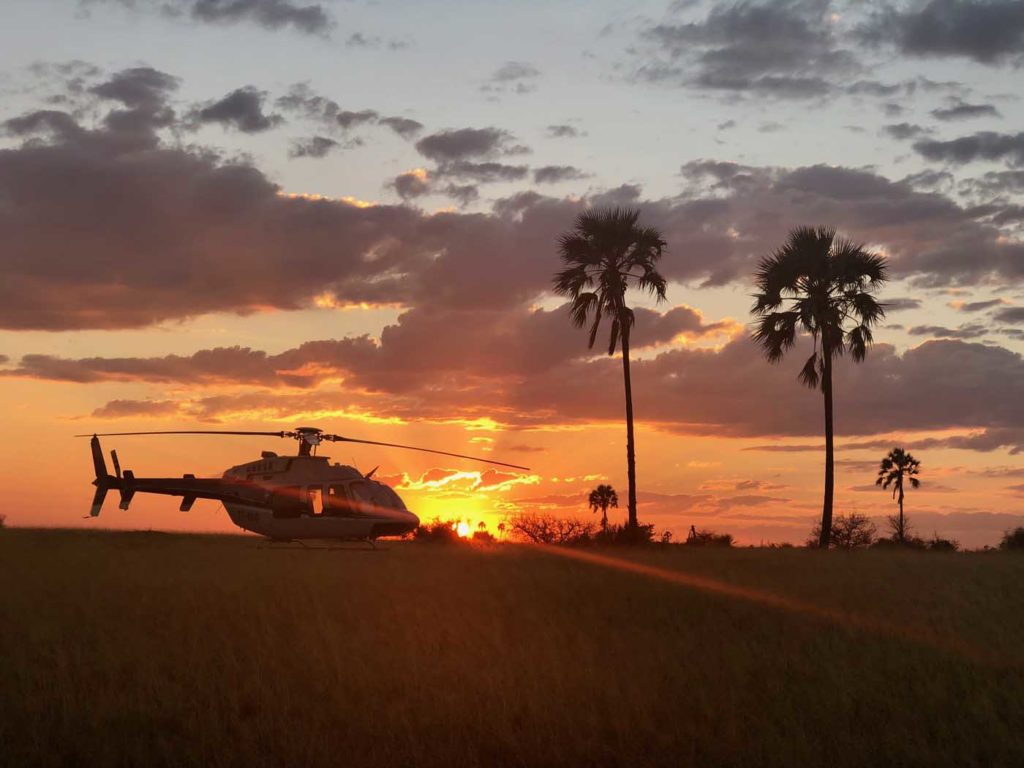 It was a new challenge for me, and I always needed to be on top of my game, especially when flying next to the border with Burkina Faso. The job was fascinating, and I felt like I was contributing to a greater cause. While I am now back in North America, I know my adventure in Africa isn't finished yet; there are still plenty of places for me to discover. I'm not sure if my next contract will be on this continent, but once you have had a taste of Africa, it is not an easy place to leave. You will always want to go back!