Estimated reading time 13 minutes, 45 seconds.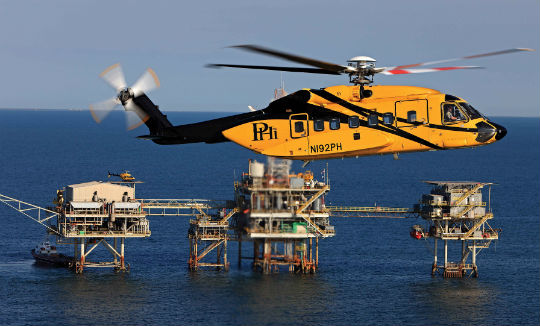 For the energy sector, the last year has brewed a perfect storm of woes. Flagging economic growth overseas, political turmoil in Russia and the Levant, uncertainty in the eurozone, record-high U.S. crude inventories and a deepening oil glut have all conspired to severely dampen oil prices.
For a cyclical industry such as helicopter offshore transportation, the results have been calamitous. Operators of all types and sizes are reporting sharp declines in demand, prompting them to lay off workers, cancel aircraft acquisition plans, and revise revenue projections downward.
However, positive trends are also emerging from the pain, as operators get leaner and fitter. While they may currently be struggling with downsizing, these cost-cutting efforts will hold them in good stead and enhance their operating margins when energy prices inevitably resume their upward trajectory.
Until that brighter day, though, the picture remains grim.
"Depressed energy prices are hurting the helicopter offshore sector an awful lot," said Richard Aboulafia, vice president of analysis at the aerospace consultancy the Teal Group, based in Fairfax, Va. "The real problem, though, is that they're not hurting as much as economics would dictate."
Aboulafia said the offshore industry is still paying for its recent excess, which have been exposed by plummeting energy prices. "If you look at the market from a strictly quantitative standpoint,
you'll see the huge run-up in purchases of super medium and large helicopters during the boom times," he pointed out. "Yes, demand has come down, but the industry is still working through a glut of expensive aircraft from its previous buying spree."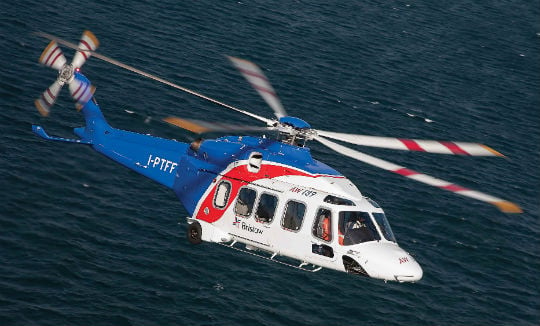 But Aboulafia pointed to a silver lining. "The downturn will hopefully spur much-needed restructuring, making operators more efficient for the long haul," he said. "And when oil prices rise again, the industry will not only be more efficient, but also enjoy the benefits of the latest, most advanced aircraft. But then again, for some operators who bought too many new aircraft, restructuring might have to happen at the point of a gun."From January to December 2015, there were more than 40 filings for Chapter 11 bankruptcy by North American oil and gas producers, representing about $15 billion in secured and unsecured debt. More to the point for helicopter transport, about 1,200 rigs (roughly two-thirds of the American total) have been decommissioned since last year.
At press time, the price of West Texas Intermediate (WTI), the U.S. benchmark, hovered at $32 a barrel, and the international benchmark, Brent North Sea Crude, was also at roughly $34/bbl. Those levels represent a decline of about 70 percent from a high of more than $110/bbl in the summer of 2014.
The economic threshold that the rotorcraft market uses to plan for demand in the offshore sector is about $65 per barrel — a price that's now very far in the rear view mirror.
"If oil goes higher than $65 per barrel, large energy companies will boost exploration and production, which in turn hikes demand for helicopter transport and the acquisition of new aircraft," Aboulafia pointed out. "Problem is, oil has remained well below that threshold price all during 2015."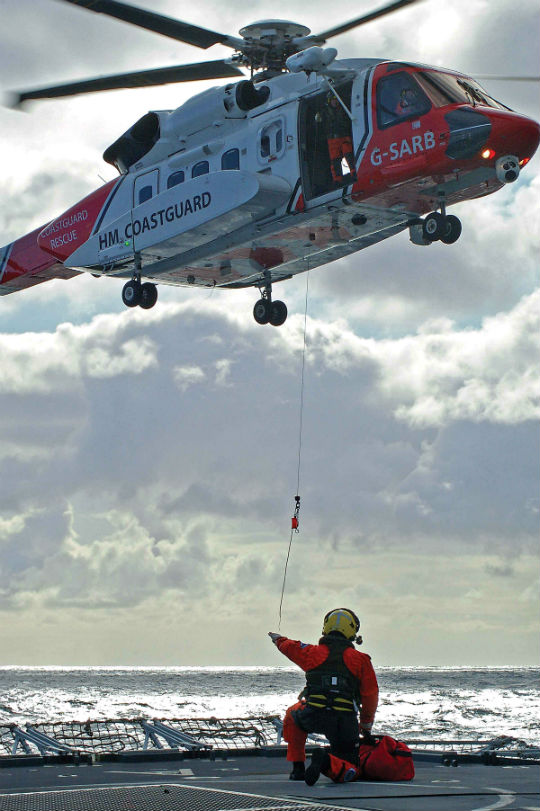 According to this classic correlation, the industry is saddled with overcapacity. But here's the good news: the recent diversification of the major offshore operators is now holding them in good stead.At the Helitech International conference in October 2015 in London, England, Mike Platt, CEO of leasing company Lease Corp. International, emphasized the importance of search-and-rescue (SAR) and air medical as robust sources of revenue for operators that can help offset the sharp decline in offshore demand.
Notably, operating giants Bristow Group (SAR) and PHI (air medical) are enjoying rising demand in those segments, which is helping to offset their falling demand in offshore.
Diversification is key
Houston, Texas-based Bristow Group operates the largest fleet of commercial helicopters in the world for offshore transport to oil and gas platforms, making it a bellwether in the industry. Its medium and large helicopter fleet includes the Sikorsky S-92 and S-76; AgustaWestland AW139 and AW189; Bell 212 and 412; and Airbus Helicopters AS332 and H225.
Bristow's presence is vast, with operations in virtually every region of the world. Until the energy price collapse in 2014, the company had been in rapid expansion mode among its offshore energy clients in Argentina, Brazil, Colombia, Mexico and Venezuela. (The company still views Brazil as the "North Sea" of South America and maintains considerable operations in the country.)
However, in the second quarter of fiscal 2016, Bristow reported a 96 percent plunge in adjusted net income to $1.3 million, from $31.1 million in the same quarter a year ago.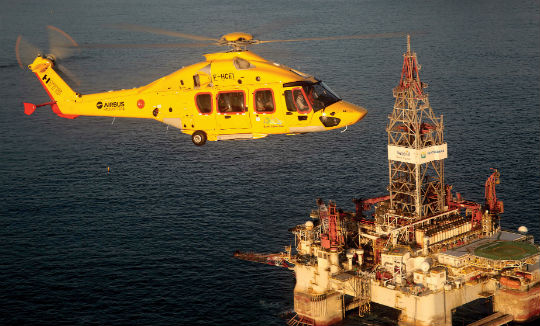 Bristow president and CEO Jonathan Baliff told Vertical that conditions in the offshore sector are the worst he's ever seen. "This industry at its current scale has not faced this level of commercial, foreign exchange and financial market headwinds before," he said.
Baliff's sentiments were echoed by Bristow spokesperson Julie King, who said the company was taking proactive measures to maintain its market position during the downturn and eventual recovery. "The company has targeted $150 million in cost savings by fiscal year end by dramatically reducing operating expenses, which include workforce reductions and the elimination of company bonuses. In addition, the company is creating flexibility by deferring aircraft deliveries in the near term to match the realities of the current market."
Case in point: Bristow Helicopters Limited, a U.K.-based subsidiary, recently announced that it would lay off up to 130 employees from its workforce, citing an inability to attain sufficient cost savings through other strategies.
However, Bristow's recent diversification efforts have helped to soften the economic fallout from the drop in the oil-and-gas market. Key among these is the launch of its 10-year U.K. civilian SAR contract, but the company is also seeing the benefit of its investment in fixed-wing regional airlines Airnorth and Eastern Airways.
"[These] provide long-term stability and revenues that are not tied to the cyclicality of the oil-and-gas market," King said.
The importance of diversification is echoed at CHC Helicopter, the Richmond, B.C.-based operator that flies more than 220 aircraft in about 30 countries around the world. Although primarily an offshore transport provider, the company is similar to its peers in that it also conducts SAR as well as air medical.
In December, CHC reported fiscal 2016 second-quarter consolidated revenue of $361 million (a drop of 21 percent compared to the same quarter a year ago), and a net loss of $42 million in the quarter.
However, the company's cost-cutting campaign (including a targeted 12 percent reduction in its workforce) is already helping offset the effects of the drop in oil-and-gas demand In the second quarter. Excluding special items, adjusted EBITDAR (earnings before interest, taxes, depreciation, amortization and helicopter lease and other costs) came in at $124 million, relatively flat year-over-year. That's a good sign that positions the company for survival — and the eventual resumption of growth, when energy prices bounce back.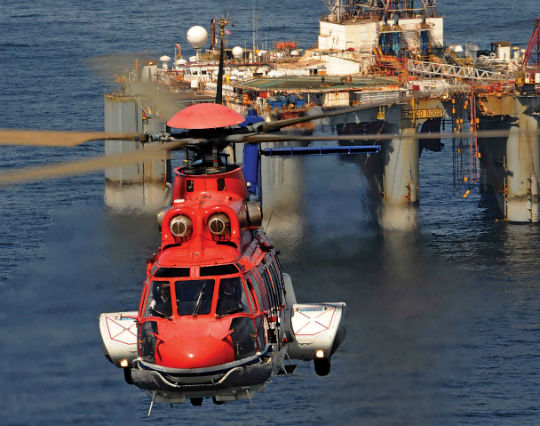 "While we remain confident in the long term fundamentals of the offshore market, the market's expectation of the timing of recovery has extended," CHC CEO Karl Fessenden said in a press release accompanying the results. "As a result, we are planning for a prolonged downturn as we manage through the current operating environment."
In a conference call with analysts and investors, Fessenden also stressed the stability provided by the company's SAR and EMS services — with the former providing about 10 percent of CHC's total revenue.
Optimism in the Gulf of Mexico
Meanwhile, the news is similar at Era Group: pain now, with relief on the horizon. The offshore operator recently acknowledged that it is considering canceling two-thirds of its orders for new aircraft as a consequence of the sustained downturn in the energy sector.
Founded in 1948, Era is one of the largest helicopter operators in the world and the longest-serving helicopter transport operator in the U.S. — and much like Bristow, it's considered a barometer of the entire offshore helicopter market and its aircraft buying habits are closely watched in the business.
With its operational headquarters in Lake Charles, La., extensive operations in both the Gulf of Mexico and Alaska, and a wide international presence, Era's fleet of more than 160 helicopters is primarily used for offshore transportation, in addition to SAR/EMS, HEMS, firefighting missions and "flightseeing" activity.
Era's fleet includes such time-tested offshore models as the AW139, S-76, H135 and H225 Super Puma; the latter can carry up to 19 passengers for demanding deepwater missions.
Era previously had outstanding contract options to purchase up to 10 AW189s and three S-92s, all of which were largely slated for deepwater work, but now these optimistic plans are largely in abeyance until oil prices turn around.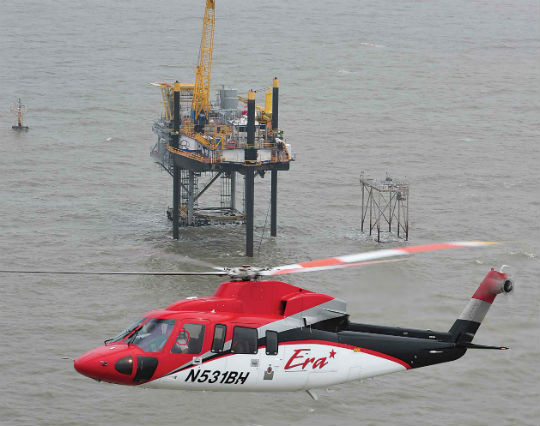 The most recent financial projections from Bristow Group and Era Group are predicated on the expectation that oil prices will bounce back after 2017, as the economies of North America, Europe and emerging markets (especially China) get back on track.According to the World Energy Outlook 2015 report, greater demand and constricted supply will indeed push oil to about $80 a barrel — but not until 2020.
In the meantime, Era's operating results have taken it on the chin. Era reported third quarter fiscal 2015 earnings of only $900,000, compared to $4.3 million in the same period a year ago.
And yet, Era Group maintains confidence that it's well positioned for an eventual rebound. In a recent earnings call, CEO Chris Bradshaw said: "Although overall activity levels in the Gulf of Mexico are down from the peak, we believe it remains one of the best, if not the best offshore helicopter markets in the world."
Another major player in this key market is PHI, which operates one of the largest commercial helicopter fleets in the U.S. The company maintains operations around the world, but its bread-and-butter is the energy patch in the Gulf of Mexico. About two thirds of the company's revenue derives from offshore transport to rigs in the Gulf; most of the rest derives from EMS.
PHI, founded in 1949, maintains a highly eclectic fleet. Its medium and heavy fleet includes the Bell 212 and 412; Sikorsky S-76 A++, C+, C++, and S-92; and the AgustaWestland AW139.
Most basins in the Gulf served by PHI are approaching maturity, and until recently PHI was gleaning big opportunities from the deepwater "gold rush." No longer. PHI reported third quarter fiscal 2015 earnings of $7.7 million, compared to $17.2 million in the same period a year ago.
The earnings picture would have been even worse, if the company hadn't been buoyed by its air medical segment, which posted earnings of $17.7 million, compared to $15.7 million in the same period a year ago.
On the other hand, oil-and-gas segment earnings came in at $10.3 million, compared to $27.5 million a year ago.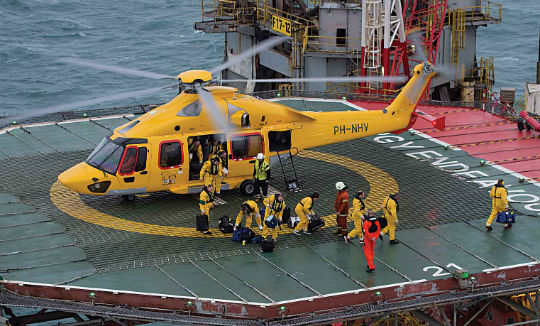 The new kid on the block
Then there's smaller offshore operator NHV, founded in 1997. Based in Ostend, Belgium, and with a fleet of 62 helicopters, NHV has managed to grow at a time when other operators in the industry are making cuts. Indeed, in December 2015, the company announced the opening of a new base in Aberdeen, Scotland, to serve the offshore sector, operating two H175s.Although small compared to the major players, NHV's goal is to become a sizeable alternative. In 2015, NHV took delivery of one AW139, four H175s (of which three were delivered in December) and expects to receive four additional H175s in 2016. The company's long-term plan is to gain a foothold in the important offshore hub of Aberdeen, positioning its young helicopter fleet (with an average offshore aircraft age of just 7.5 years) as a credible competitor when oil prices rebound.
NHV Group CEO Eric Van Hal calls the Aberdeen base "strategically very important," and while the company's growth in such challenging conditions is undoubtedly impressive, it remains to be seen whether this upstart operator will have the wherewithal to last against its longstanding competitors.
For now, those operators are enduring corporate pain now to position themselves for future opportunities. By pinpointing inefficiencies, they're creating stronger organizations that they hope will thrive when energy prices come back. The world still lives in the Hydrocarbon Era and oil remains the lifeblood of modern industrial society. Despite advances in renewable energy and conservation, this will remain the case well into the foreseeable future.
The free market forces that Adam Smith called the "invisible hand" will one day translate into a fitter, leaner, more competitive helicopter offshore sector. But for now, the industry will have to be patient.