Estimated reading time 18 minutes, 58 seconds.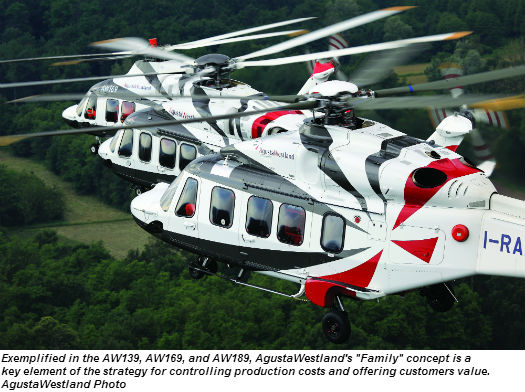 As this issue of Vertical was going to print, AgustaWestland was poised to announce certification of one of the latest helicopters in its commercial product line, the AW189. Type certification of the AW189 is a significant milestone for the company for several reasons, not least because this eight-tonne-class, twin-engine helicopter is entering a promising new market segment with a healthy backlog of more than 80 orders. Launch customer Bristow Group has ordered 17 of the aircraft, including 11 for its U.K. search-and-rescue program — which, after a much publicized and politicized bidding process, may be the highest-profile SAR program in the world.
The AW189 isn't just another new helicopter model, however. It will also be a key proof of AgustaWestland's "Family" concept, which seeks to leverage the success of the six-tonneclass AW139 by applying common design principles to both a larger sibling (the AW189) and a smaller one (the 4.5-tonneclass AW169 still in development). The Family approach is a cost-saving one for the company, which sees it as one way to manage production expenses across an extremely diverse product line. But it is also intended as a market differentiator that will attract large, mixed-fleet customers for the associated savings in maintenance and training.
AgustaWestland has, in fact, done much to differentiate itself since it was wholly acquired by Agusta parent company Finmeccanica in 2004. Between 2004 and 2012, AgustaWestland witnessed a compound annual growth rate in excess of 16 percent — twice that of some of its competitors. And it isn't slowing down: the company remains ambitiously focused on growing its market share, and on leading the industry with the launch of the first civilian tilt-rotor, the AW609. In September, Vertical visited AgustaWestland at its headquarters in Cascina Costa, Italy, to take the pulse of the company a decade into this period of expansion. Then, we visited AgustaWestland Tilt-Rotor Company in Arlington, Texas, to learn more about the AW609 tilt-rotor that AgustaWestland hopes will revolutionize commercial aviation — and to take the AW609 engineering simulator for a spin.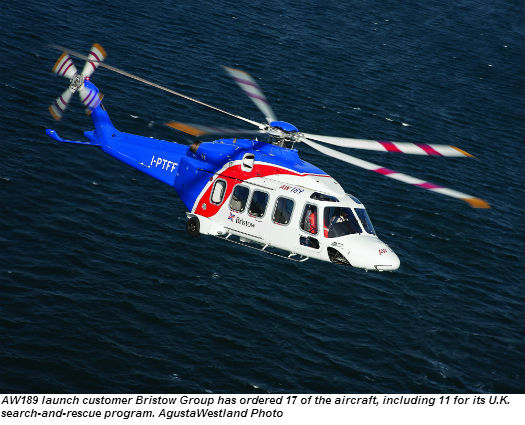 Deep Roots
AgustaWestland as it exists today is a product of the new millennium, created by the union of helicopter manufacturers Agusta and Westland in a joint venture in 2001. But it has deep roots in the history of aviation, with the British aircraft manufacturing company Westland dating to 1915, and the Italian company Agusta going back to 1923 (its founder, Count Giovanni Agusta, flew his first airplane in 1907). In the years that followed, Agusta and Westland followed remarkably parallel development paths, with both manufacturers commencing licensed rotorcraft production in the 1950s before striking out into original helicopter designs. Here, the parallels continued, with the signature models for each company — the Agusta A109 and the Westland Lynx — even performing their maiden flights in the same year, 1971.
Agusta and Westland began a collaborative relationship in the 1960s, when Westland licensed production of the Agusta- Bell AB47G Sioux. A significant milestone occurred in 1983, when the companies formed European Helicopter Industries to develop the EH101 (now the AW101), a 14.6-tonne naval helicopter that was widely adopted for maritime and SAR missions. According to AgustaWestland, this successful collaboration between Agusta and Westland formed the base from which it was possible to start merging the two companies. And by the 1990s — around the time Eurocopter was created following the merger of the helicopter divisions of Messerschmitt-Bölkow-Blohm (MBB) and Aérospatiale — it was becoming apparent that a merger might be a good idea. "There was no space for 10, 12 rotorcraft manufacturers," explained a company spokesperson. "Agusta and Westland understood it was necessary to think about a merger to become one of the key players."
AgustaWestland was created in the same year that the AB139 — originally designed in a partnership between Agusta and Bell Helicopter — performed its maiden flight. Bell subsequently withdrew from the program, and the aircraft was re-designated as the AW139. Despite some growing pains, the AW139 has proven to be a triumph for AgustaWestland, with more than 750 units ordered and more than 600 units delivered. The AW139 became the company's entry into the offshore oil-and-gas market, and has found other appreciative customers in government, search-and-rescue and air medical sectors. With no direct competitors for the time being, the 139 has been a cornerstone of AgustaWestland's success.
The acquisition of AgustaWestland by Finmeccanica in 2004, coming soon after the 139's entry into service, launched a new period of growth for the company. In 2010, AgustaWestland expanded further when it purchased the Polish aircraft company PZL Swidnik, which already had a strong manufacturing relationship with AgustaWestland. The acquisition brought new industrial capability and an expanded product range to AgustaWestland, allowing the company to look at new markets. Meanwhile, AgustaWestland has been growing organically in North America, where AgustaWestland Philadelphia grew its annual revenue from $217 million US to $771 million US between 2005 and 2012 (see p.20, Vertical, June-July 2013). The company has also created a United States offshoot, AgustaWestland North America, to compete for U.S. government contracts, as well as the Arlington, Texas-based AgustaWestland Tilt Rotor Company to pursue Federal Aviation Administration (FAA) certification of the AW609, a program it wholly acquired from partner Bell Helicopter in 2011.
Today, AgustaWestland has over 13,000 employees across its various facilities (and a strikingly young workforce: around 32 percent of its employees are younger than 35). In 2012, it had revenues of 4.24 billion euros, with a little over half of those revenues coming from the company's major "domestic" markets — the U.K. (28 percent of revenues), Italy (12 percent) and the U.S. (12 percent) — and the remainder divided between the rest of Europe (19 percent) and the rest of the world (29 percent). That still puts it behind Eurocopter's 2012 turnover of 6.3 billion euros, but AgustaWestland is clearly one of the helicopter industry's major contenders. It also has one of the highest revenue-to-employee ratios among companies in the Finmeccanica group, and accounts for nearly a quarter of its parent company's total revenues.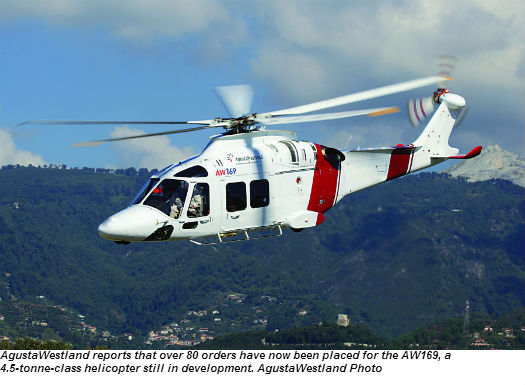 Managing Diversity
As a helicopter manufacturer, one thing that sets AgustaWestland apart is its extremely diverse product line. Compared to manufacturers like Bell Helicopter and Sikorsky Aircraft Corp. — which have a relatively limited range of helicopter models, particularly on the commercial side — AgustaWestland has turbine-powered helicopters in nearly every weight class. This is by design. "It's part of our strategy to keep a number of models to compete in every segment of the market," said AgustaWestland CEO Daniele Romiti, who took the reins of the company in February 2013 after previous CEO Bruno Spagnolini was placed under house arrest (more on that in a bit).
While a diverse product line is key to AgustaWestland's growth strategy, however, it also comes with significant challenges for production and support. Addressing these challenges is one of the drivers behind AgustaWestland's new Family concept, as embodied in the AW139, AW169 and AW189. Thanks to shared architectures and design philosophies, models in this family will share up to 20 percent common parts, 30 percent common maintenance tools and a 40 percent reduction in training time for transitions between models in the family. Not only are these commonalities strong selling points for large operators (offering considerable efficiencies for those operating more than one model in the family), they also help control production costs. "It's all about standardization," Romiti explained. "This is a way to reduce the challenge of keeping quite a significant number of models."
One example of how AgustaWestland is taking advantage of the Family concept to streamline production costs and offer value to customers can be found in the innovative avionics it is now developing for the AW169 at its headquarters in Cascina Costa, Italy. AgustaWestland has a considerable amount of avionics talent in-house — including around 270 avionics engineers in Cascina Costa, and about the same number in Yeovil, U.K. — as well as simulators that allow for rapid prototyping of avionics interfaces. Using these resources, it is currently fine-tuning touchscreen controls for the AW169 that are intended to optimize the man-machine interface. Eventually, the design philosophy being developed in the AW169 will carry over into new programs, as well as into enhancements that will be available across the AW139-169-189 family.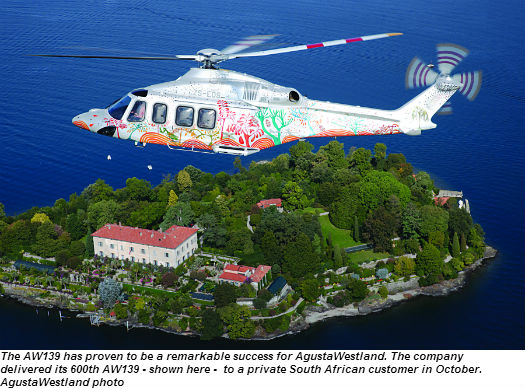 AgustaWestland has production facilities around the world, including the U.K., U.S. and Poland, as well as manufacturing joint ventures in China, India and Russia. However, its largest assembly line remains in Vergiate, Italy, where most of its helicopters and the largest number of types in its product portfolio are produced. Like many of AgustaWestland's Italian facilities, the long, arched production hall at Vergiate exudes history: originally used for airplane construction beginning in the 1930s, it has been turning out helicopters since Agusta acquired the facility for licensed production a few decades later. Today, the only licensed model on the floor is the ICH-47F for the Italian Army, which has ordered 16 of this customized version of the Boeing Chinook. The remainder of the hall is dedicated to the AW109 Power, AW109 LUH, GrandNew, AW139, AW139M and, now, the AW189, the first production models of which were on the assembly line during Vertical's visit in September. One month later, on Oct. 10, AgustaWestland announced the maiden flight of the first production AW189, which is scheduled for delivery to Bristow Group.
There's plenty of excitement at AgustaWestland surrounding the AW189, which is entering the market a short two-and-a-half years after its launch at the Paris Air Show in June 2011. With seating for 16 passengers in a standard configuration (or 19 in a high-density configuration), and a main gearbox with 50-minute "run-dry" capability, the AW189 is already finding enthusiastic customers in the offshore oil-and-gas industry. But AgustaWestland hasn't lost sight of the fact that it owes much of that warm reception to the AW139: as the company noted, the success and reputation of the 139 are already helping to make the 169 and 189 successful products. And the company is taking care of its bestseller, continuously introducing improvements and upgrades to the model to keep it capable and relevant. Today, the AW139's nose is longer than the original to accommodate new avionics; its cowling has been redesigned for aerodynamic reasons; and its maximum gross weight has increased from 6.4 to 6.8 tonnes. Its latest, "Phase 7" cockpit has a number of new features, including advanced satellite navigation and new SAR modes on the automatic flight control system. It also has a full icing protection system option that is in high demand (although AgustaWestland is currently working to resolve airworthiness issues associated with the system).
With the development of the AW139M, the militarized version of the model, the aircraft is now being brought to a whole new market. According to Romiti, the "dual-use" AW139M fits well with a broader trend among governments, who are moving away from specialized combat helicopters in favor of multi-use platforms that can be used for surveillance, police work and disaster relief. "You can use this machine in different applications," Romiti said of the AW139M, which, although based on a commercial model, features such military must-haves as secure communications and threat detection. The launch customer for the AW139M is the Italian Air Force, which is using it to replace its HH-3F and HH-212A helicopters. In the future, AgustaWestland sees potential for other dual-use models, including a militarized variant of the AW169.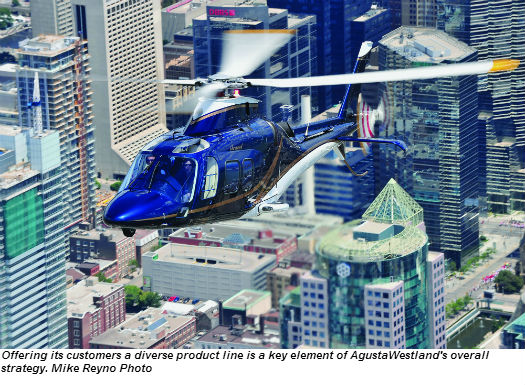 As AgustaWestland seeks to grow its market share in the helicopter industry, it is casting a wide net. Its traditional markets of Italy and the U.K. remain important to it, and it has ambitious growth targets in North America, where it still holds a relatively small share of the commercial helicopter market. According to Romiti, however, it is also targeting emerging markets, including Brazil (where it is already well represented among offshore operators), Russia and China.
It's also fighting to maintain its foothold in India, where it has been tainted by scandal since early 2013, when previous CEO Bruno Spagnolini and Finmeccanica CEO Giuseppe Orsi were arrested in connection with bribery allegations related to the Indian government's contract for 12 AW101 helicopters to serve a VV IP role. With the first three helicopters already delivered and more ready and waiting, at press time, the Indian government had issued a show cause notice to the manufacturer on the approximately $550 million US contract. AgustaWestland has argued vigorously against cancellation of the contract — not only continuing to deny allegations of wrongdoing, but insisting that the AW101 is the best helicopter for the job.
A Focus on Support
With its tremendous product range, AgustaWestland is clearly capable of supplying the helicopters the market demands. But supplying helicopters is one thing; supporting them is another. In recent years, AgustaWestland has been making a deliberate effort to ramp up customer service and support, and it now has more than 80 customer service centers in an ever-growing global network. "The company is trying to evolve very much in the customer support area," Romiti said. "You cannot produce mere platforms forgetting about your customers, and so you need to be closer and closer to your customers throughout the life cycle."
Although maintenance will always be a cornerstone of customer support, AgustaWestland has also been broadening the "support" concept, recently bringing training under that umbrella. "Training for us is becoming not only the first really important milestone in the relationship with the customer, but a fundamental part of the through-life relationship," explained Michele Sorice, head of customer training for AgustaWestland at the company's A. Marchetti Training Academy in Sesto Calende, Italy. And the numbers reflect just how important training is becoming to AgustaWestland's larger business. In 2005, the academy had just 637 students; in 2012, it had 4,909, and flew a total of 22,675 flight hours in synthetic devices alone. Overall, 36 percent of AgustaWestland's revenues now come from customer support and training — significantly more than come from sales of commercial helicopters (24 percent of revenues in 2012), military helicopters (23 percent) or dual-use helicopters (12 percent).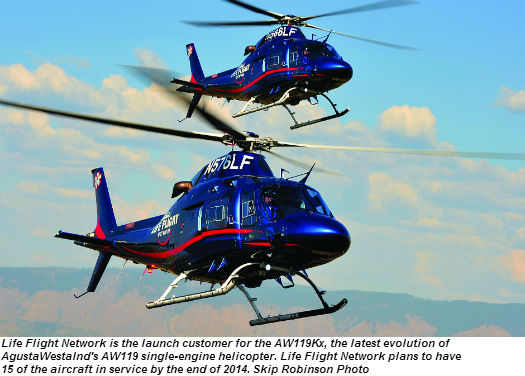 Like its production capabilities, AgustaWestland's training resources are globally distributed. The Sesto Calende facility remains the company's major training center, conducting training for the AW109, AW139, AW129, NH90 and, now, the AW189, with the AW169 and AW609 to follow. Training for the AW101 and the AW159 is conducted in the U.K., where AgustaWestland has a state-of-the-art integrated training and customer support center for the U.K. Ministry of Defence. Training devices for the Italian Navy's AW101 and Italian Army's AW129 are also available at the customer's dedicated bases. Meanwhile, the training center at AgustaWestland Philadelphia has been growing rapidly, according to training pilot Capt. Massimo Bichisecchi. AgustaWestland Philadelphia now trains more than 1,000 students per year on AW109, AW119 and AW139 models, and will soon be introducing the AW189 and the AW169 to its training offerings. AgustaWestland is also increasing its training offerings in other locations where the fleet is expanding. There is now an AW139 simulator in Malaysia, and there will soon be one in the United Arab Emirates. In Qatar, Gulf Helicopters has recently been appointed as an authorized training center for the AW139, and Brazil is another target for training growth.
According to Sorice, AgustaWestland strives to provide its customers with "best-in-class" training, and it has impressive capabilities — not only in the classroom and cockpit, but also behind the scenes, in areas such as simulator development. For example, AgustaWestland developed software for the AW189 flight training device (FTD) and full flight simulator (FFS) in house. (It partnered with CAE on the hardware for the simulator, continuing a solid partnership that began with the AW109 and AW139 simulators within the Rotorsim joint venture.) It also has the ability to develop custom simulators to meet specific customer needs, such as a simulator for the Royal New Zealand Air Force's AW109 Light Utility Helicopters, or a GrandNew FFS for the Swiss air ambulance operator Rega, which is stationed at the Swiss Aviation Training center in Zurich.
In general, synthetic training is becoming more important for AgustaWestland, as it is for many operators and training providers. And AgustaWestland is leveraging its in-house capabilities to develop a range of synthetic training devices to optimize students' learning. For example, at this year's Air Medical Transport Conference in Virginia Beach, Va., in October, the company demonstrated its Grand New Virtual Interactive Procedure Trainer (VIPT), a low-cost device used to familiarize pilots with aircraft procedures before they progress to more complex training in an FTD or FFS. The company is also focusing on developing more mission-specific and specialty courses for pilots and mechanics, and a "delta" course for AW139 pilots who are transitioning to the AW189 or the AW169. Such targeted transition courses will make it easier for large operators to realize the efficiencies associated with operating more than one model in the AW139-169-189 family.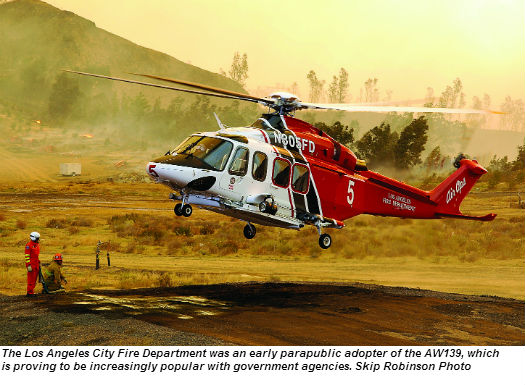 The Next Big Thing
The AW189, AW169 and customer service and support are all key elements of AgustaWestland's strategy for the future. The company is also engaged in research into unmanned aircraft, and made a splash at Heli-Expo 2013 when it unveiled "Project Zero," a futuristic all-electric tilt-rotor technology incubator that was designed, built and flight tested in just 12 months. The company has also signed an agreement with Russian Helicopters to design and develop a new 2.5-tonne class single-engine helicopter, which will expand its offerings at the light end of the market.
Without question, however, the next big thing for AgustaWestland is the AW609, which is now making marked progress toward certification after years of program stagnation. AgustaWestland entered the project with Bell Helicopter in 1998, which is also when the companies began collaborating on the AB139. Although Bell subsequently lost confidence in the marketability of the aircraft, AgustaWestland is betting that this 7.6-tonne civilian tiltrotor will prove to be as profitable of a game-changer as the AW139. With potential applications in the deepwater oiland- gas, urban transportation and SAR markets, the AW609 is "a key part of the company's strategy," Romiti said.
AgustaWestland recognizes that widespread adoption of the AW609 will be contingent upon its cost; consequently, the program is currently undergoing a re-baselining that is aimed, in part, at reducing customer acquisition and operating costs. Although AgustaWestland does not plan to release a price for the aircraft until around two years prior to certification, AW609 program manager Clive Scott said the company aims for it to be no more than 1.5 times the price of a comparably sized modern helicopter. At the moment, AgustaWestland is making aerodynamic modifications to the aircraft that Scott said will improve its operating efficiency by around 10 percent.
The AW609's re-baselining also entails improvements to ensure that, when the aircraft does hit the market, its technology won't be outdated. These upgrades include an enhanced version of the Pratt & Whitney Canada PT6 engines currently being used in the AW609, as well as a fully integrated cockpit from Rockwell Collins based on its Pro Line Fusion system (see p.19, Vertical, Oct-Nov 2013). BAE Systems is also providing an upgraded flight control computer for the AW609, which will include the digital engine control system as well as the software for the aircraft's triply redundant, fully digital fly-by-wire flight control system.
All of these improvements have set the program back by about a year: although AgustaWestland was originally targeting certification for 2016, it is now aiming for 2017 to provide time to negotiate agreements with suppliers and incorporate the modifications. As Scott put it, "It makes sense to wait one year more . . . to get the aircraft you want." Despite this delay, AgustaWestland believes it is well along on the road to certification. It recently completed an 18-month transition period with Bell Helicopter, and has agreed to a certification basis with the regulatory authorities. Prototypes 1 and 2 have now logged more than 850 flight hours in total, while the last two prototypes for the flight test program are now being assembled. "It's not a research and development program," Scott emphasized. "It's a certification program."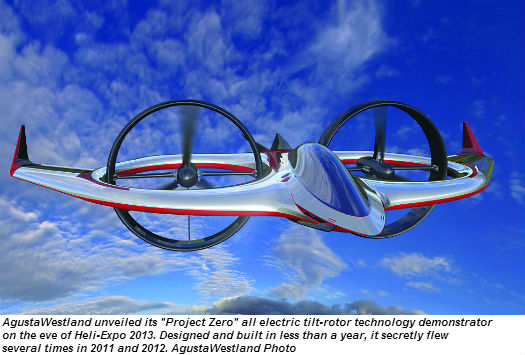 Positive Outlook
In September 2013, the consulting firm Teal Group released its annual world rotorcraft overview, timed to coincide with the Helitech International exposition and conference in London. Noting that there are just five major primes in the turbine helicopter manufacturing sector — AgustaWestland, Bell, Boeing, Eurocopter and Sikorsky — the report ranked AgustaWestland second in the civil marketplace, behind Eurocopter and ahead of Bell. According to Teal Group, AgustaWestland owes this ranking "to the very successful AW139 and the AW109, to be followed by the AW169, and the AW189." Teal Group also predicts that AgustaWestland will "grow slightly with its custody of the 609 tilt-rotor."
That's not bad for a company that, in its current incarnation, is less than 15 years old. And AgustaWestland is clearly on an upward trend, continuing to invest heavily in new products, new technologies and the infrastructure required to support them. The past decade has been an exciting period for AgustaWestland. With a revolutionary aircraft headed toward certification, an expanding product line, and an energetic and highly motivated workforce, the next decade should be even more so.