Estimated reading time 16 minutes, 48 seconds.
Over 70 percent of Sweden is covered in trees, so if you're not in the towns or cities that dot the landscape, you're more than likely in thick boreal forest that extends as far as the eye can see. Whether lush and green or blanketed in snow, it is beautiful countryside.
But in Sweden, form follows function even in the landscape. These trees have been planted for a purpose. Swedish forests provide 10 percent of wood products traded globally, are used as biomass for energy, and serve as a popular leisure destination.
It is unsurprising, then, that most Swedish people feel a connection to their environment — but perhaps none more so than Aram Rubinstein, who has been flying over it for most of his career.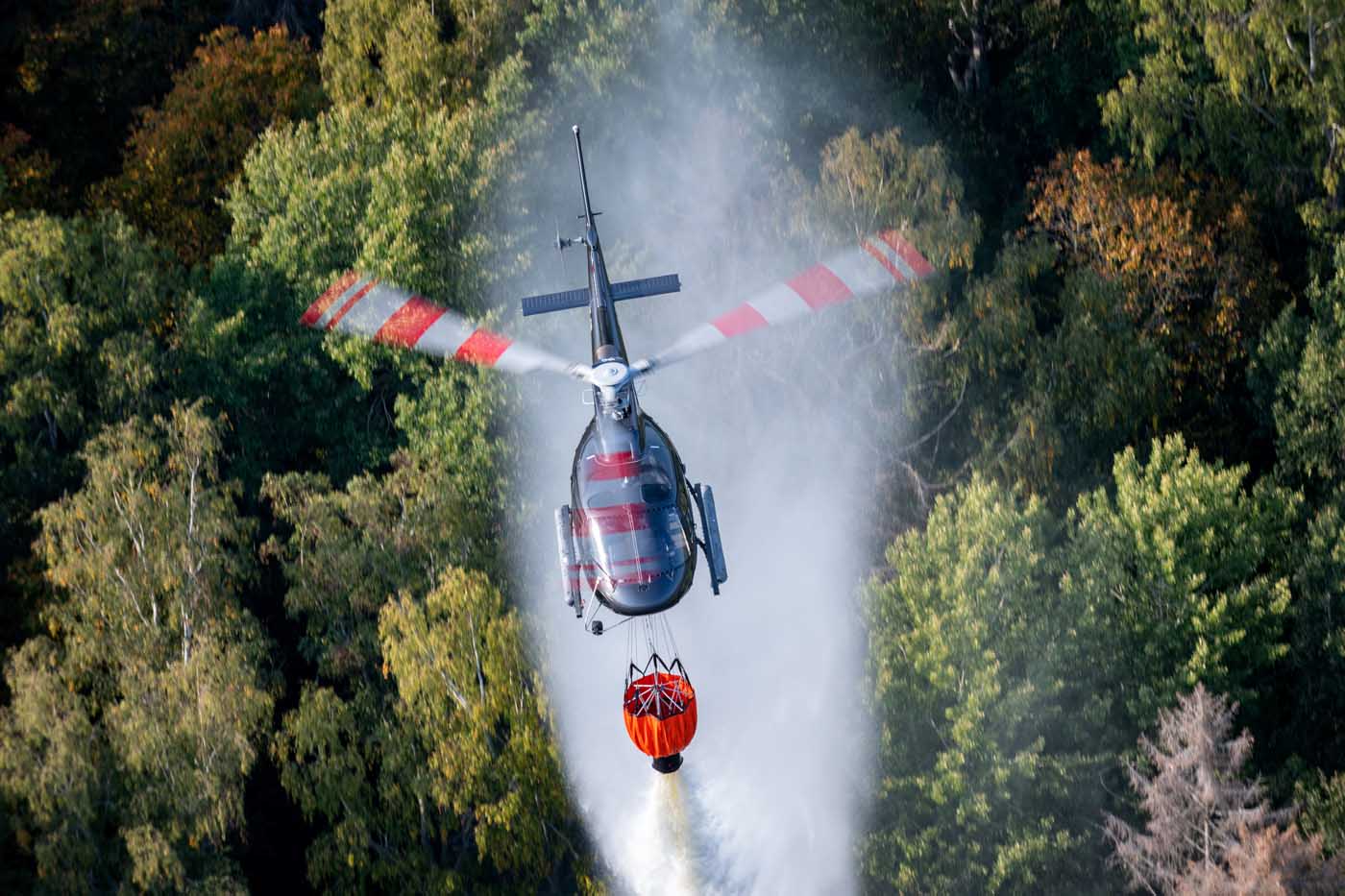 "I was employed flying [Airbus AS] 355s in Norway in the beginning, but I wanted to have my own company," he said, explaining that his experience as a pilot left him feeling that more focus should be placed on customers. He started HeliAir Sweden with that goal in mind in 1998.
"I bought my first Hughes 300 by borrowing money from almost everyone I knew — it was crazy!" he said with a chuckle. "I built the company up, and I was lucky. I was in the right place at the right time."
By 2008, HeliAir was a commercial operator and began acquiring other companies. This brought in more aircraft, including the ubiquitous Bell 206 JetRanger and MD 500s. A Bell 205 arrived in 2013, but by then the move to an Airbus (then Eurocopter) fleet was underway, mainly on the grounds of a reduced maintenance burden.
"In Sweden, the JetRanger and the MD 500s pretty much ran the show," said Rubinstein. "We had five MD 500s flying, and there's still a company up north that uses them. . . . [but] once the [Airbus EC]120s and [AS350] B2s/B3s came on the scene, everybody that could afford it made the switch."
Edis Altun is familiar with both the flying and the maintenance of the new aircraft. Having worked at HeliAir Sweden since 2015, his career began as a technician and progressed into flying. Now, he splits his time between each discipline.
"We mainly use the [AS]350 for its lifting capacity, but they're really versatile," he explained. "We fly passengers and, if necessary, we do powerline inspections with them. With the B3s, we can lift 1,400 kilograms [3,085 pounds] and we are not at high density altitude, so we can get the most out of the aircraft."
Rubinstein explained that the environment for flying crews was also important. "The 120 is not fantastic for power, but for powerline work the crew are in it for six to eight hours a day."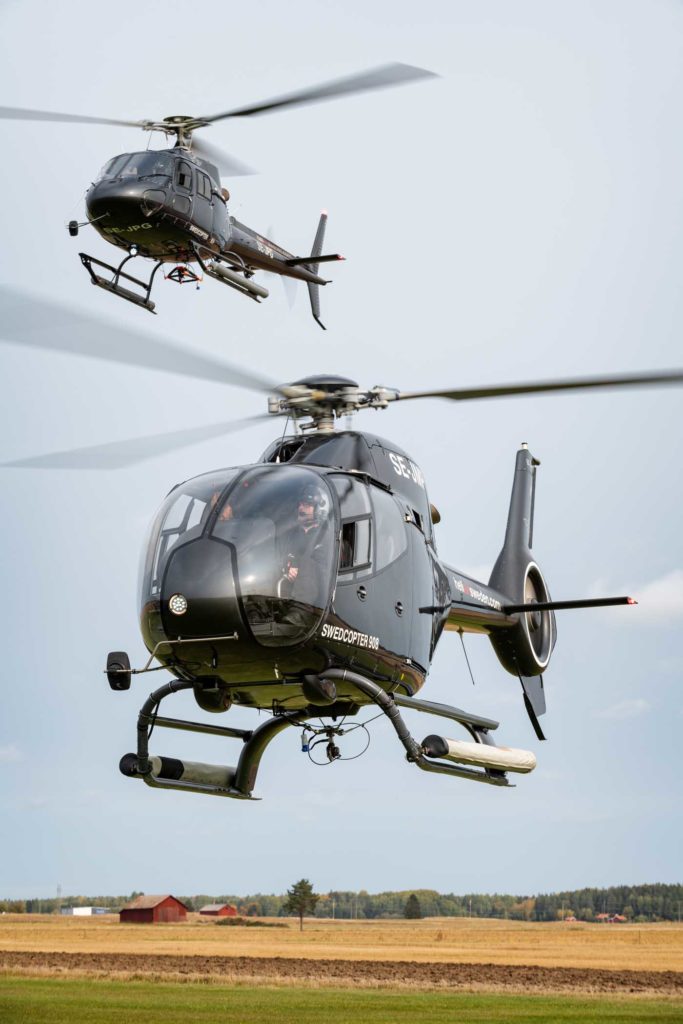 The new aircraft impressed even the harder-to-please pilots, who reported much lower fatigue after long days.
"It was a step in the right direction," said Rubinstein. "But it was also a huge step cost-wise."
When these costs had to be translated into raised prices, HeliAir was able to capitalize on its relationship with customers.
"The way we did things was really customer-focused, so there was no problem when we had to adjust the prices," said Rubinstein. "We had some problems getting in, like in the south with the powerline work, but then I bought the company with that contract and merged it into ours."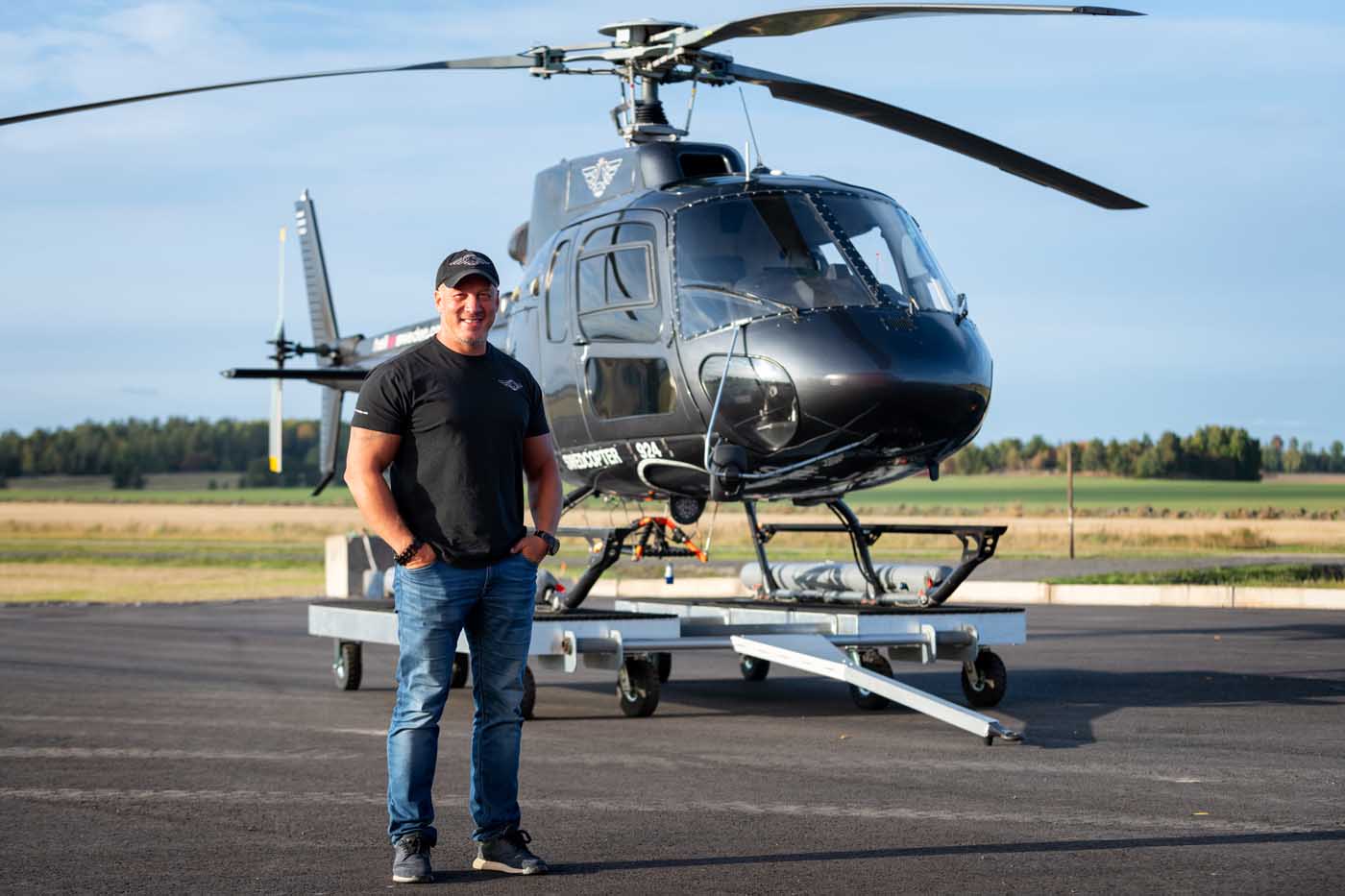 Saw subject
The company started at Bromma airport in Stockholm, but restrictions there soon began to impact the business. "They were shutting down the airport earlier and earlier, so we couldn't be on call," explained Rubinstein.
By 2011, HeliAir Sweden had its own part 145 maintenance facility, but it wasn't permitted to build a permanent hangar at Bromma. Conditions in the temporary facilities took such a toll on staff morale that some were talking about leaving the company.
Something had to change, so the company left Stockholm for a site formerly occupied by the military. Despite the hangar being 70 years old, it was still an improvement.
"It was fantastic at the time, but we outgrew it," said Rubinstein.
By 2019, the company was ready to move again. After a year-long search, work began on a custom-built facility, and Rubinstein is proud of the result.
"Almost all of my staff were with me at the last place, so they know how it can be. This is not normal in Sweden, this facility is super nice," he said. "Everyone in the company had their say in what was important, right down to where they want the tools and the power outlets. The benefits are that it's five times bigger, and it's been built specifically for the operation."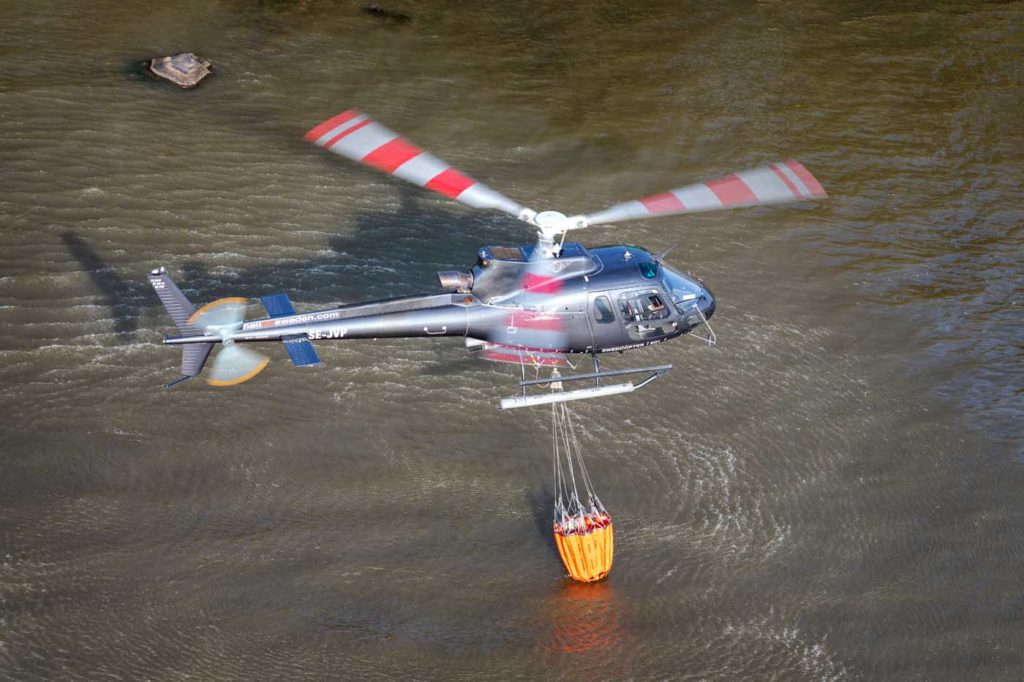 Given the inaccessibility of the country's terrain, much of that operation focuses on sling loads, which are a constant feature of HeliAir Sweden's tasks.
More seasonal are the jobs specific to the feature that dominates this country: the forest. While giving the appearance of a wilderness, its role as a natural resource requires careful management. At its simplest, this might be surveillance of wildlife or forest growth, or the inspection of the power cables strung through it to provide Sweden with electricity. All require little more than routine flying.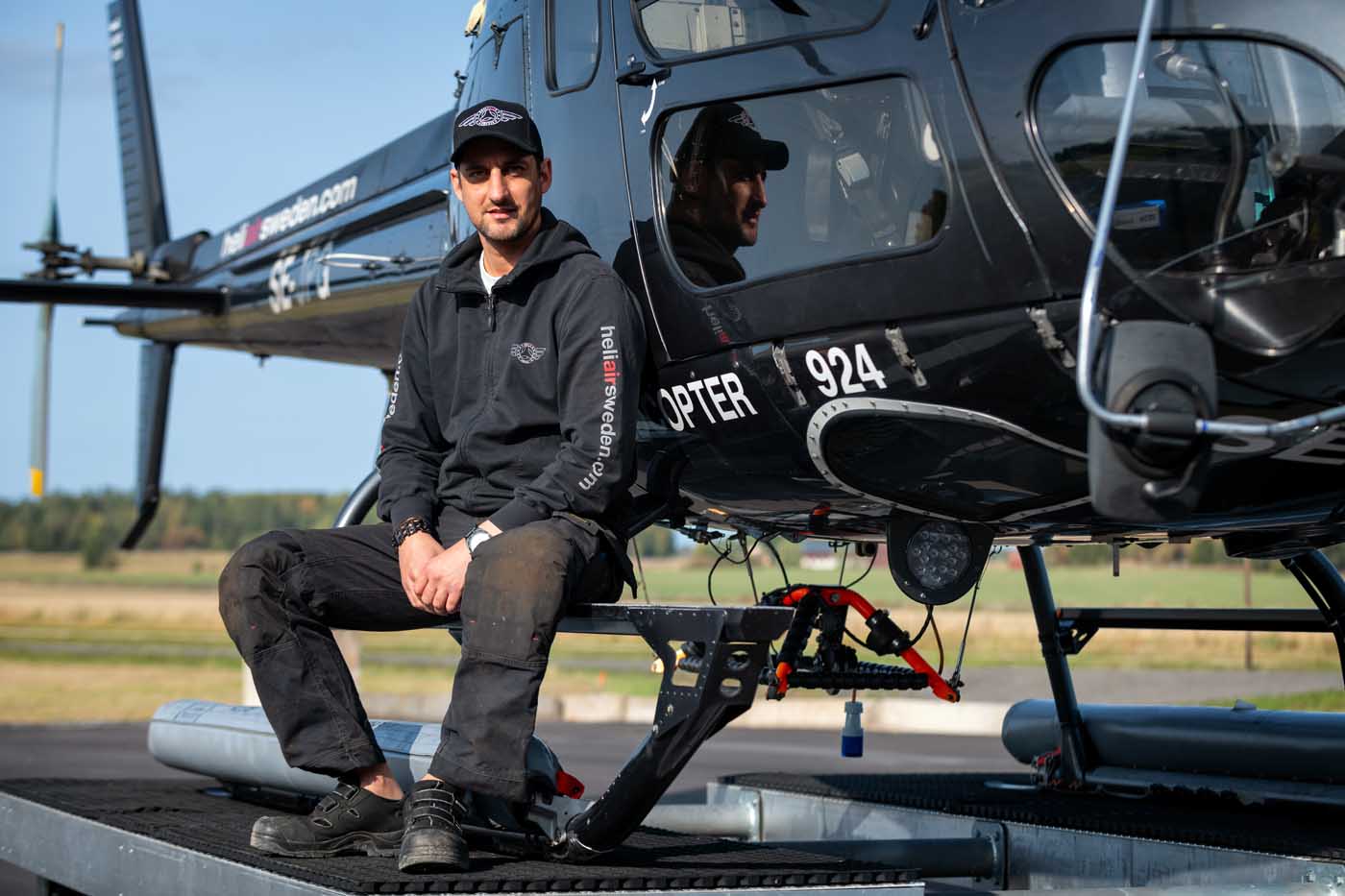 At the other end of the spectrum, however, is an array of unguarded circular saws strung together beneath a helicopter and used to prevent trees from encroaching on those power lines. The precision required to wield such a tool safely should be apparent even to casual observers.
More esoteric still is the practice of "top sawing," used not only to fell trees but also as a very efficient method of harvesting pinecones. Even this didn't escape the relentless drive for improvement.
"We used vertical saws and rigging for logging and we figured there has to be a better way of doing this," explained Rubinstein. "So, we acquired a company in Finland run by a great engineer, and with input from the pilots and manufacturers, we designed our own."
The company has several other patented designs, such as "Gripen" — a hydraulic jaw with built-in guillotines designed to clear deadfall from powerlines.
Another is their powerline stringing rig. Somewhere between farm machine and sewing machine, it can thread a cable under a pylon arm before automatically turning on its own axis to repeat the operation, stringing pylons one after the other with no manipulation.
By summer, the requirement to attack the forest with flying chainsaws has given way to the need to protect it from the ever-present risk of a much more hazardous means of deforestation.
Hot topic
In 2018, wildfires swept through Scandinavia, Sweden being particularly hard-hit and experiencing the most serious forest fires in the country's history. Help came in the form of equipment, including firefighting aircraft provided by several other European nations. In some areas, the Swedish military even resorted to bombing the forest fires with fighter aircraft. In the aftermath, a new centrally-funded firefighting contract was tendered by the Myndigheten för Samhällsskydd och Beredskap (MSB) or Civil Contingencies Agency.
"We got the firefighting contract two years ago and that was the first tender, so they couldn't go out on the market and see how it was done," explained Rubinstein. "But the people at the MSB did an amazing job."
HeliAir Sweden maintains aircraft at readiness for firefighting throughout summer, equipped with SEI Industries Bambi Buckets. Initially, the required launch time was set by the MSB at 90 minutes, but depending on the conditions, crews respond consistently within five to 15 minutes.
"The crews on call live here, the helicopters are fueled, and the [Bambi] buckets are inside," said Rubinstein. While the contract covers the whole of the country, HeliAir Sweden cooperates with a company that covers the northern region. "We can call them as much as they can call us, but we know that they are always there for us. They've never let us down, it's never an issue," he said.
While firefighting becomes the focus for most of the pilots over summer, at other times tasks are allocated according to experience and qualification.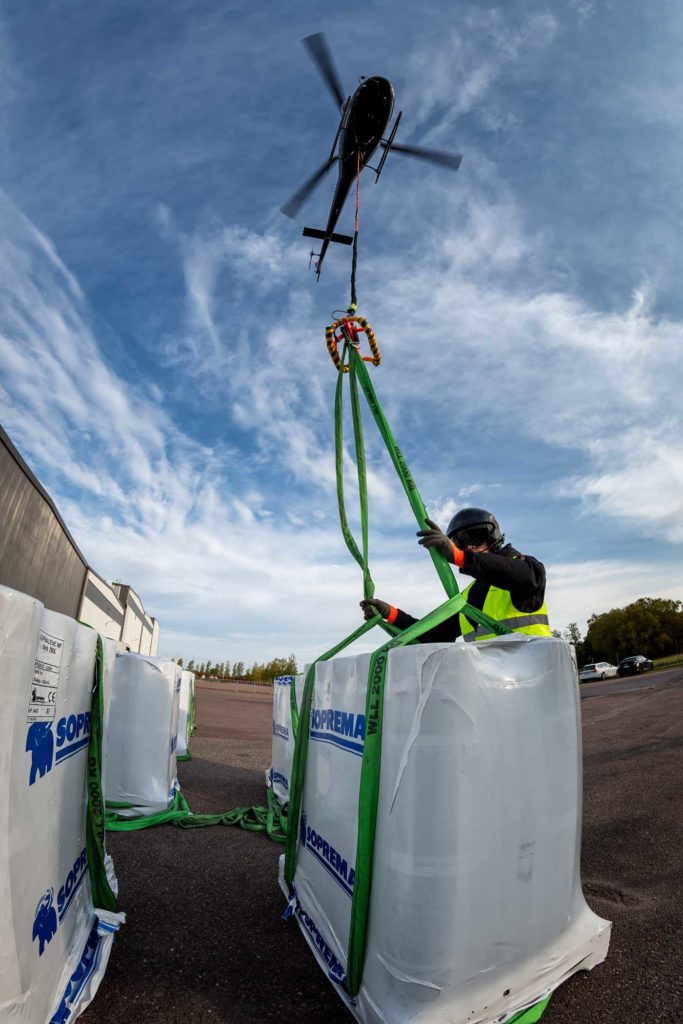 "All of the pilots can fly firefighting missions, but there are operations that only a few are qualified for," said Altun. "For sling loads, most pilots are qualified, but for precision jobs like building houses with big glass modules, only some of us are able to do that. There are three that are able to conduct sawing."
The company maintains the flexibility necessary to conduct these different tasks by ensuring that all of its pilots are qualified for the majority of missions. This ethos also applies outside the cockpit.
"Usually when you come to HeliAir Sweden, you might start doing something other than flying, such as maintenance or driving fuel trucks," said Altun. "All of the pilots and technicians are task specialists, so they're able to join an operation to help sling loading."
Training and maintaining proficiency in all of these skills requires careful management. Providing this for HeliAir Sweden is its head of training, Joel Backlund.
The company's hangar was built in 2019, and is custom-fit for its needs. Lloyd Horgan Photo

Joel Blacklund (right) is the head of training at HeliAir Sweden. Lloyd Horgan Photo

Most of the jobs revolve around the forest, from firefighting to aerial saw work. Lloyd Horgan Photo

An H120 is fueled and ready to begin operations for the day. Lloyd Horgan Photo

Crews typically respond to firefighting calls in the summer in just five to 15 minutes. Lloyd Horgan Photo

All of the pilots and technicians are task specialists. Lloyd Horgan Photo

The company's new facility is near to Våsterås. All employees had a say in how it was designed and laid out. Lloyd Horgan Photo
He has worked for HeliAir Sweden for seven years and has been a post-holder most of that time. He ensures that qualifications are up to date, and that personnel are on top of operational and safety procedures. In a company that flies 7,000 hours a year, this is a busy job in its own right. But that kind of record also makes it attractive to pilots aspiring to fly their share of those hours. To meet this demand, HeliAir Sweden operates an academy that offers a broad range of flying courses.
"We've had a training approval for seven years, but the flying school has been most active in the last five," said Backlund. "We mostly perform type rating training on the AStar and the EC120."
The company has approval to offer both private and commercial pilot training, but with an exclusively turbine fleet, uptake has been limited. However, Backlund said the company's ambition is to provide a fully integrated commercial helicopter pilot course by 2021. Facilities will include not only training materials and access to aircraft, but also accommodation and even a car for students.
"It's not only a course for Swedish people here, but to make it easy for foreign students to train in a really good training environment," he said. "We want to use the knowledge we have with our pilots and give this experience to students."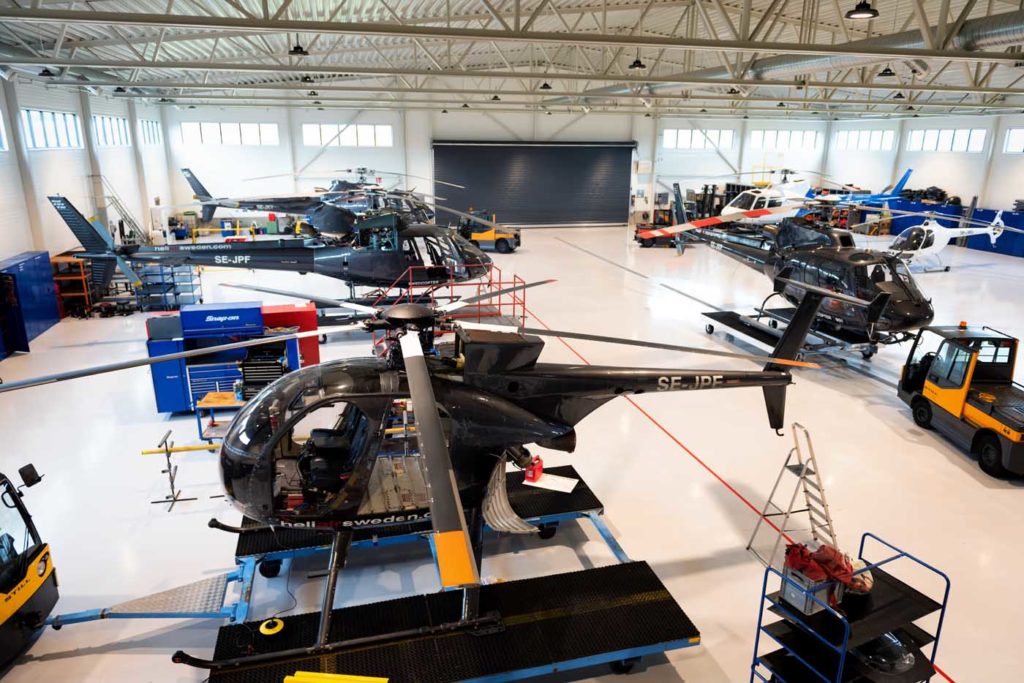 While it's clearly desirable for students to train at an intensity and location that is most relevant for their desired future employment, the academy also gives HeliAir Sweden a chance to look at the talent pool.
"We are always looking for people with a good attitude, so the initial purpose of the training organization was to provide our company with good pilots," said Backlund. "Going from zero to full commercial gives us an opportunity to see potential early."
Seeing potential at an early stage is something that Aram Rubinstein has demonstrated from the start; whether in his own business, the machinery that enables it, or the people that make that machinery work. Asked how he finds the right people, there was no hesitation: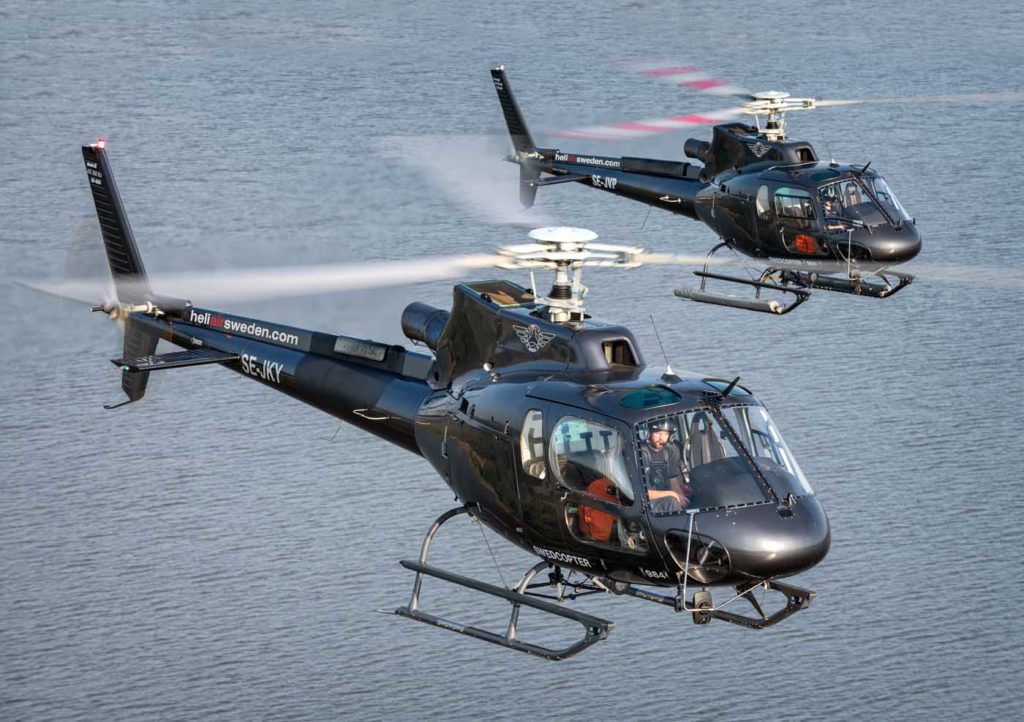 "Gut feeling and connections; some of [the employees] want their friends in," he said. "It's a family and if you get in, they'll break their backs for you.
"When I started the company, we partied a lot. If you told me then that I'd be living an hour outside the city on a farm, I wouldn't have believed you, but it's perfect. I'm blessed every day, and I have the best staff in the world."