Estimated reading time 12 minutes, 4 seconds.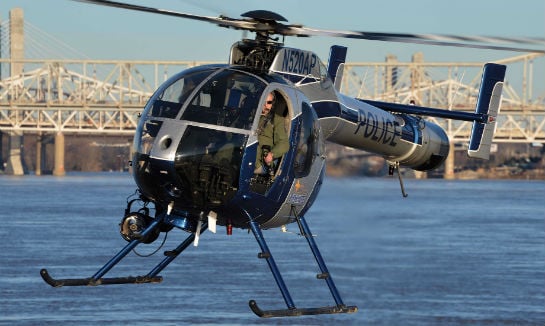 Located along the Ohio River on the northern border of Kentucky, Louisville is well known as the home of the Kentucky Derby horse race, "The Most Exciting Two Minutes in Sports." This bustling mid-sized city is also a cargo hub for major shipping companies, which have large fleets of aircraft based at Louisville International Airport. Around 750,000 people live in Louisville and the surrounding suburbs of Jefferson County, where housing tracts are interspersed with large farms and horse ranches.
In 1972, the former Jefferson County Police Department (JCPD) formed a helicopter air support unit (ASU) with the main goal of combating an excessive number of rooftop break-ins and burglaries. Criminals at that time had realized it was difficult for ground patrol officers to get a bird's-eye view of rooftops, and were taking advantage of this weakness.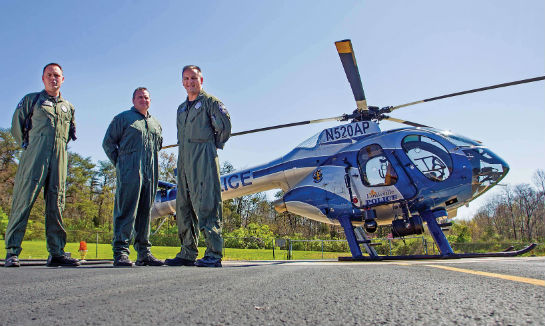 JCPD acquired a Hughes 300C helicopter, and the new ASU began patrol operations. Initially, the helicopter was assigned to only one police district in order to evaluate its effectiveness. The aircraft quickly demonstrated its value, with overall crime in that district dropping by 23 percent. Beyond the direct policing support it provided, the mere presence of a police helicopter on patrol deterred criminals across its operational area. It also provided a morale boost for officers on the ground, demonstrating that the county was serious about providing support for them.
The ASU's operations were soon expanded, and Jefferson County became the first in Kentucky to use helicopters for daily patrols. The fleet grew to three Hughes 300C helicopters, providing 24-hour availability, and work was completed on a dedicated heliport at the Central Government Center in Louisville in 1974. As the JCPD gained more experience with helicopters, it came to appreciate their versatility, and the ASU took on additional responsibilities.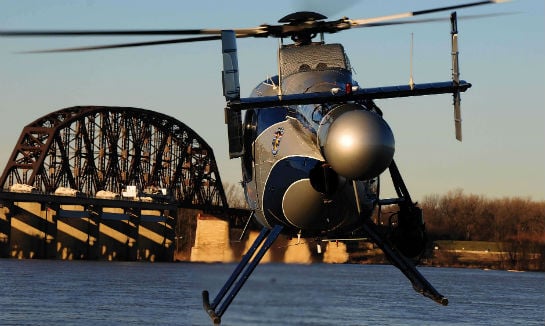 By the early 1980s, the Hughes 300Cs were aging and needed replacement. Two Hughes 500Ds were purchased, giving the ASU a substantial leap in capabilities as it went from operating 80-knot, power-limited, piston-engine machines to 140-knot turbine-engine helicopters that seemed to have endless power. The 500Ds allowed for safer night operations and increased payloads, and were less fatiguing for the pilots.
The 500D models provided sterling service for many years, until in 2001 it was decided to begin a replacement program for them. Because the ASU was satisfied with MD Helicopters (formerly Hughes) products, it evaluated the MD 520N NOTAR and determined it was the right aircraft for the job. A new MD 520N was ordered to replace one of the 500Ds, and was delivered in 2002. A short time later, the remaining 500D was damaged during a training mishap. A previously owned 1993 MD 520N was purchased, and the ASU was once again operational with two helicopters.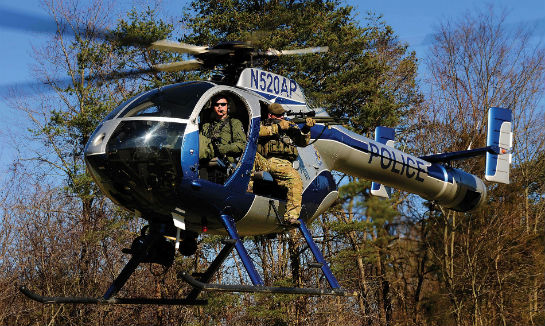 In 2003, the Jefferson County Police Department combined with the Louisville City Police Department after the merger of the two local governments, forming what is today Louisville Metro Police Department (LMPD). Three years later, the MD 520N that was purchased new had an accident during training and was removed from service. In 2008, as was the case for many municipalities at the time, budget shortfalls forced the city to take a hard look at its finances, and it decided to sell the older, operational MD 520N. The ASU went 11 months without a helicopter until April 2009, when the damaged MD 520N was repaired and returned to service. Normal operations resumed with the single helicopter, and continue through today.
Behind the scenes
One lieutenant and five pilot officers are assigned to the ASU and fulfill all required duties, including tactical flight officer (TFO) and administrative duties. Although the pilots not flying currently serve as TFOs, there are plans to expand the unit and start a dedicated TFO program. This will bring in officers from the ranks and train them from the ground up for the TFO and aerial law enforcement mission. Becoming a proficient TFO is a lengthy process; it can take years to become an expert in the many aspects of the job. As these future TFOs demonstrate aptitude and motivation, they will be offered the option of beginning pilot training.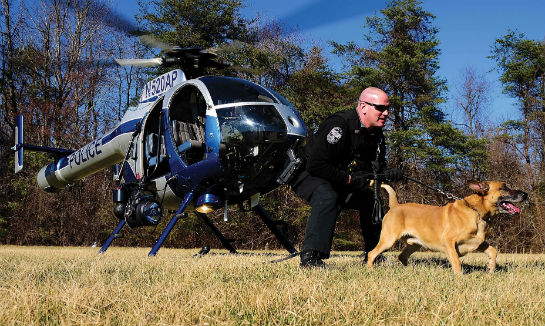 In the meantime, the ASU is focused on keeping its current pilots sharp. Every other year, ASU pilots are sent to Mesa, Arizona, to attend recurrent training at the MD Helicopters factory. There, the pilots train extensively in emergency procedures, including straight-in, 180-degree, and 360-degree autorotations. "It's a great course taught by experts, so our pilots feel the training is worth the effort," said ASU pilot Chris Colburn. "It gives you additional confidence when these pilots show you a maneuver that could potentially save you and your crew's life."During the years between factory courses, ASU pilots undergo local training with JR Aviation at Clark County Airport in southern Indiana. They will also be receiving regular in-house training from Colburn, the resident certified flight instructor, who recently returned to the unit after an absence. Other regular training events include working with SWAT teams doing scenario-based training, working with K-9 dog units, and exercises with the department's Dignitary Protection Team. Flight crews also practice on their own as required, such as by performing confined area landings around the county to prepare for search-and-rescue missions.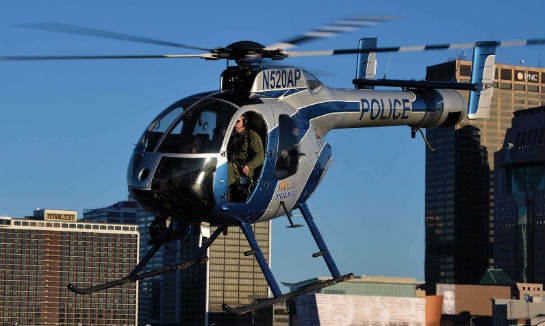 Maintenance for the unit is performed by Thoroughbred Aviation Maintenance (formerly known as RJ Corman Aircraft Maintenance), an MD Helicopters service center that won a bid to maintain the MD 520N in 2009. The company is located a short flight away in Nicholasville, Kentucky, southeast of Louisville. The aircraft is taken there for inspections and repairs. If there is a field issue with the helicopter, Thoroughbred Aviation mechanics will travel to the aircraft's location. Every morning, pilots perform a thorough pre-flight on the helicopter; if they find any discrepancies, they will let the Thoroughbred Aviation mechanics know about it and work with them on a solution.The unit is budgeted to fly about 1,200 hours per fiscal year and is available 16 hours per day (these daily times can be adjusted for special missions or early morning search-and-rescues). The ASU's primary responsibility is to provide direct support for the LMPD patrol division's day-to-day operations, including support for foot chases, criminal searches, and vehicular pursuits, and back-up during suspicious vehicle stops. "We also search rooftops and areas of dense trees or growth where suspects could be hiding," said pilot Tim Wimsatt. "Our goal is to make sure our officers don't need to go somewhere dangerous where we can search it and clear the area from above."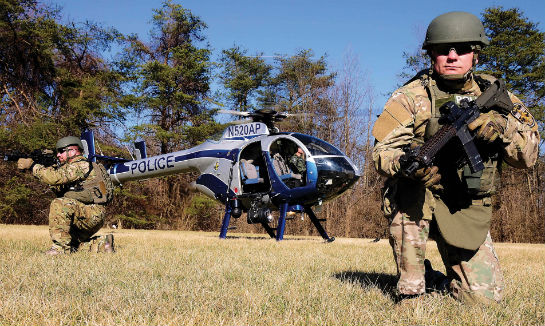 The ASU is one of the only law enforcement aviation units in the region, and regularly responds to calls for assistance both in southern Indiana and in neighboring counties in Kentucky. Although it typically patrols the 325 square miles of the greater Louisville metropolitan area, it has been as far afield as Bowling Green, Kentucky, and Cincinnati, Ohio, assisting other law enforcement agencies."If a policeman or trooper calls for help, and we're able to get to him, we're going to help him without hesitation wherever he is," pilot Bryan Arnold told Vertical 911. "That said, we also will provide support for federal agencies if they request it. Although not often, we have worked with the FBI, DEA, and our own state law enforcement, as well as [state agencies] such as Fish and Wildlife."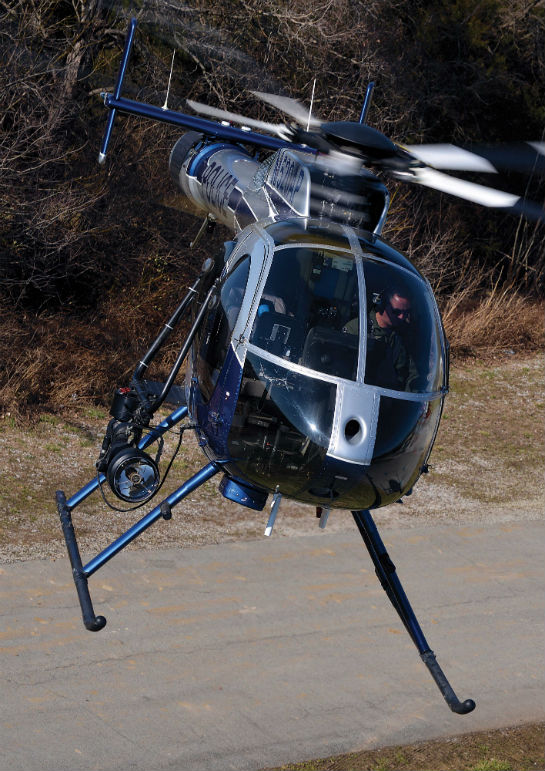 ASU's helicopter will patrol the "Louisville Loop," a 100-mile trail system that will eventually circle the entire city, linking existing and new parks and neighborhoods to civic attractions. Already, the unit routinely assists the Louisville Fire Department in local parks in searches for lost hikers and other missing persons, and provides rescue services for its own department as well. Although the MD 520N may not be the optimal platform for the rescue mission, "we have flown hurt hikers out, and when someone is having a medical emergency, we will fly them to an ambulance or medical crew nearby," said pilot Carey Hirtzel.
The ASU also works closely with the LMPD's River Unit, and is frequently called to the Ohio River during the summer when there are a large number of boaters and swimmers in the water. Said Wimsatt, "They will call us in when a search is needed or when they think people are in distress." The ASU also performs routine patrols along the Ohio River throughout the year.
"On a side note, we try to attend community events when possible, such as demonstrations for local Girl and Boy Scout troops," added Wimsatt. "This is a way for our pilots to connect with the citizens and share what we do for the community every day."Looking ahead
There's no question that the ASU would like to return to operating a second aircraft at some point in the future. "Only operating a single helicopter puts gaps in availability for service," said Arnold. "Bringing a second helicopter online would be a good start to bringing the unit up to full strength. Due to scheduled and unscheduled maintenance, a single helicopter is simply not available all the time."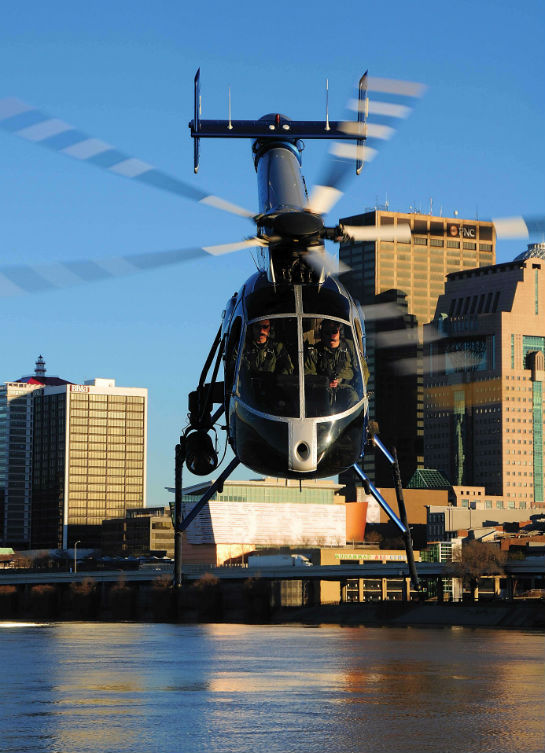 As to what that second aircraft might be, that has yet to be determined. Said Colburn, "The MD 520N is a good patrol ship and a second of the same would be useful. But when the MD 520N becomes uneconomical to fly, a larger airframe such as a Bell 407 would give the unit the ability to lift more and give flight crews more options during a search or rescue mission."More urgently, the unit will need to ensure that it has the pilot staff it needs to stay fully operational, as three of the five current pilots are now eligible to retire, and the remaining two pilots will be eligible to retire in just over a year. "We want to make sure new pilots are taught by current pilots to maintain a level of [proficiency in] both piloting and flying the law enforcement mission," said Colburn. "This will keep them from making mistakes and allow the unit to maintain a high level of safety." The unit intends to recruit and train pilots from within the police department, with the hope that the planned TFO program will be the method of selection for new pilots.
Despite some ups and downs, the ASU has proven its worth many times over since those early years of catching rooftop burglars. With more than four decades of service behind it, the ASU aims to keep watch over the people of Louisville for many more years to come.