Estimated reading time 12 minutes, 13 seconds.
A perfect example of the effectiveness of helicopters at saving lives in remote, high-altitude Montana hinterlands came in 2019 when a Life Flight Network helicopter emergency medical services (HEMS) crew was called into the Absaroka-Beartooth Wilderness.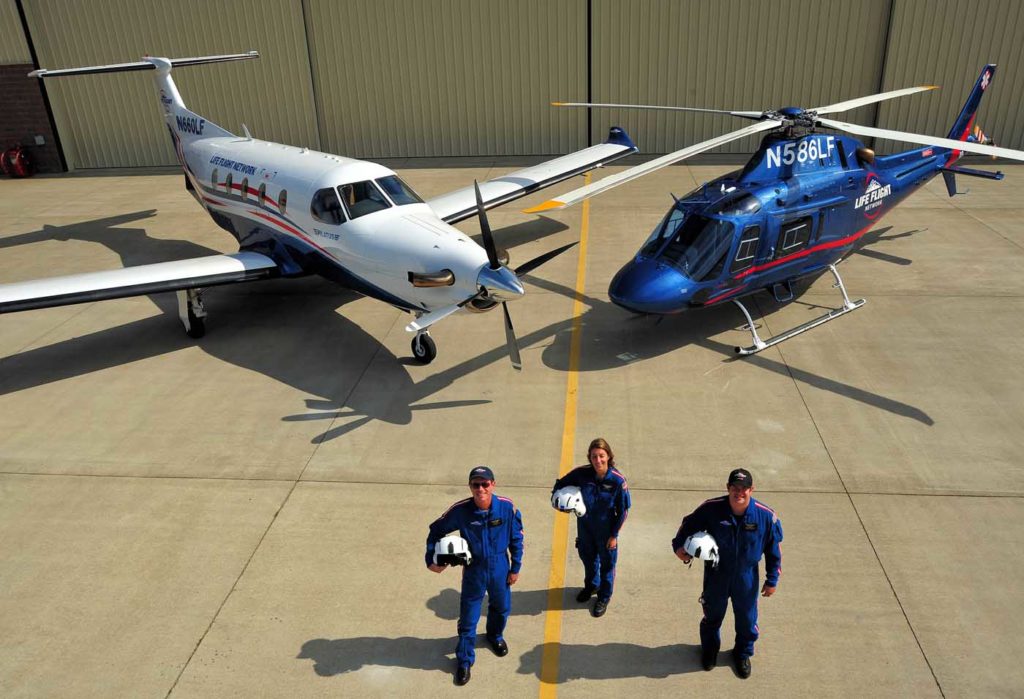 In the heat of a summer, a hiker was struck with a powerful headache and soon began to lose consciousness at 7,000 feet above sea level, according to a Life Flight crewmember who responded to the call. A ground ambulance would have taken hours to respond. Life Flight's AW119 Koala helicopter could reach the stricken hiker in just 30 minutes, assisted by backcountry rescuers who located and transported the patient to a suitable landing zone.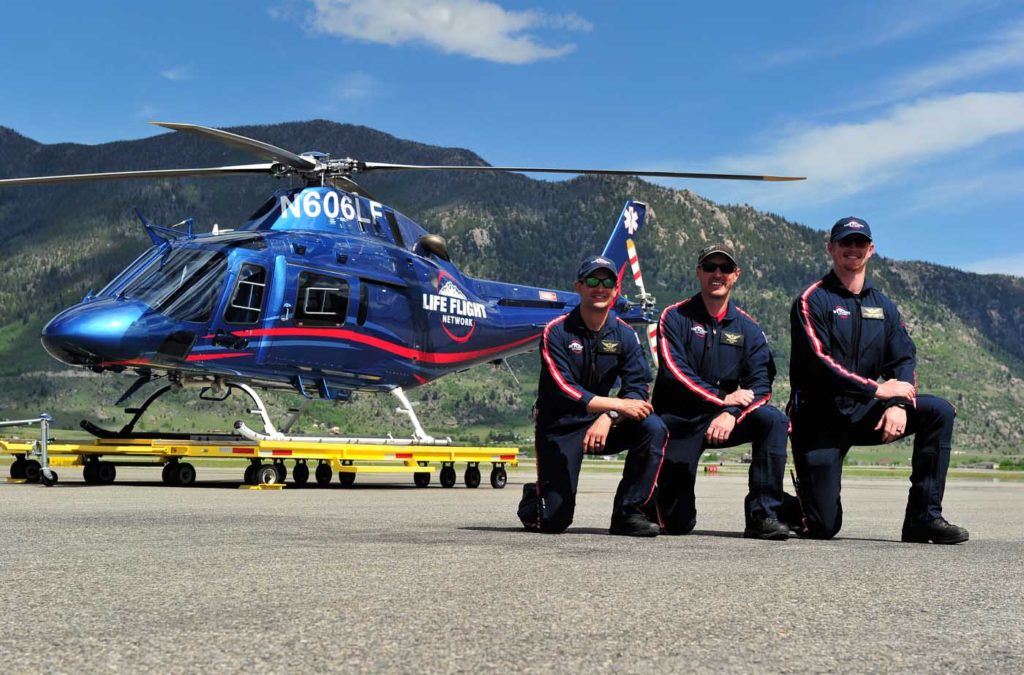 On scene, the patient was found minimally responsive and vomiting with obvious serious medical condition, according to the Life Flight crewmember. Extremely high blood pressure and unequally dilated pupils led the HEMS crew to suspect the patient had a life-threatening brain bleed.
As medical crew intubated the patient to secure the airway and provide oxygen, the pilot kept the rotor turning while maintaining awareness of the surrounding environment. Life Flight routinely loads "hot" to more speedily transport patients to critical care. Unique to Montana, the pilots had to look out for numerous buffalo and elk in the area that seemed unfazed by the helicopter.
On the way to the hospital, medical crew were able to monitor the patient's vital signs, breathe for the patient, and administer blood-pressure medication. The story had a happy ending for the hiker, a visitor to Montana who had taken a soak in a backcountry hot spring and suffered a spontaneous brain bleed. The patient ultimately survived with minimal deficits thanks to the quick response and critical care provided by Life Flight Network crew.
Life Flight has bases in Butte, Bozeman, and Missoula, Montana, and employs more than 50 people throughout the state. A Leonardo AW119Kx "Koala" helicopter is stationed at each base, and a Pilatus PC-12 fixed-wing aircraft is located at the Butte base. A critical care ground ambulance is stationed in Bozeman. The AW119Kx has a range of approximately 300 nautical miles (555 kilometers) without refueling and reaches speeds of 150 knots (278 km/h). Each helicopter is equipped with a state-of-the-art Garmin G1000H cockpit, night vision goggle capability, satellite weather, synthetic vision, and the capacity to transport two patients or a specialty team with unencumbered full-body access.
The operational control center, located in Boise, Idaho, provides real-time weather updates to pilots during flight.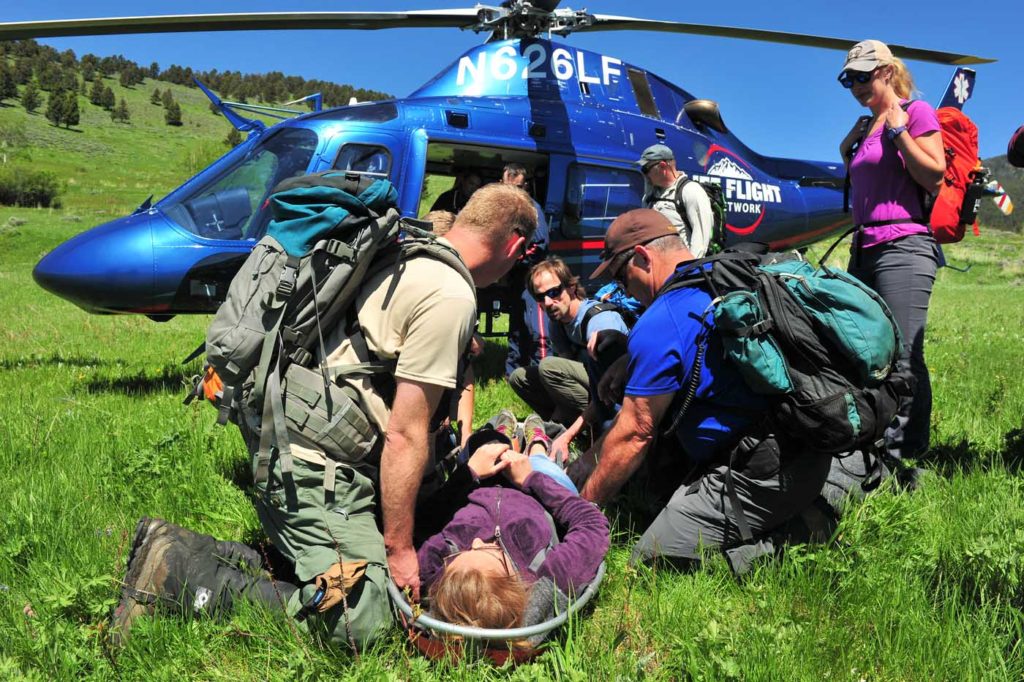 In urban areas, medical care is often viewed as saving precious minutes. While this is true in many aspects of transport medicine, the use of air medical transport in remote/rural areas with less-than-ideal conditions can save hours.
"More importantly, mortality and disability can be reduced, especially with time-sensitive emergencies like heart attacks, strokes, obstetrical emergencies and trauma," said flight paramedic Steve Schmid.
Life Flight Network's reach into rural areas and its ability to rapidly respond into the backcountry means an injured hiker won't suffer on a mountainside exposed to the elements for needless hours awaiting medical care. A flight crew can be at the patient's side within minutes to treat potentially life-threatening injuries.
Extreme state
As the fourth largest state in the U.S. and one of the least-densely populated states in the nation, there are many remote, isolated areas in Montana in which crews operate. Mountainous terrain, multiple rivers, valleys, national parks and forests and the state's generally high altitude all play a role in the operational response in Montana. Crews routinely train with local search-and-rescue groups, fire/EMS agencies, hospitals, the National Park Service, U.S. Forest Service, wildland firefighters, and law enforcement to ensure safe and smooth operations when servicing the backcountry.
"The state is vast and a 'local' call can cover hundreds of miles and all types of terrain," said assistant chief pilot Ian Courtney. "Pilots are constantly monitoring fuel and calculating weights and performance to adapt to the changing conditions and distances."
Weather in Montana can be extreme. The state is notorious for harsh winters that reach subzero temperatures and roller-coaster summer days when temperatures can climb to 98.6° Fahrenheit (37° Celsius) during the day and then fall to 40°F (4°C) at night.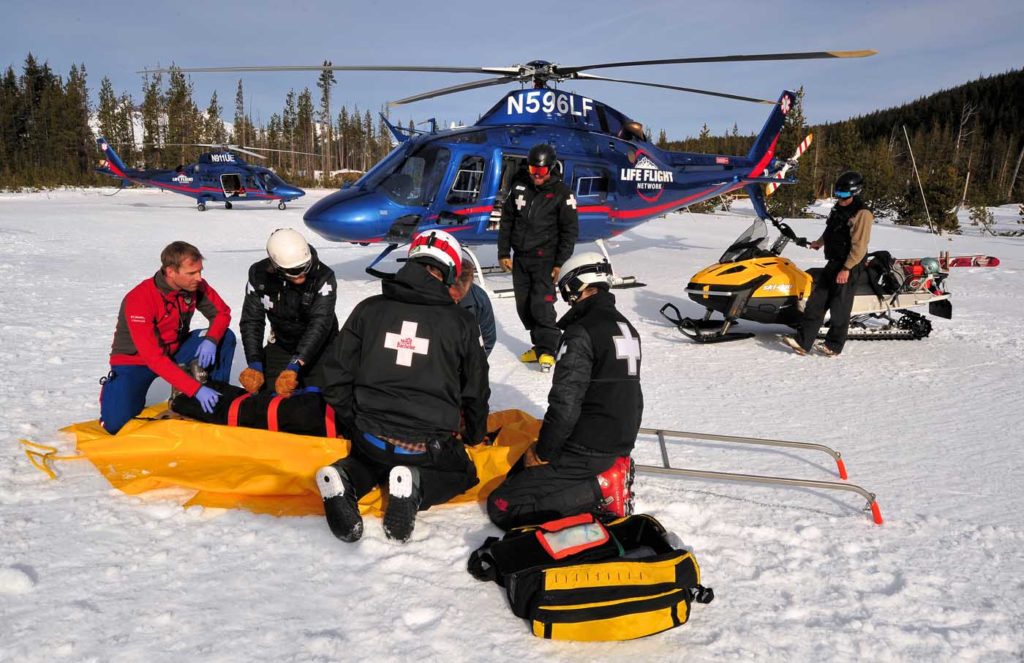 Massive afternoon thunderstorms can quickly bring unforeseen precipitation, including snow, rain, and hail, which makes weather forecasting a challenge. Many airfields are small and operate seasonally with limited or no weather reporting capability. What is reported is not always the weather that is present and what is present is not always reported. Life Flight Network pilots and operational control specialists constantly monitor weather conditions to ensure they have the most up-to-date information available.
Snow landings are relatively common in Montana as much of the state is covered in heavy snow many months of the year. Life Flight Network has installed "bear paws" on each of the helicopter skids to allow for maximum weight distribution and to keep the helicopter from sinking too deeply into the snow.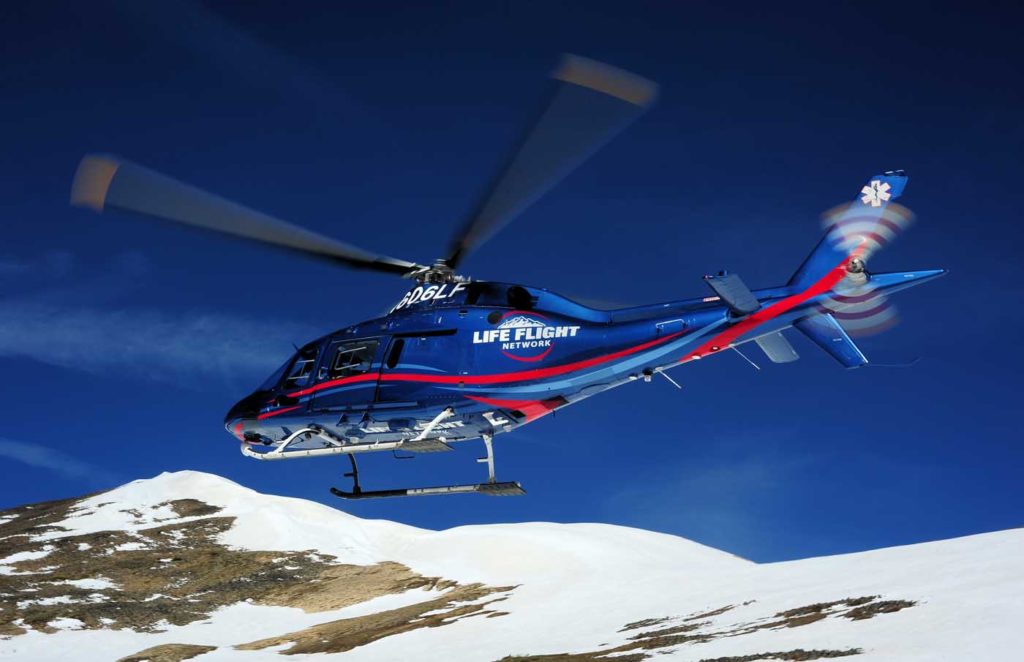 With weather extremes it is important to have a top-notch environmental control system. The AW119Kx comes equipped with both heating and air conditioning systems. Internal ambient temperatures are constantly monitored and adjusted by the crew while in flight.
"Weather extremes coupled with the need to respond to a motor vehicle crash on a highway, a heart attack at a remote home, an inter-facility transfer in a distant valley, or a search-and-rescue assist in the mountains, makes for a dynamic environment," Schmid said.
In addition to the challenging weather in Montana, much of the state is at high elevations, affecting density altitude during the summer. Butte is located at 5,550 feet (1,676 meters) above sea level and neighboring Bozeman is at 4,473 ft (1,363 m). Helicopter EMS transports often are performed from resort towns with elevations well over 7,000 ft (2,100 m). Pilots are expertly trained and proficient in mitigation techniques when high-altitude flight is required to transport a patient.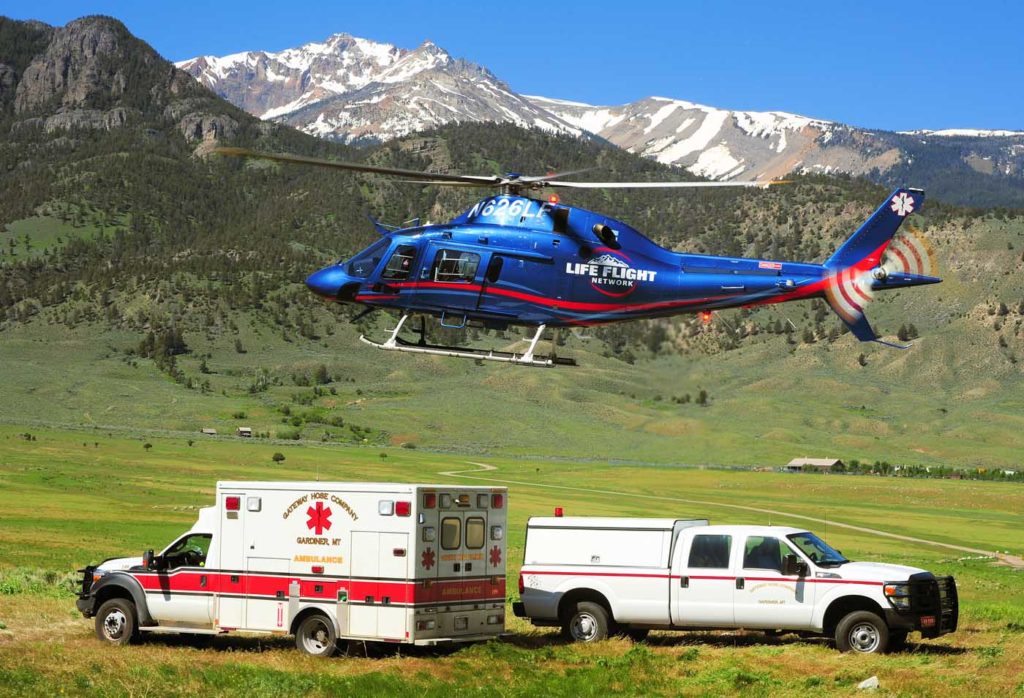 "Given the challenges of operating in such a diverse setting, pilot experience and local knowledge are invaluable," Courtney said. "The state is just about as challenging as it can get for a VFR pilot and the IFR options are not optimal given the altitudes needed to stay clear of terrain and avoid the high probability of icing during the eight colder months."
Prepared for anything
Life Flight's crews are prepared to work through all seasons and in almost any terrain. Crewmembers rely on training, experience, teamwork, crew resource management and state-of-the-art aircraft to safely respond to calls for service.
The AW119Kx's medical interior includes multiple locking configurations for the stretcher. This allows for diagonal placement of the patient to accommodate individual variances such as patient height, traction splints, and rescue retrieval devices. Additional seating is available for a parent, other family member, or a corrections officer when transporting prisoners. The front seat has the ability to face aft to provide more useable patient care space.
The AW119Kx's medical interior includes multiple locking configurations for the stretcher.

A Pilatus PC-12 fixed-wing aircraft augments the Koala's versatility with swift, long-range transport.

Each helicopter is equipped with a state-of-the-art Garmin G1000H cockpit, night vision capability, satellite weather, synthetic vision and the capacity to transport two patients or a specialty team with unencumbered full-body access.

Mountainous terrain, multiple rivers, valleys, national parks and forests and the state's generally high altitude all play a role in the operational response in Montana.
Life Flight Network's standard crew configuration in Montana includes a flight nurse, flight paramedic and pilot. Crewmembers come to the company with a vast amount and array of career experience. They are trained and equipped in advanced protocols and have the tools and skills to provide ICU-level care to patients of all ages, including thoracotomy placement, surgical cricothyrotomy, blood product administration, central line management, IV drug drip management, and rapid sequence intubation. Life Flight partners with local hospitals and is proud to have the privilege of carrying two units of packed red blood cells (PRBCs) and liquid plasma.
Life Flight Network provides assistance to local search-and-rescue groups to perform search and assist operations but does not provide direct rescue operations, leaving that specialized skill to other trained professionals. Their AW119 helicopters are often able to land in the backcountry to gain rapid access to patients in support of other agencies' rescues. Due to the capability of the aircraft, Life Flight Network is able to assist in search efforts to find and make contact with overdue snowmobilers, lost hunters and hikers, or other individuals suffering from medical emergencies or injuries.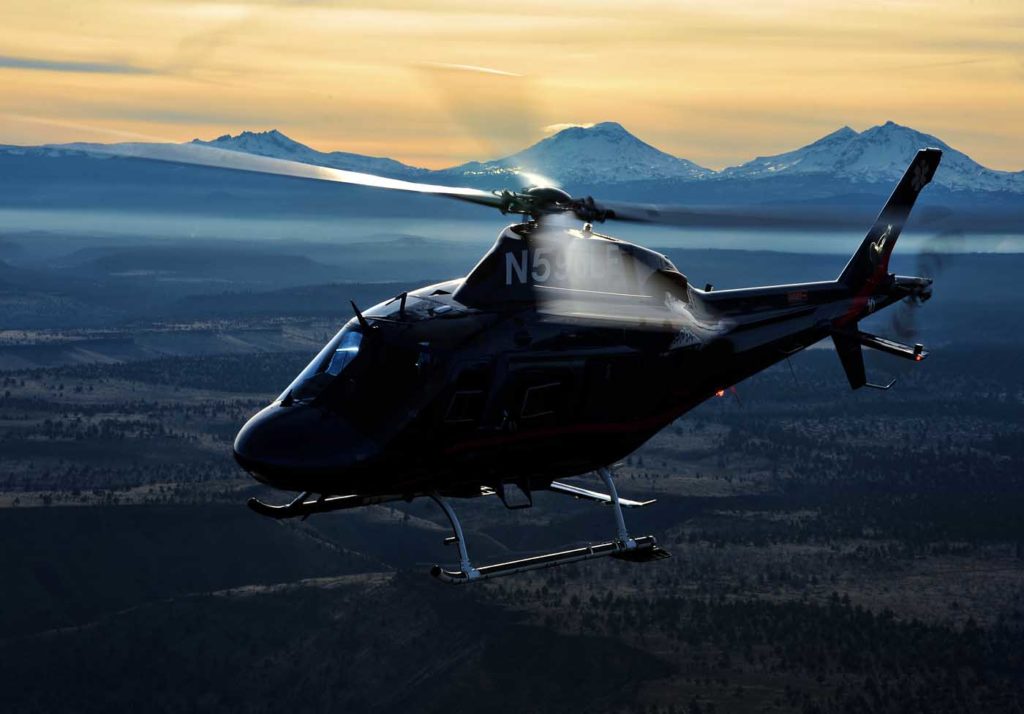 "Life Flight Network is pleased to support the local communities it serves and provide the citizens and visitors of Montana with safe, affordable, high quality, ICU-level medical transport," Schmid said. "The experienced aviators, clinical crews, and platforms they arrive on are the link to delivering patients to definitive care. Our presence and actions have been proven to decrease mortality and out of hospital time in the rural areas we proudly serve."