Estimated reading time 12 minutes, 26 seconds.
If you're in the neighborhood of Danbury, Texas, on a hot day in early summer, you might see an unusual sight: two dozen helicopters, almost all of them Robinson R22s, departing from a single field like bees leaving a hive. They'll return a few hours later, landing in the field in an orderly fashion before being shut down and towed into a hangar for the night. The next day, they'll be towed back into position, and the cycle will begin again.
Like bees, the helicopters are performing the vital work of pollination. Specifically, they're expediting the production of hybrid seed rice by blowing pollen from "male" rice plants onto "female" plants from a different line. The resulting hybrids are hardier and higher-yielding than the seed of self-pollinating rice, delivering a better harvest for the growers who plant them. And while helicopters aren't strictly necessary for pollination, their downwash is more reliable and consistent than natural winds, which is why pollination season each year attracts a swarm of them to south Texas.
The R22s — which are just large enough to disperse the pollen without damaging the plants — are working on behalf of RiceTec, the developer of the hybrid rice lines. Headquartered in Alvin, Texas, midway between Danbury and Houston, RiceTec is an innovator not only in breeding new types of rice, but also in finding better ways to grow them. Pollinating by helicopter is something the company pioneered, and over two decades of practice, RiceTec has acquired a body of proprietary knowledge concerning the best way to do it. So valuable are these details about how and when to fly that pilots must sign non-disclosure agreements before starting their contracts.
For most of those two decades, RiceTec's partner in helicopter operations was James "Charles" Short, the owner of South Texas Helicopters out of Alice, Texas. A fixture in the local farming and ranching community, Short flew rice pollination himself, and hired pilots to fly the mission for his company. As demand grew, however, he also began subcontracting work to other helicopter owners and operators, eventually managing as many as 50 aircraft across multiple locations in Texas, Louisiana, and Arkansas.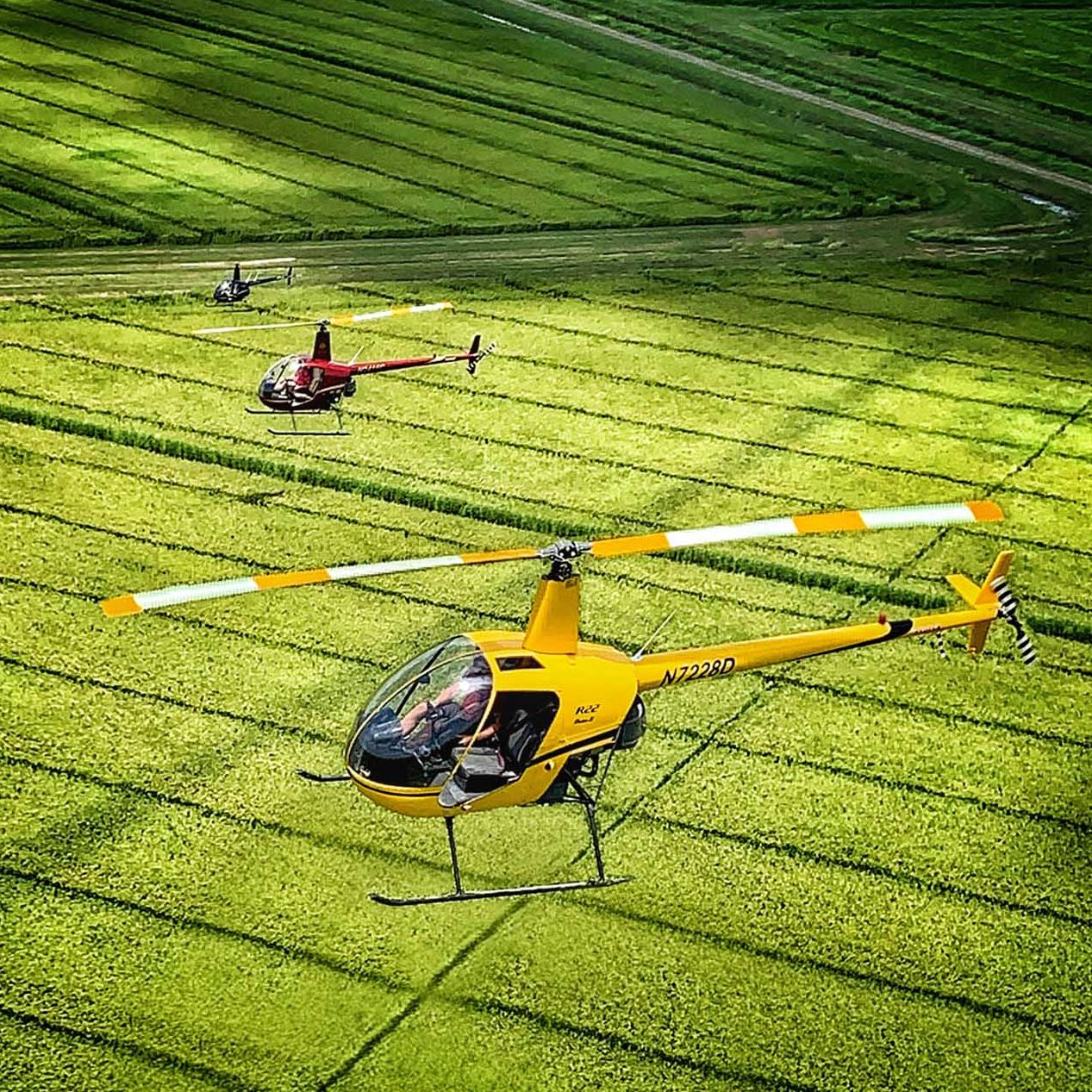 For many pilots — like Rick Sá, now a lead pilot in Danbury — rice pollination was their first commercial helicopter job and a stepping stone to other career opportunities. "I take my hat off to Charles for sure," Sá told Vertical. "He was the pioneer . . . and he helped so many people in the helicopter industry to build their time."
Tragically, Short was killed in a mid-air collision last fall during deer capture operations on a private ranch. Now his rice pollination work is being carried on by his longtime friend and business partner Robby Benavides, owner of Amigo Helicopters. Despite the deeply felt loss of Short, Benavides said his legacy continues thanks to the outstanding relationship developed with RiceTec over the years, and to RiceTec's "top-notch" logistics and operations. With the 2020 rice pollination season now in the books, Benavides and RiceTec agreed to give Vertical a closer look at their unique collaboration.
Moving pieces
Benavides, now 37, started working for Charles Short and his father when he was 14, helping out with cattle work and deer surveys and captures. Although he enrolled in college out of high school, his thoughts kept drifting back to helicopters.
"I came home one day and I told my mom — we were on horseback — I said, 'Man, I'd like to be flying,'" Benavides recalled. "And the next weekend I enrolled in a [flight] school in San Antonio."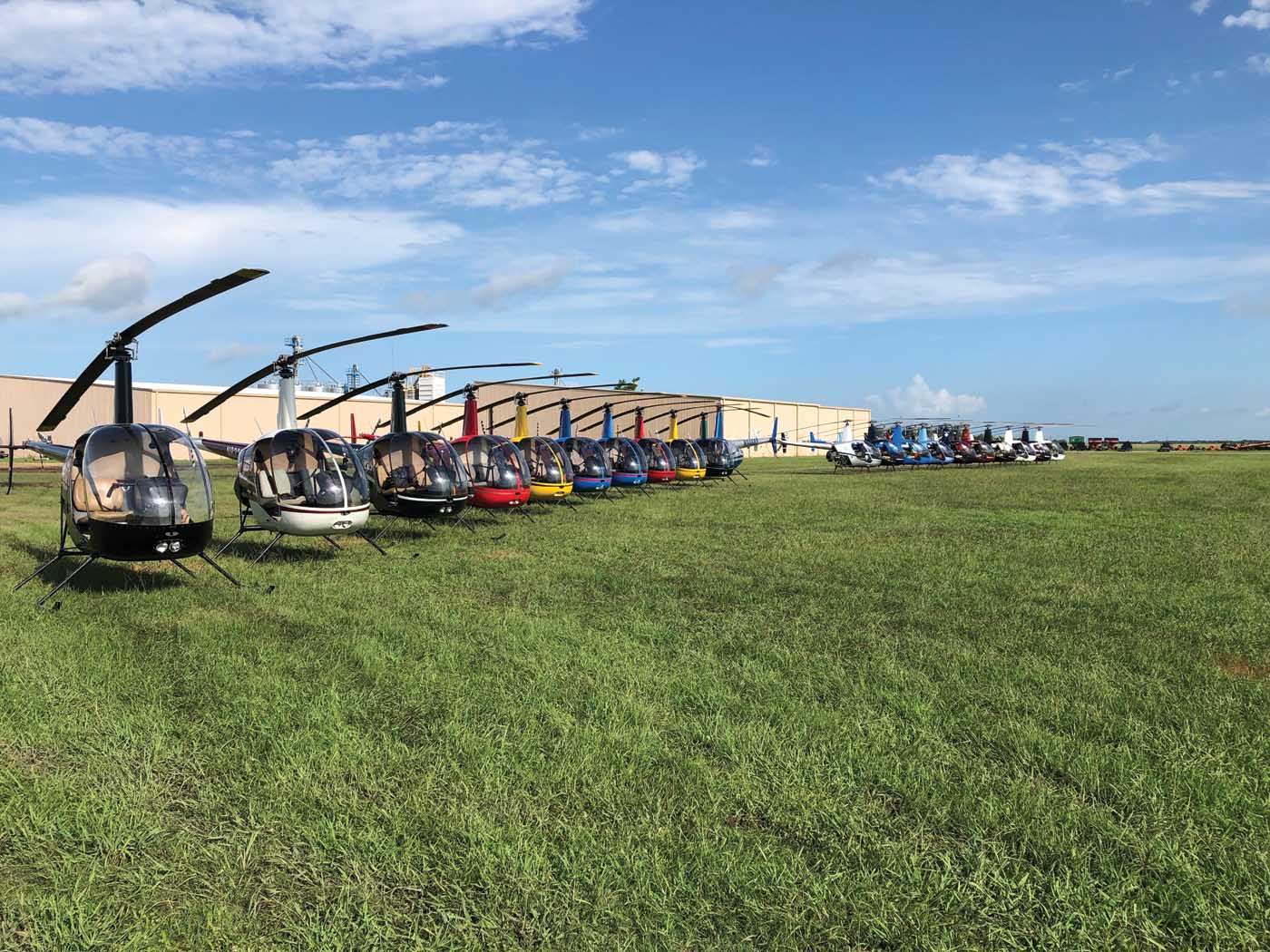 After he finished his training, he acquired a helicopter and started his own small business, focused on agricultural flying and cattle work. He also went in on a separate helicopter company with Short. Benavides started "flying rice" himself in 2010, picking up the business side of things from Short as he went along. As Benavides explained, "I was his right-hand man and helped him on anything he needed, so I learned the process."
Not surprisingly, orchestrating the movements of 50 different helicopters and their pilots is a management challenge, first and foremost.
"I'm the manager over eight different areas," Benavides said. "Each area will have one manager under me, and I've got to provide him with what he needs to operate for that season. So if he calls me and tells me, 'I need three helicopters tomorrow,' I've got to be able to tell him who's going to be there."
This is not something that can be planned out long in advance. Rice production is dynamic and weather-dependent, with rain, sun, and cold fronts determining when each field is planted, and when each plant starts making pollen. RiceTec's growers can make an educated guess as to when the pollen will appear, but the only way to know when it arrives is through daily inspections of each field — and the helicopters must be ready as soon as the plants are. Most of the aircraft arrive on trailers to save the time and expense of ferry flights, so Benavides must factor in drive time.
"Some owner-operators [are] driving in from 10 hours out — west Texas or north Texas or wherever — and I've got to [know] who can get here in a day, who can get here in three days, and what areas they can be distributed in to get the job covered," he continued. "It sounds easy . . . but it's really pretty stressful at the time."
Pollination season lasts anywhere from one to two months, depending on how compressed the planting season was. Each helicopter generally flies a few hours a day, every day, and can't afford to be down long for maintenance. Benavides recalled that when he started flying rice, a broken helicopter usually meant a four-hour drive to his home shop. Add on time spent waiting for parts, he said, and "you were down for several days."
For the past four years, however, the operation has enjoyed mobile maintenance support from Tim Thompson of T2 Aeronautical, who is also based in Alice. Thompson was already maintaining a number of the aircraft involved with rice pollination when he approached Short and Benavides about providing mobile services. As Thompson recalled, "I told them, 'You know, since all my clients are already up there and I'm down here and I have nothing else to work on . . . what if I decided to go mobile?'" Short and Benavides were enthusiastic about the idea, and "the first year, my phone didn't stop ringing," said Thompson.
Now, he brings three other mechanics on the road with him, working from an enclosed trailer loaded with parts and tools. "It's basically a Robinson helicopter service center on wheels — just about everything you need to be a service center on the go," as he described it. "This year we had to change an engine; that was my second engine at rice. That's a task a lot of people don't want to have to do outside a shop, but we were prepared for it."
The benefit to Thompson's customers — and to RiceTec — is significant. "I had a magneto go out this year, actually two magnetos go out this year, and within an hour he had them in, ready to go," Benavides said. "So he plays a big factor in keeping us able to make money!"
Thompson credits rice pollination for helping to build his own business, too. When he started supporting the operation, he had around eight regular clients; now he has about 30. "A lot of these clients were in my general area — they just had never heard of me and I had never heard of them until we met at rice," Thompson said. "And that's why I try to stay loyal to the rice pollination . . . they were there when I needed them, and I'm always there when they need me."
Building time
Rice pollination is not the kind of flying job that is advertised. Pilots learn about it almost exclusively through word-of-mouth and are hired on the strength of personal recommendations. For Rick Sá, the connection came through a former flight instructor who had been flying for Short. Sá helped his former instructor secure an interview with a tour helicopter company in Las Vegas; when he landed the job, Sá inherited his seat flying rice. At the time, Sá had only around 230 hours of flight time, and he leapt at the opportunity to build experience, even though he wasn't quite sure what rice pollination was all about.
Now, Sá just wrapped up his fifth season at the helicopter base in Danbury. As one of the more experienced pilots, Sá helps manage day-to-day operations in Danbury — notably moving helicopters in and out of the hangar each day, and ensuring proper sequencing during departures and arrivals.
"We spread the helicopters in the field and we have a take-off procedure," Sá explained. "Everybody is on the same frequency, and we go from the front line to the back, from the left side to the right side . . . and the second helicopter only takes off when the first one is off the ground and away. So that's how we're able to maintain a sequence for take-off for 20-something helicopters and keep the safety for everybody."
The procedure is reversed as the helicopters return from their assigned fields, with each pilot broadcasting their position and intentions over the common frequency and maintaining visual separation in the air.
Flying over rows of male rice plants to spread their pollen isn't particularly complex or technical work, making it well suited for low-time pilots. As with any low-level flying, however, there are hazards. "For a brand-new pilot that has never flown rice, I always recommend them to do a really nice recon of the field, because sometimes wires will be crossing the field, or you'll have a tree in the middle of the field that you're going to have to go over or around," he said.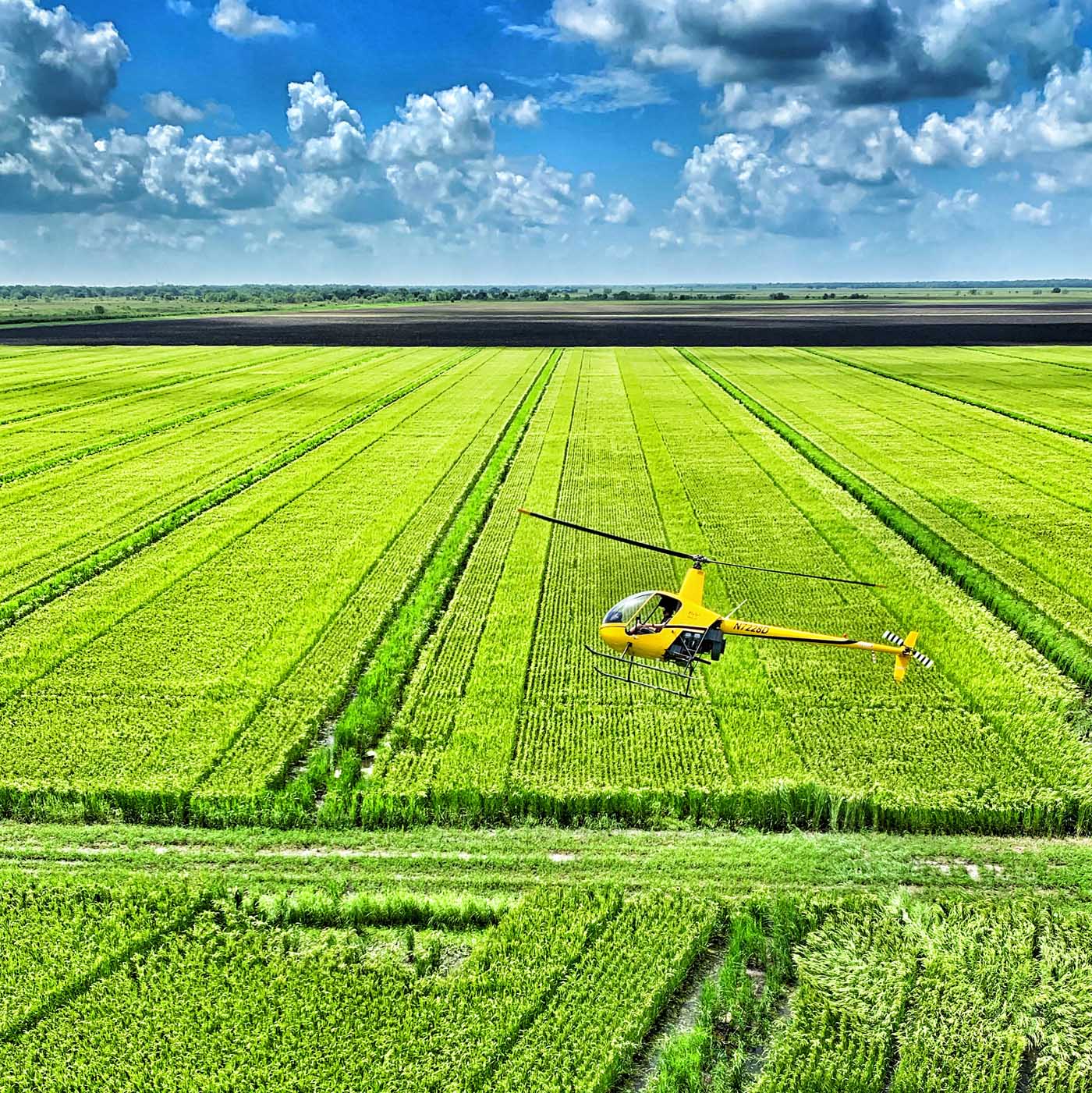 It's also imperative that pilots keep their speed above effective translational lift as they're turning to start a new row, Sá added. "If you slow down the helicopter too much to do your turns at the end of the fields, you can get into settling with power very, very easy," he said. The resulting ground contact usually isn't fatal, but it can be very expensive.
The window of time for pollinating each field is relatively narrow, usually less than two weeks. As the season progresses, activity will shift to different locations, and demand for helicopters will taper. Benavides said he typically assigns work to pilots based on their experience: "If you have more experience, you'll be there a little longer, you'll get more days [than the] less experienced pilots." While the longest pollination season he can remember was over 50 days, Benavides said that this year's run was closer to 30 days because rain earlier in the year meant that more of the fields were planted at the same time.
Although the season is brief, the consistent tempo of flying makes rice pollination a boon for the operators and pilots who are involved — and many of them owe their start to Charles Short.
"He had a big impact on the industry, because a lot of these pilots that were hired got to build time," Benavides said, reflecting on how difficult it is for new commercial helicopter pilots to break into the market. "Rice is a good way to build time and work your way up there to that 1,000-hour mark, to where you can get another job in one of these other industries."