Estimated reading time 17 minutes, 2 seconds.
Photos by Lloyd Horgan
The hardest thing about this job," explained Roman Kleinsasser, "is doing classroom instruction when you can see the sun shining outside."
Kleinsasser is a flight instructor at the Heli Austria Flight Academy at Bad Vöslau in the east of the country, not far from the Hungarian border. The general aviation airfield here offers the ideal headquarters for the company's training base. Free from the environmental constraints and traffic levels of Austria's major airports, it nevertheless has good facilities, and is also the home of one of Heli Austria's rescue helicopters.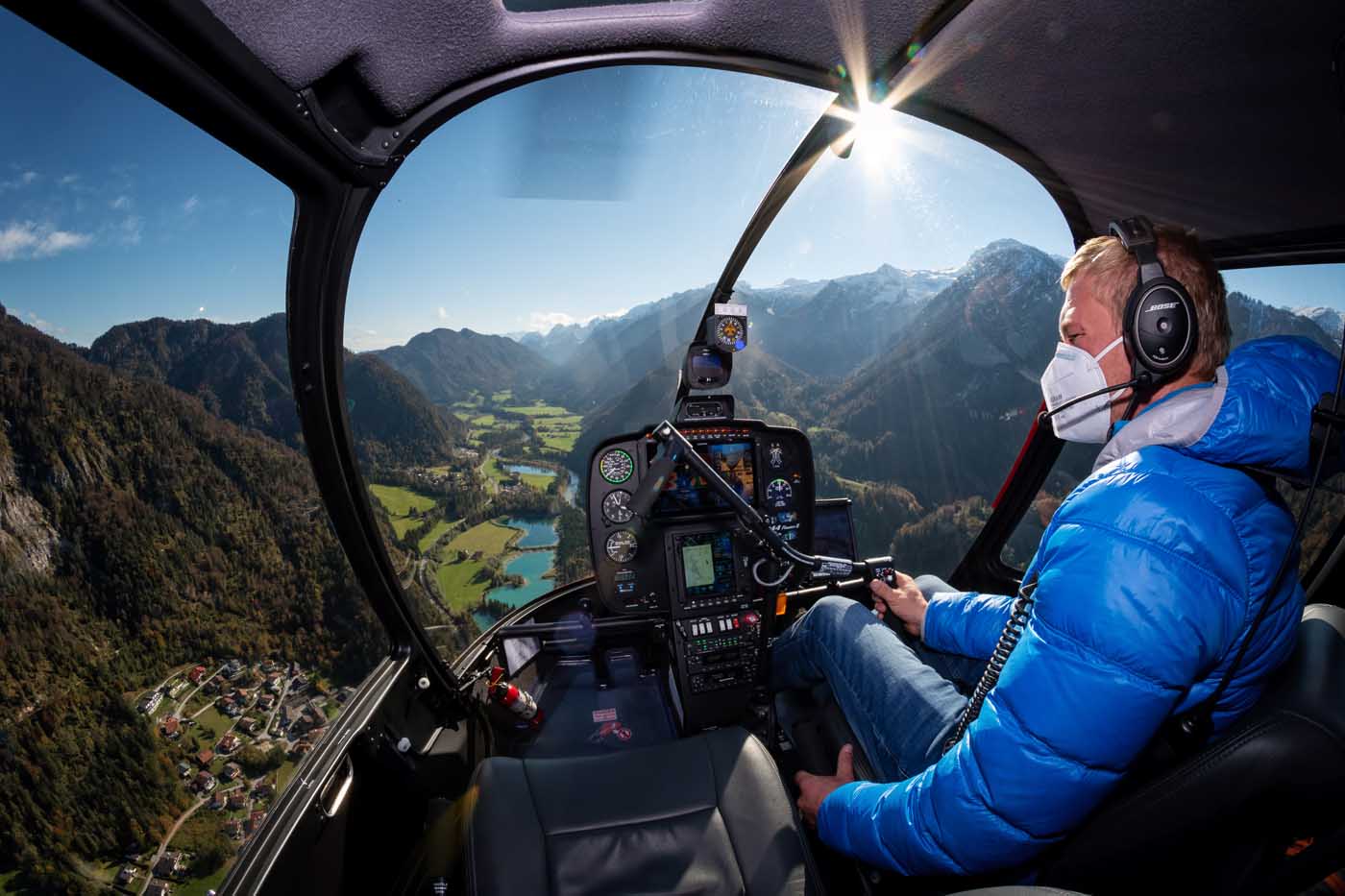 Situated a few miles south of Vienna, the terrain is hilly, but not as mountainous as it is around the European Alps that dominate the western side of the country. With the winter sun low in the sky, it's a beautiful vista even from the ground.
Having had an interest in pursuing a career in aviation after leaving school, Kleinsasser discounted fixed-wing flying due to his perception of the lifestyle: "I didn't want to spend all my life in hotel rooms," he said. However, his first exposure to helicopter flying proved more appealing. "I took an intro flight in a helicopter," he explained. "It was a lot of fun. After that, I just went for it."
Like many European helicopter pilots, Kleinsasser aspires to become a rescue pilot. Having trained for his private pilot license in Austria before completing his commercial training in the United States, he knew that to fulfil his dream, he would need plenty of experience. And in this part of the world, there are few companies better equipped to provide that kind of opportunity than Heli Austria.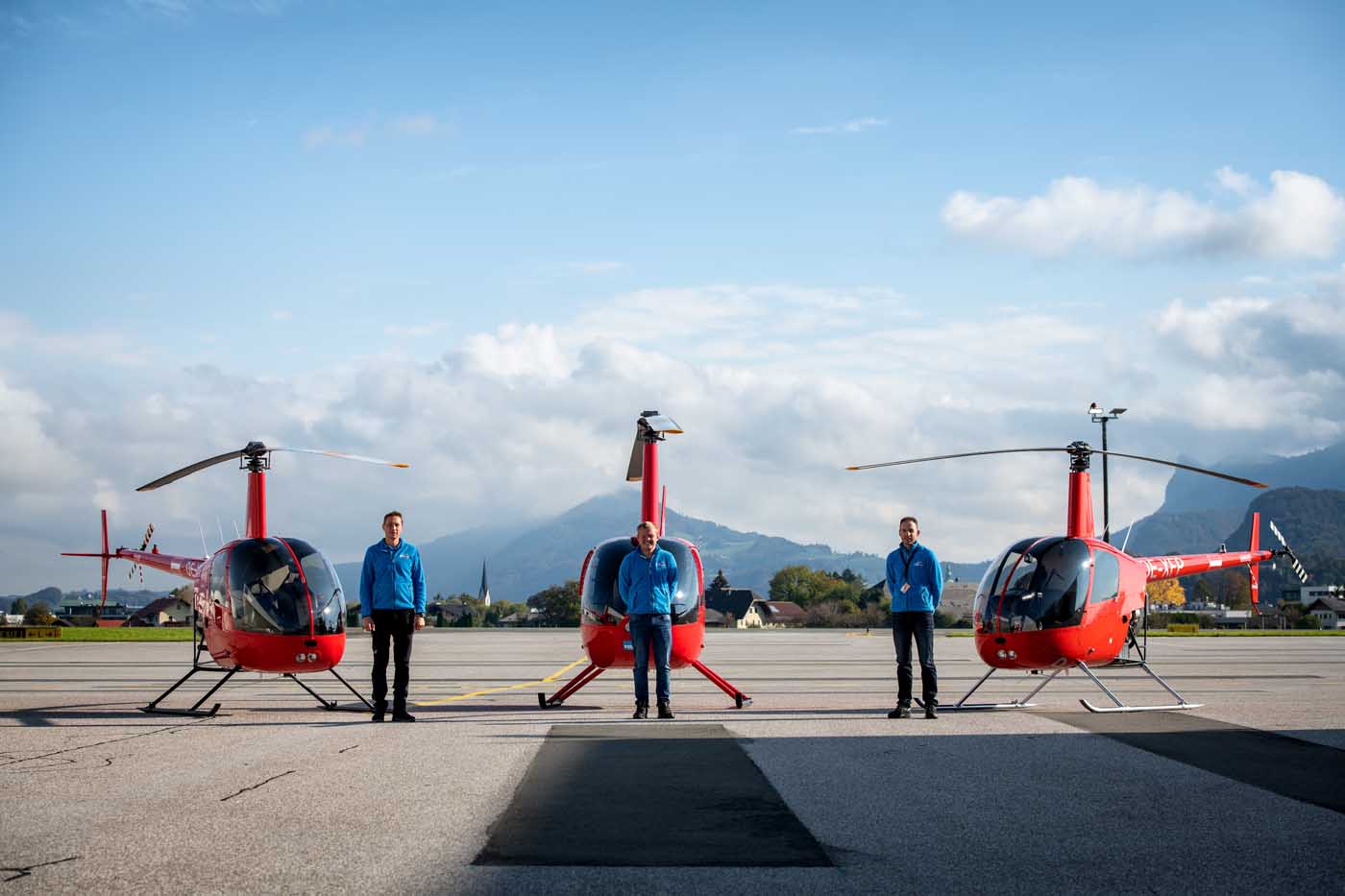 The company traces its roots back to 1982. In its first year, founder Johann Knaus flew Pope John Paul II around Austria during the Papal tour of the country. Personal links with Formula 1 racing driver Niki Lauda led to Heli Austria using Lauda-Air's Air Operator Certificate for early commercial operations, and the business grew through the '80s to include several Hughes 500-series aircraft.
Having achieved his commercial pilot license by the age of 18 (the youngest person in Austria to do so at the time), Johann Knaus's son, Roy, took over the business after a helicopter accident killed his father and seriously injured his brother in 1997.
"That influenced us a lot," explained Roy Knaus, who is now the owner and CEO of the company.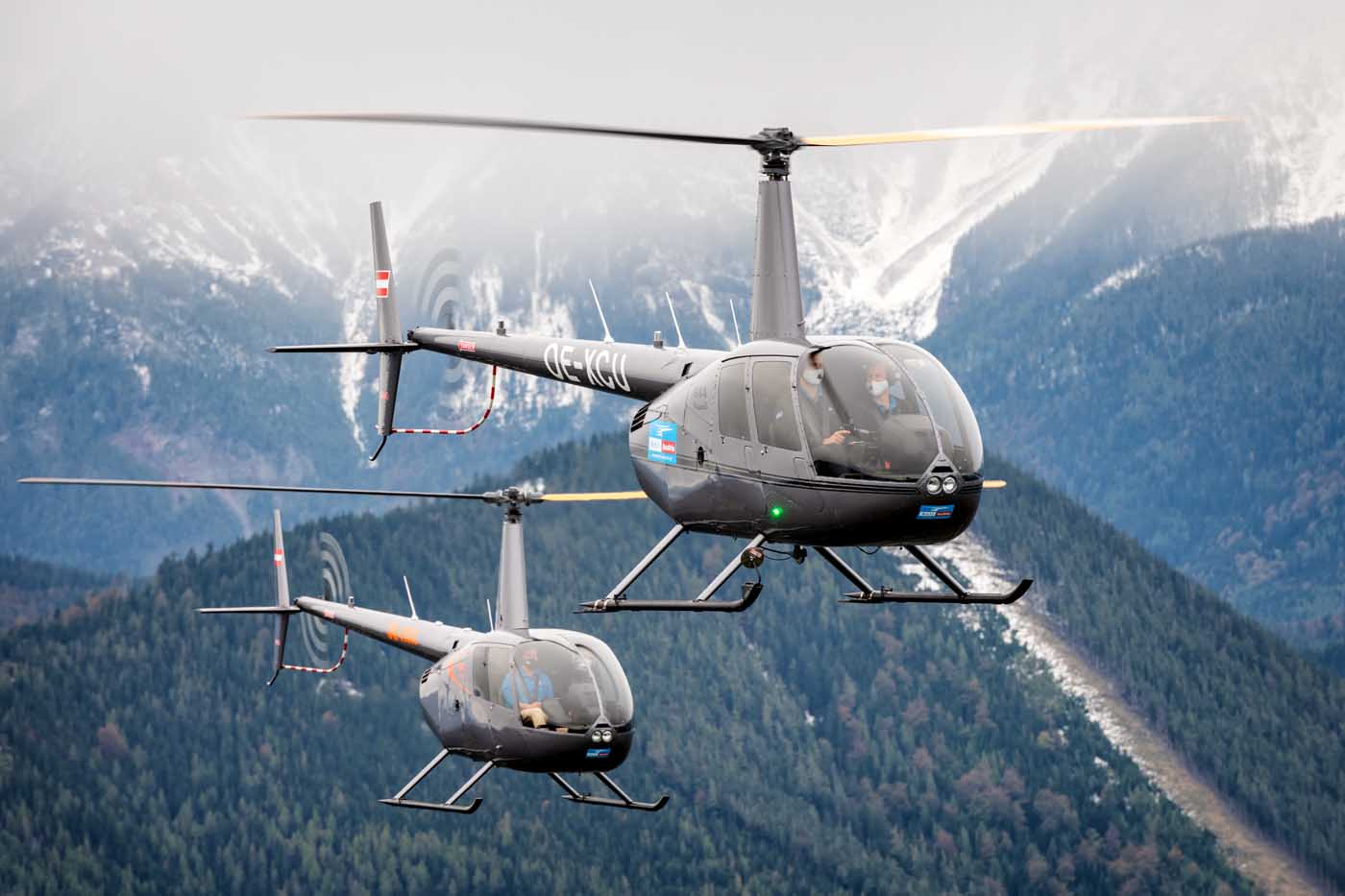 In the years following, Heli Austria moved into Helicopter Emergency Medical Services (HEMS) with BK-117 and Airbus AS355 aircraft, and also expanded its aerial work fleet. Now, the company is a preeminent helicopter operator in central Europe, with aircraft from Airbus Helicopters, Bell and MD Helicopters on the books, its own part 145 maintenance facility, and a diverse range of operations in more than five countries, depending on the time of year.
"We get to see which students are the best fit for the company. And there is a demand coming up for new pilots, so it's a win-win situation for the students and the company."
"With nine HEMS bases and mixed aerial work operations, we have lots of possibilities to give our pilots good schedules," explained Knaus. "We have a lot of pilots who like the long line work and then in winter they enjoy flying the HEMS [operations]."
Other tasks include firefighting in Sardinia, tourism flights in Greece, and even heliskiing with an adventure vacation company in Iceland.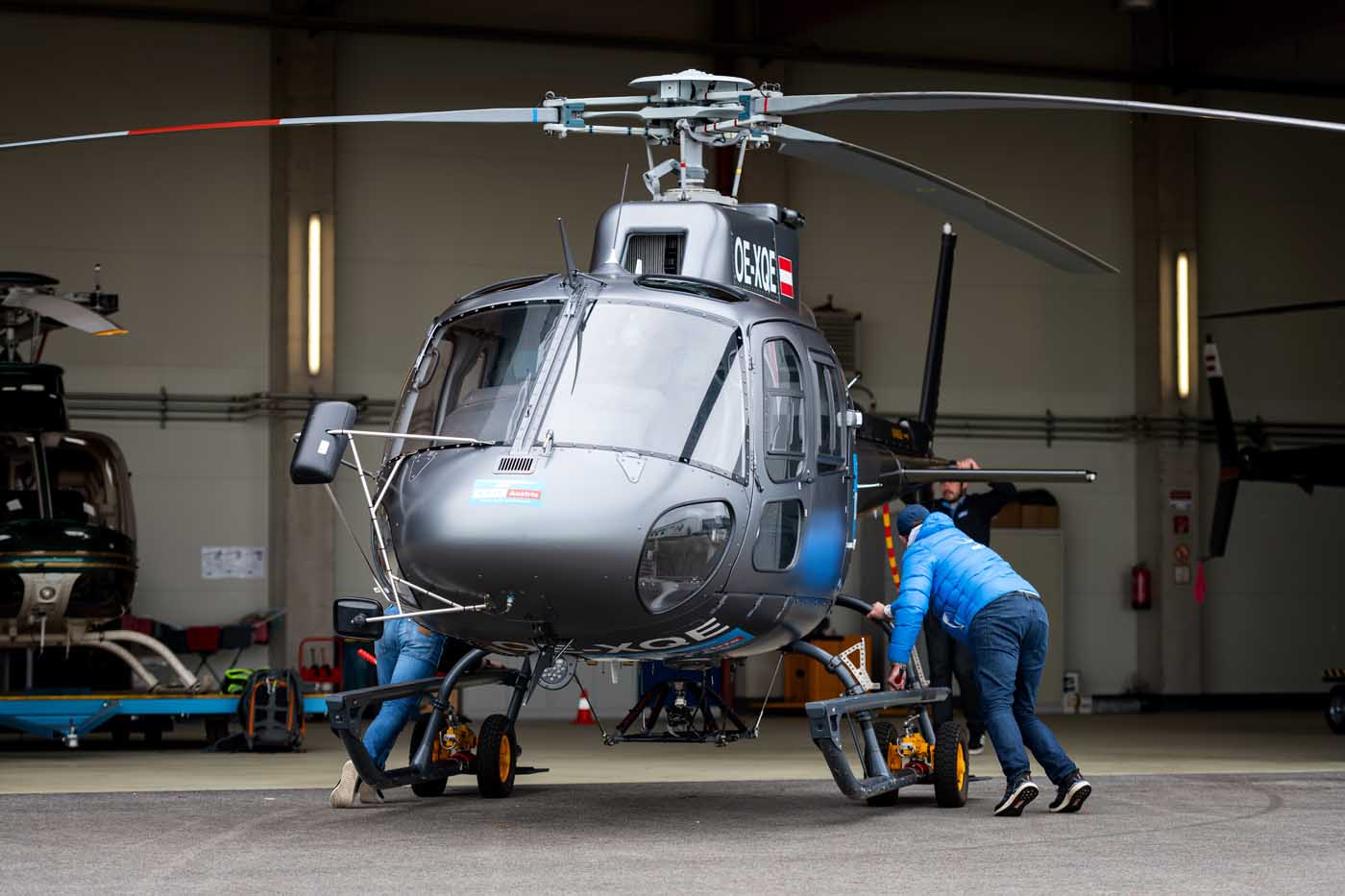 "We start new [commercial] pilots with tourism flights in Austria, and once they have good skills they can go and do one or two summers in Greece," Knaus explained.
Quality over quantity
Heli Austria has become something of a household name in its home country, but for new pilots looking for opportunities, the chance to cut their teeth flying further afield has proved appealing.
"The bigger we grew, the more job applications we got, and now with the flight academy, we get access to a lot of people," said Knaus. "Flying helicopters is an interesting job and a lot of people still want to do it."
The expensive prospect of opening a new academy while recruitment was strong might seem counterintuitive, but for Knaus the move was motivated by a desire for quality over quantity.
"In the past, we had to send our guys to other flight schools," he said. "And we haven't always been happy with the training they received."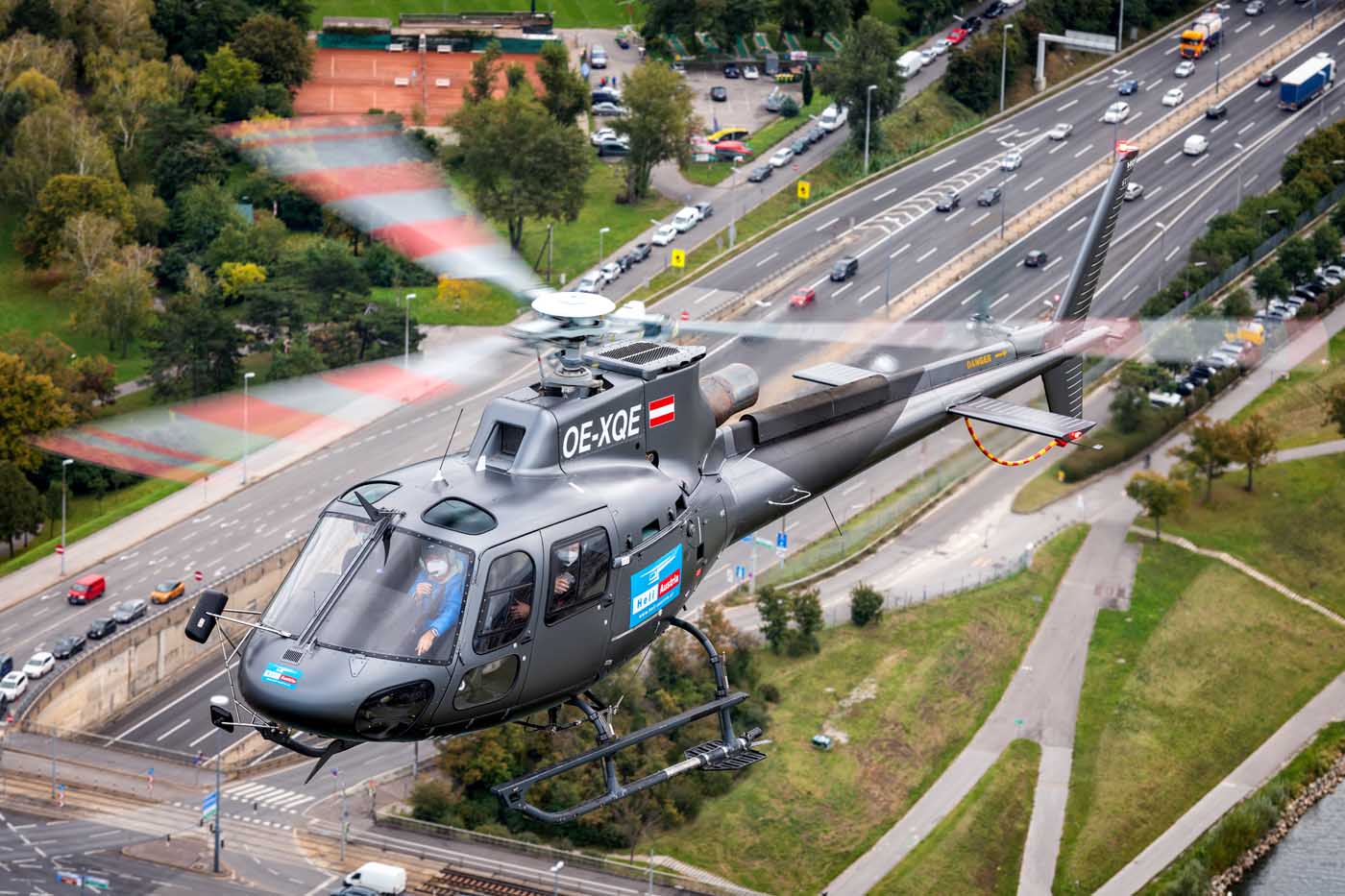 Finding a good location for the school wasn't easy, as aircraft noise is carefully policed in Austria. Helicopter training involves relatively long periods of operation on the airfield when compared to its fixed-wing equivalent. The lack of appeal to host such training is reflected in airfield charges.
As with everything in aviation, a compromise was required, and in 2018 the company began training at not one, but two carefully selected locations.
"Our main base is close to Salzburg, but to open a flight school there alone, we would have been limited to [the Robinson] R22 and R44," said Knaus. "In Bad Vöslau we have had MD 902 and AS355 type ratings, and we can also do NVG [night vision goggle] training there."
While Bad Vöslau offers plenty of airspace for training, the appeal of the Salzburg academy is made obvious at the front door, from which the foothills of the Alps appear to be just a stone's throw away. And the instructors don't see the all-Robinson fleet as a limitation.
"The R44 we have here is a Raven II with a Garmin cockpit and a two-axis autopilot, which reduces the pilot workload," said Michael Sams. He became a flight instructor in 2019 and also aspires to a job flying the HEMS mission.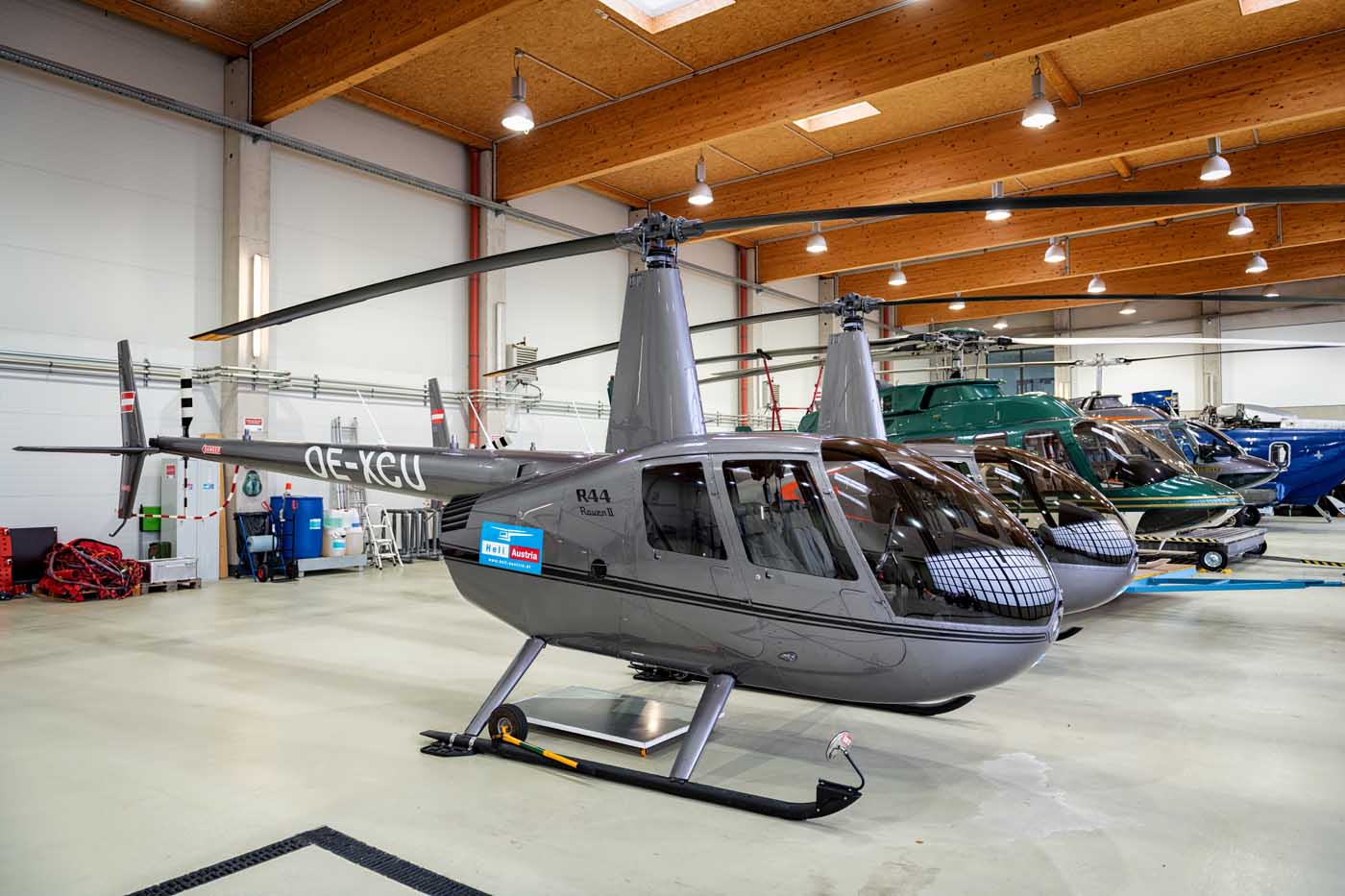 The chief flying instructor at Bad Vöslau, Ronald Stadlmann, believes that the combination of high-altitude terrain and piston aircraft provides unique practical learning opportunities. "At high altitude, you can easily reach the limits of the R44," he explained. "And it is important that the students see that there are limits."
Private pilot training is available at both locations, and while Heli Austria does offer an integrated commercial pilot course, some of its students still start their careers by building hours from their private pilot license while they study their commercial theory. The training for this is also offered, and those hours provide a valuable opportunity for both the students and the company to get to know one another.
"Heli Austria is the biggest helicopter company in the country," said Stadlmann. "There are opportunities to advance doing almost anything you can do with a helicopter."
"We get to see which students are the best fit for the company," he explained. "And there is a demand coming up for new pilots, so it's a win-win situation for the students and the company."
This demand is something that Roy Knaus is mindful of, but he explained that it was likely to be felt keenest among operators with more diverse requirements in high-skill areas.
"I've seen concern about a shortage of pilots, and I think this is correct. But it's also important that your spectrum as a pilot is quite broad."
It is unsurprising to hear this sentiment in a company that undertakes everything from flight training and sightseeing to firefighting and HEMS, using a fleet ranging from R22s to AS332s. But the diversity of skills required to meet the competing requirements of these various tasks will not be met solely by producing commercial helicopter pilots, whatever their caliber.
Developing a broad skillset
Type rating courses on most company aircraft, including the H125 — ubiquitous in this part of the world — are already available at Bad Vöslau, but as well as being able to fly the right types of aircraft, companies like Heli Austria need pilots who are capable of doing the right type of flying.
Roy Knaus, Heli Austria CEO, with one of the company's "Firecat" helicopters at St. Johann.

Siegfried Steiner, chief flying instructor at Salzburg.

Ronald Stadlmann, chief flying instructor at Bad Vöslau.

Michael Sams, one of two full-time instructors at Salzburg.

Roman Kleinsasser, a flying instructor at Bad Vöslau.

Stadlmann takes students through a brief classroom course at Bad Vöslau.
Acknowledging this, the academy is building a "post-graduate" program that will help commercial pilots develop the skills that are in highest demand. However, things like flying sling-load operations, for example, or the ability to fly using NVGs, are most valuable precisely because they are the hardest skills in which to gain experience.
"Geographically, we are well positioned to feed the market in southern Germany and Switzerland, as well as Austria, where we think that more 24-hour bases will be required in the next two years," explained Knaus. "That's why we are extending our training services and aiming for simulators to enhance and improve training."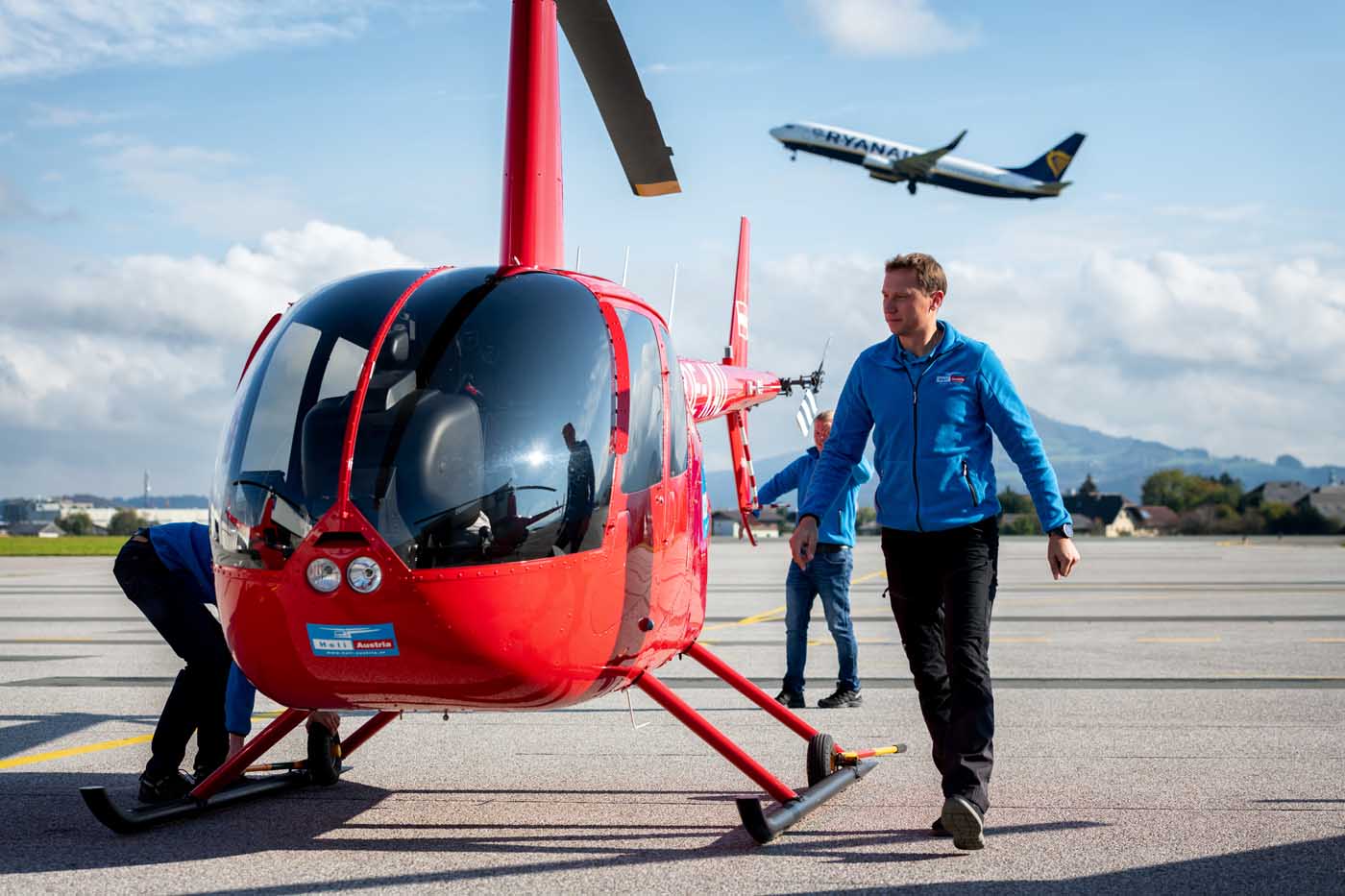 The company is designing a Helicopter Sling Load Operations (HESLO) course, which will be conducted using one of its R44s fitted with a cargo hook and an external mirror. While similar courses on the H125 are planned to follow, there is an undoubted financial upside for students learning the fundamentals on a less expensive aircraft. There is also the benefit of doing this training in a machine in which they are already relatively comfortable, allowing them to concentrate their learning capacity on the new skill. These techniques can then be carried to whatever type the trainee ultimately flies in employment.
Bringing this training together with the company's recent investment in simulation equipment is Heli Austria's head of flight simulation, Christopher Feltl. The level of integration of simulation into the academy's activity is highlighted by the fact that he is soon to take on the role of accountable manager at the academy itself.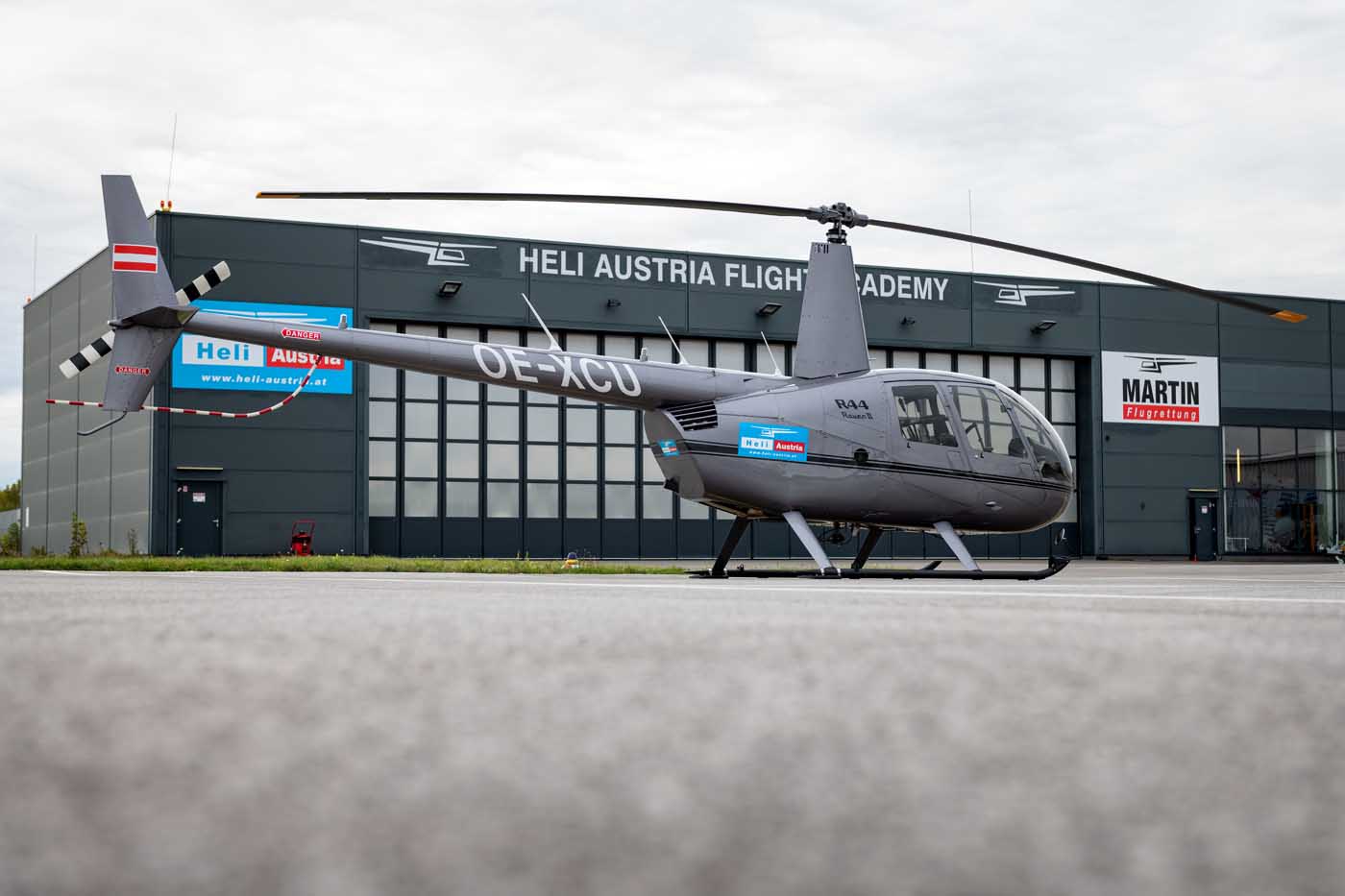 "We originally bought a property next to Vienna airport with the intention of building a simulator center for H135 and H145 full flight simulators," he said.
Although originally destined for in-house training of company and customer pilots, the development of new technology prompted a rethink about the required scale of the proposed facility.
"We are paying close attention to virtual reality (VR) and flight training device (FTD) Level 2 and Level 3 systems, so it may not be necessary to build up a large facility to achieve the company aims," explained Feltl.
The company plans to incorporate new VR training systems provided by Swiss company VRMotion into its syllabus from the outset, allowing students to reduce training costs by familiarizing themselves in a virtual aircraft before they take to the air. Even though current students can't log the hours spent in the VR device, Feltl said trials had reduced their training costs simply through the training efficiency in subsequent airborne lessons. It has also allowed some training to continue despite Coronavirus social distancing measures.
"The students will start in VR, to get to know what the controls are and what they do," he said. "So they get a better feeling for the helicopter and get more value from their early flight hours."
This equipment has the potential to reduce costs and complexity for the company, too. Long line training, in particular, is difficult to achieve in Austria because of strict environmental controls on training areas. Knaus explained the potential value of using the VRMotion device to simulate long line operations.
"Two years ago [VRMotion] showed that they could train for long lines," he said. "If you can shorten the training in the aircraft, or go directly to on-the job training, then that will save a lot of the cost."
The potential for all these innovations to increase the efficiency of each of the student's training hours is clear, but for many students the main appeal of training at Heli Austria will be the sheer size of the company and the associated potential for employment.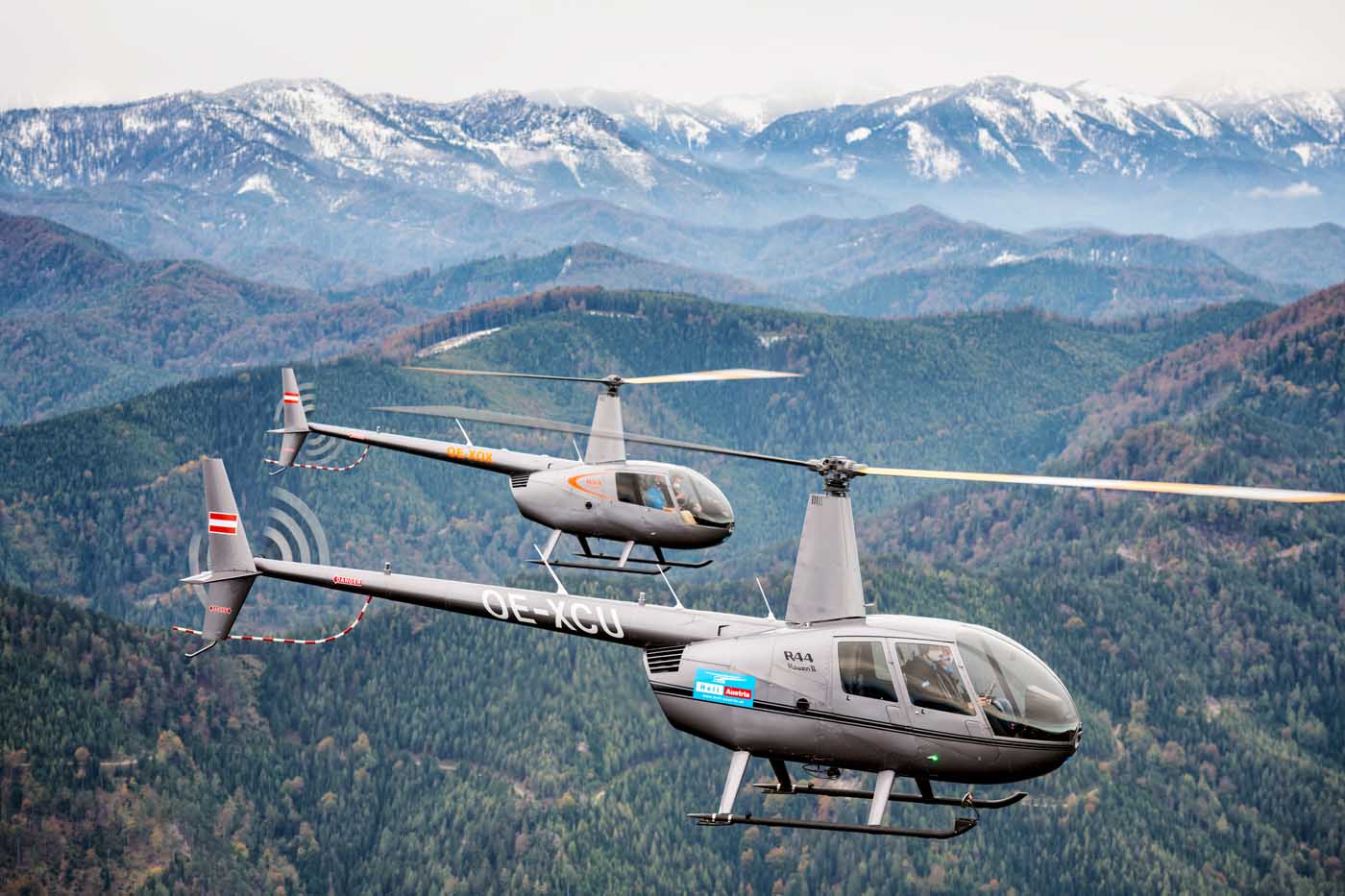 "Pilots know that when they go to our academy, they have a good possibility to get a job and we offer a broad list of employment up to HEMS and heavy-lift," said Knaus. "It's not a guarantee, but they have a good chance and we offer a broad range of jobs. That's the long-term advantage."
In the short-term, Stadlmann said the joy of passing on the skills of helicopter flight never get old. "It's really cool as a flight instructor to help people along their path to becoming a helicopter pilot, and see how happy they are when they reach their goals."