Estimated reading time 14 minutes, 19 seconds.
A U.S. Marine Corps heavy helicopter squadron flying the Sikorsky CH-53E Super Stallion can be considered a living organism. It is constantly evolving as personnel leave and new people come aboard, with each commanding officer typically holding command for one-and-a-half to two years. Although each commander may bring a different leadership style to the role, the squadron persists in being ready to accomplish its mission, and providing an environment in which Marines can grow personally while developing their professional skill set.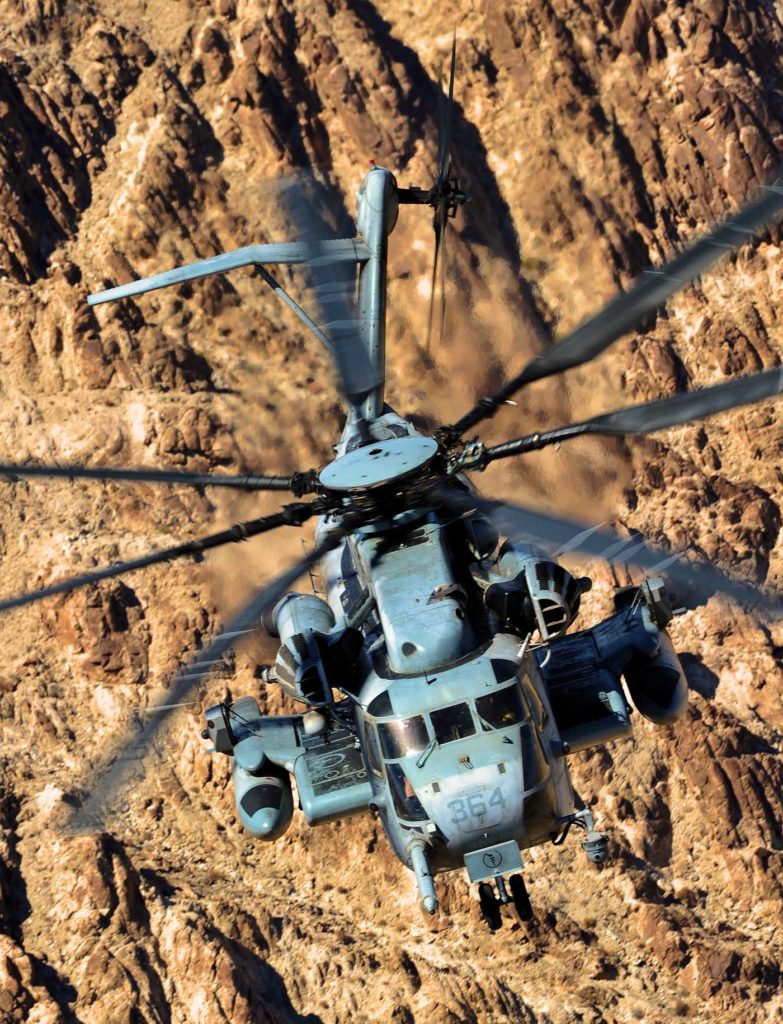 Valor followed one such squadron, Marine Heavy Helicopter Squadron (HMH) 462, alternately called the "Heavy Haulers" or "Screw Crew," as they honed their ability to support expeditionary Marine Corps operations anywhere in the world. Part of the 3rd Marine Aircraft Wing (MAW) based at Marine Corps Air Station (MCAS) Miramar near San Diego, California, HMH-462 was under the command of Lt. Col. Bill Hiken when Valor first visited. Today, the unit is led by Lt. Col. Nate "Stormy" Storm, supported by executive officer Maj. Tyler "Jagger" Robinson and Sgt. Maj. Luke "Thunder 9" Gilliland.
HMH-462 has a long history, having started as a fighter training unit during World War II. It was re-established in the late 1950s, when it became a helicopter squadron operating the large twin-engine Sikorsky HR2S-1 (a military variant of the S-56, which in Army service became the Mojave). It transitioned to the Sikorsky CH-53A Sea Stallion early in the Vietnam War, and then to the more powerful CH-53D. In the early 1990s, after Desert Storm, the squadron upgraded once again to the CH-53E Super Stallion, which it flies to this day.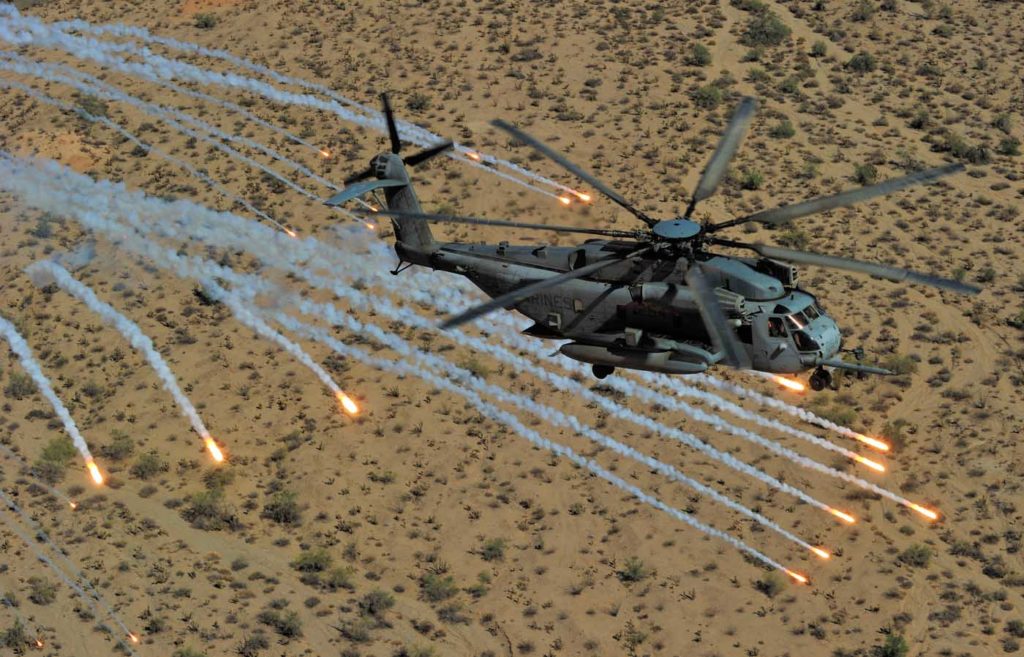 The CH-53E entered operational service in 1981 with three 4,380-shaft horsepower T64-GE-416 engines that have since been upgraded to the more powerful 4,780-shp T64-419 version. With four-and-a-half hours' endurance with a full load of fuel, the CH-53E can still lift 20,000 pounds (9,070 kilograms) of cargo, making it a workhorse for the Marines over its four decades of service.
The Super Stallion incorporates GPS, forward-looking infrared (FLIR), aviator night vision imaging systems head up display (ANVIS-HUD), secure communications capability, UHF/VHF/HF radios, and identification friend or foe (IFF). Recently the CH-53E has had a glass cockpit upgrade that replaces the older "green" FLIR screens and gives pilots a much more capable and functional system.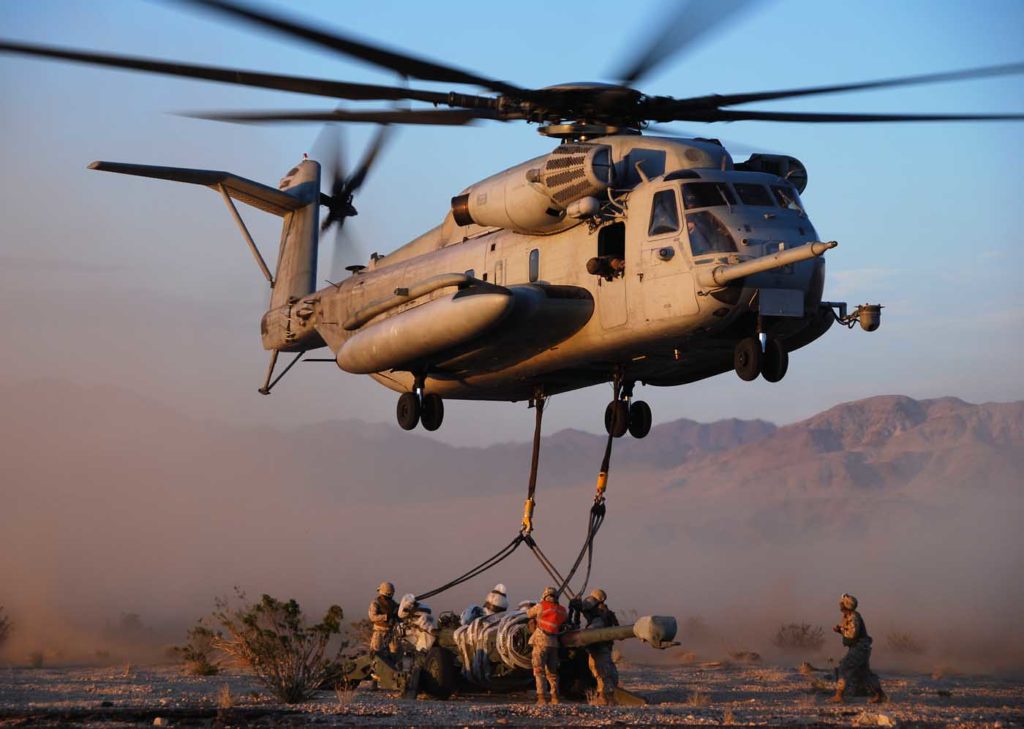 A typical CH-53E crew consists of a helicopter aircraft commander (HAC) and co-pilot in the cockpit, and a crew chief and aerial observer/gunner (AO) in the back. The HAC is responsible for overall mission planning and is the final authority during the flight. The co-pilot assists in every phase of flight, to include planning and execution. Commander and co-pilot typically trade flying duties, with the pilot not flying assisting with navigation, communication, and operating the nose-mounted FLIR camera. Especially during heavy-lift operations, the pilot not flying backs up the other pilot by monitoring engine and drive train gauges to ensure no limits are exceeded.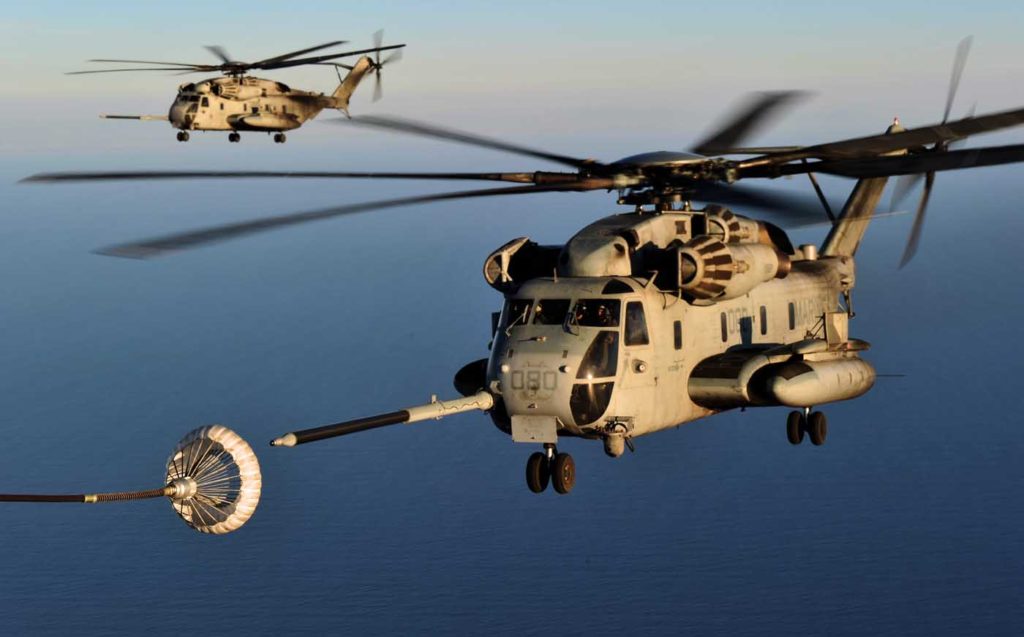 Meanwhile, "in the cabin, the crew chief and AO are responsible for making sure the aircraft is running well," explained CH-53E crew chief Staff Sgt. Cole Bennick. "While running but still on the ground the crew chief will be walking around the machine looking for leaks or unusual vibrations. Once in flight, both myself and the AO will continue to be listening for unusual noises during the flight."
Dusty desert landings have both the crew chief and the AO looking out of the windows and rear ramp to advise the pilots of any obstructions that could damage the aircraft. The pilots will not land without express clearance from at least one of these critical crewmembers. The entire crew use ANVIS 9 night vision goggles (NVGs) during night operations.
The CH-53E has mounts for up to three GAU-21 .50-caliber machine guns, one in each front door and one covering aft from the rear ramp. In combat, the crew chief and AO man the door guns while a fifth crewmember mans the ramp gun.
Lifting large
"With its 36,000-pound max lift capability, the CH-53E is the helicopter heavy lift component of a Marine expeditionary unit (MEU)," Storm said. "This is a specialized three-ship amphibious unit consisting of a smaller U.S. Navy aircraft carrier type assault ship designated a LHD (landing helicopter dock), backed up by two smaller assault ships carrying additional combat equipment."
Onboard the LHD is the aviation combat element (ACE), consisting of a Bell-Boeing MV-22B Osprey tiltrotor squadron typically augmented by four CH-53E Super Stallions, plus some number of Bell UH-1Y and AH-1Z helicopters, and McDonnell Douglas AV-8B Harriers or Lockheed Martin F-35Bs, as determined by the MEU commander.
"During a MEU deployment, the CH-53E are used as multi-purpose aircraft but generally move heavy equipment ship to shore and [perform] long-range troop or special operations transport missions," Storm said. "They will also perform U.S. embassy or citizen humanitarian evacuations anywhere within reach around the world. Being a cargo hauler and heavy-lift aircraft, the CH-53E's 32,000-pound lift capability gives a Marine commander the flexibility to lift a large portion of the Marine Corps equipment list for ship-to-shore transport requirements."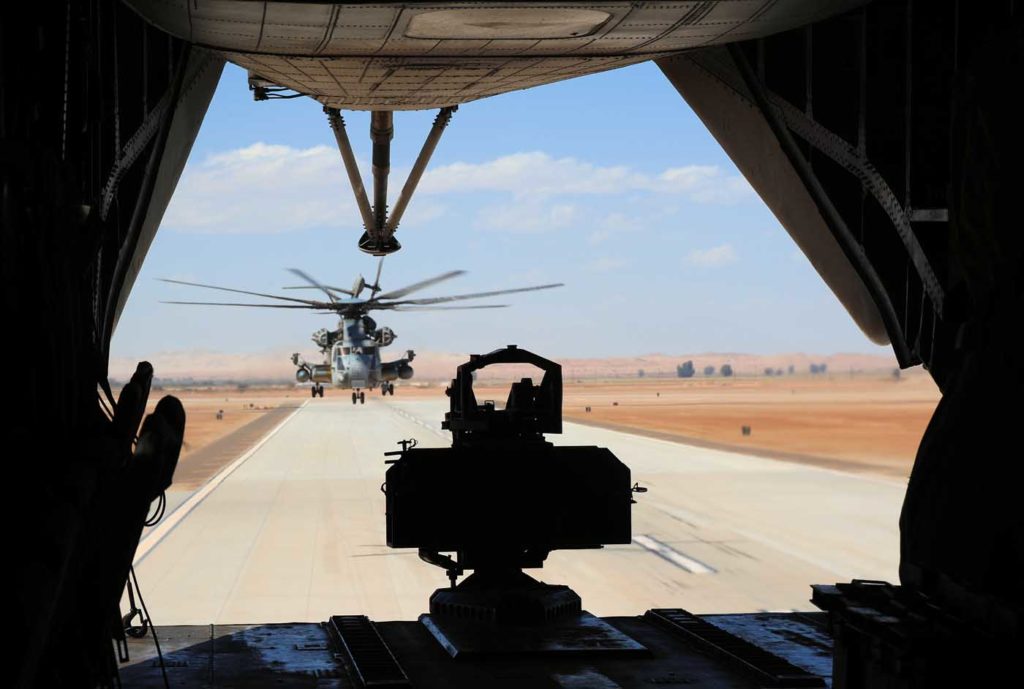 The CH-53E also hauls fuel and additional ammunition to forward operating bases where other helicopters such as the UH-1Y and AH-1Z can refuel and reload before continuing tactical missions. The CH-53E can take fuel hundreds of miles forward, giving light utility and attack helicopters, fixed-wing aircraft, and ground vehicles a longer reach and longer mission endurance.
HMH-462 does much of its training in the Imperial Valley east of Mirarmar between El Centro, California, and Yuma, Arizona. The very hot and dusty conditions are ideal preparation for deployments to the Middle East.
"We routinely fly in temperatures ranging from 105 to 115 degrees [Fahrenheit (40.5 to 46 Celsius)] during the summer months," said Bennick. "The CH-53E has excess performance even in these conditions, so we can still carry a heavy fuel load and a full complement of troops on board. During external load operations we can lift a 155 howitzer, its ammunition and still have three-quarters fuel onboard. Even with these amazing capabilities, the success of each mission is contingent on the amount of detailed pre-flight planning completed by the entire crew."
Stateside, HMH-462 also performs an important mission with the CH-53E configured as an airborne firefighter with an 800-gallon Bambi Bucket slung under the aircraft, said Robinson, the unit's executive officer.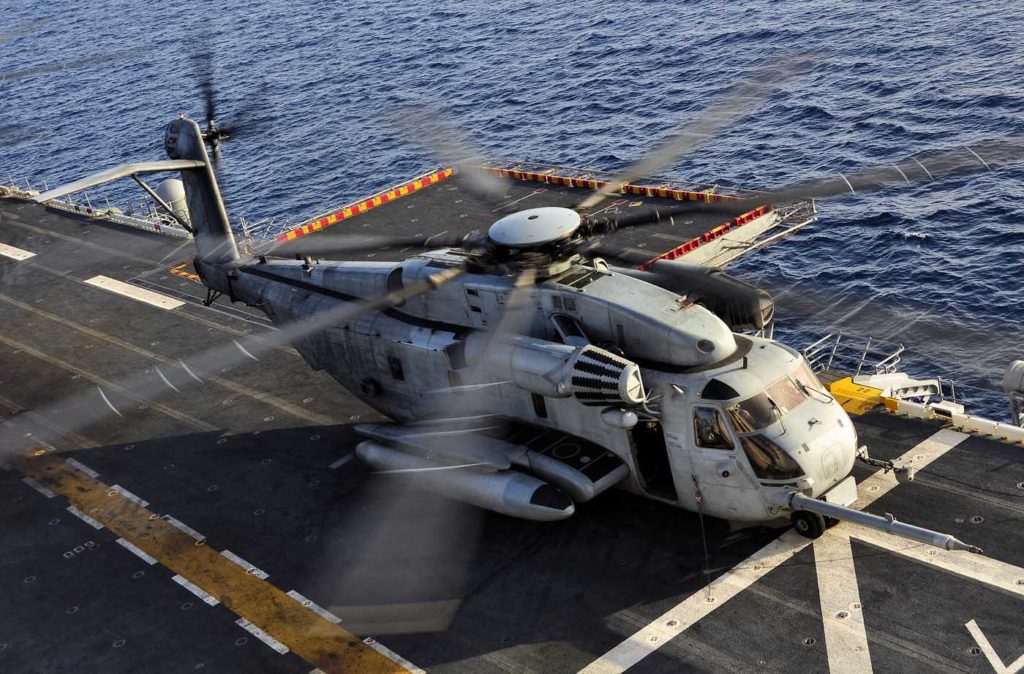 Marine CH-53Es have provided assistance to San Diego area fire agencies, and in 2016 were instrumental in saving parts of Camp Pendleton from raging fires that threatened the airbase and base structures. That mission doesn't stop at California's borders. CH-53Es conduct firefighting operations in many locations where range fires are a serious concern, including Camp Lejeune, North Carolina, and Okinawa, Japan.
Keeping them flying
Maintaining and keeping ready older, very complex Super Stallions requires about 40 maintenance man hours per flight hour.
HMH-462 Gunnery Sgt. Jeremiah Wilcox, one of the Marine Corps' most experienced CH-53E crew chiefs, said that the aircraft go through scheduled inspections on a continuing basis.
Armed with up to three GAU-21 .50 caliber machine guns, the CH-53E can lay down considerable suppressive firepower.

Still using older analog flight instruments, the Marine Corps has recently upgraded some of the CH-53Es to new FLIR/multi-function pilot screens.

Included in the CH-53E's self-protection package are flares to spoof surface-to-air missiles.

Stateside, HMH-462 performs aerial firefighting missions on Marine Corps bases and surrounding areas with an 800-gallon Bambi Bucket slung under the aircraft.

A typical CH-53E crew consists of a helicopter aircraft commander (HAC) and co-pilot in the cockpit, and a crew chief and aircraft observer/gunner (AO) in the back.

Crew check over the rear ramp mounted GAU-21 .50 caliber machine gun.

The Super Stallion has no problem lifting off with 35 ground troops and their equipment loaded inside the cabin.

Marine Corps Lt. Col Nate Storm (left) and Sgt. Maj. Luke Gillian with their CH-53E.
"First is a 'turnaround' which is good for 24 hours; it's an overall inspection before the aircraft is allowed to fly," Wilcox said. "The next inspection is called a 'daily.' This is performed after a previous flight or when the aircraft hasn't flown over a period of time and is good for 72 hours. This can take five hours or so to complete."
Additional inspections are performed at 50 and 100 flight hours. At 200 hours, the aircraft goes through a "phase" inspection in which the squadron's maintenance shops thoroughly inspect the airframe, drive train, engines, hydraulics, and electronics and repair any issues.
"It should be noted that every Marine involved in maintenance and every aspect of the squadron take great pride in what they do," said Gilliland. "All have a personal interest in making sure things are done professionally because they and fellow Marines routinely fly on the aircraft."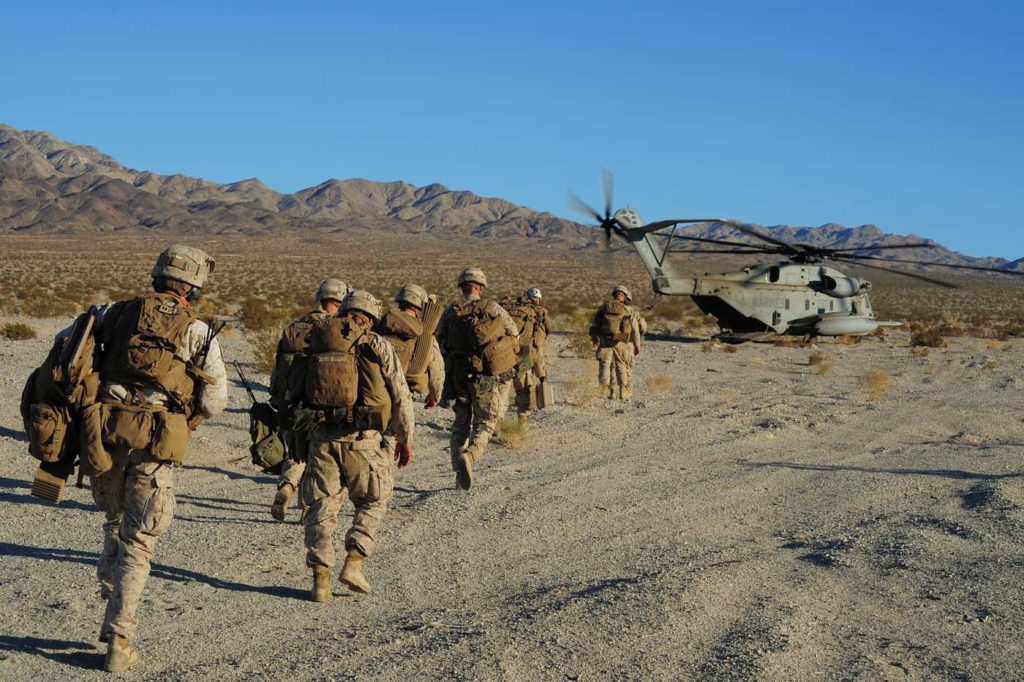 To address wear and tear caused by extended combat operations in Iraq and Afghanistan, the Marines launched the "RESET" program for the CH-53E fleet. During a roughly six-month overhaul process, each aircraft is thoroughly inspected and all discrepancies addressed. Structural members and sheet metal are repaired or replaced as required, the aircraft obtains a new paint job, and it is sent back to the squadron in a nearly new condition.
The RESET program is intended to sustain the legacy CH-53E fleet until the Marine Corps can bring its successor, the fly-by-wire CH-53K King Stallion, online in sufficient numbers. Powered by three General Electric T408 engines rated each at 7,500 shaft horsepower, the CH-53K will be able to carry the same loads as the E model, but at hotter temperatures and to much farther and higher-altitude landing zones. Although the CH-53K is scheduled to begin replacing the CH-53E around 2023, the transition is not expected to be complete until sometime after 2030.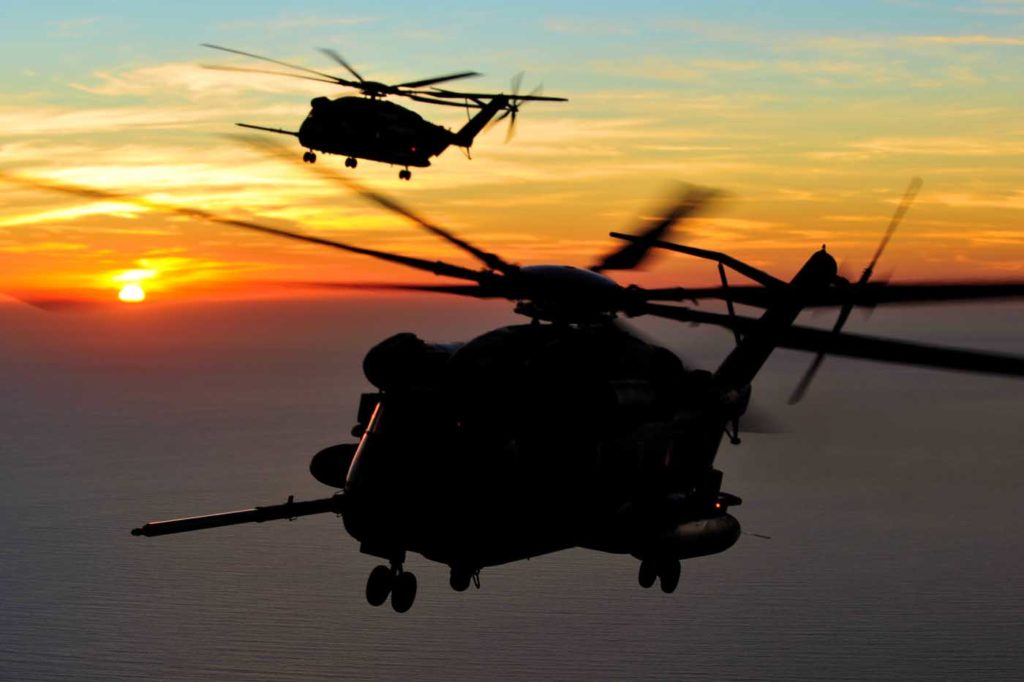 As it prepares to welcome the CH-53K, the Marine Corps is disbanding one CH-53E squadron, HMH-463 in Hawaii. That unit's aircraft will be distributed to other operational squadrons over the coming year while remaining squadrons will continue to evolve and adapt, staying ready to accomplish their missions, whatever aircraft they fly anywhere in the world.