Estimated reading time 10 minutes, 3 seconds.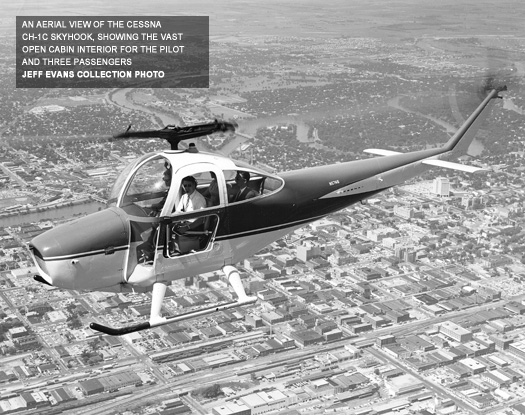 Anybody who follows aviation even remotely has heard of the Cessna Aircraft Co. After all, over half the general aviation aircraft flying today are said to be Cessnas. But, how many people know Cessna once tried to create its own helicopter models?
A Unique and Interesting Past
Headquartered in Wichita, Kan., the Cessna Aircraft Co. (initially the Cessna-Roos Aircraft Co.) was formed in 1927 by Clyde Cessna and Victor Roos. Clyde Cessna's history in aviation dated back to 1911, when he became the first person to build and fly a powered aircraft in America's Heartland.
After a few other aviation ventures — including founding the successful Travel Air Mfg. Co. with fellow pioneers Lloyd Stearman and Walter Beech (later of Stearman Aircraft Inc. and Beech Aircraft Co., respectively) — Cessna finally created the company bearing his own name. Sadly, the timing could not have been worse: just two years later the stock market crashed and the Great Depression that followed damaged Cessna Aircraft to the point where its board of directors voted to oust Clyde Cessna from the company and suspend production (it kept the company alive on paper by renting out Cessna facilities to other companies — one of which, ironically, was Beech Aircraft).
Thankfully, Cessna's nephews, Dwane and Dwight Wallace, eventually helped wrest back control and restart production. This new version of Cessna established the name and success we know today.
Not only did Dwane Wallace help turn his uncle's company into a rousing success, in his quest for future military contracts he also took the company in a very new direction: rotary-wing flight.
That foray began when Wallace started following the work of the nearby Seibel Helicopter Co., created by former Bell engineer Charles M. Seibel. Impressed with Seibel and his meticulous helicopter work, Wallace decided Cessna should purchase the Seibel Helicopter Co. and its assets.
Seibel, who had the good fortune to work under Arthur M. Young (the father of the Bell 47), left Bell in 1946 to work for the Boeing Airplane Co. in Wichita. While at Boeing, he continued developing his own helicopter designs. These efforts resulted in a small, one-place aircraft called the S-3, which first flew in September 1947. In 1948, he left Boeing to concentrate on designing and building helicopters full-time, forming the Seibel Helicopter Co. with the help of local investors.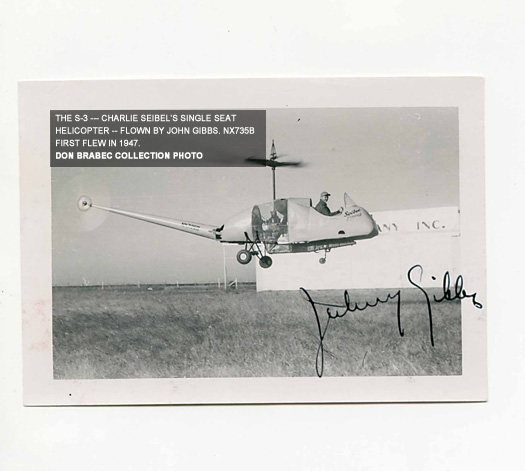 Seibel's next model, the two-place, tandem-seat S-4 obtained a United States Civil Aeronautics Administration (CAA) type certificate in 1950 — quite a feat for an aviation company with only five employees. Soon after, a larger engine was installed and the revised model received certification as the S-4A. That model won a U.S. Army contract for two evaluation units, designated as YH-24 Skyhawks. The first YH-24, with a single pilot seat up front, went to the Army in 1951; the second, modified to include skids and side-by-side seating of a pilot and co-pilot, followed soon after. Unfortunately, the evaluation program ended with no more orders and the two helicopters were scrapped in 1952.
Based on that second YH-24, however, Seibel went on to build the S-4B, a two-place helicopter with side-by-side seating, skid gear and an even larger engine (an Aircooled Motors Franklin 165-horsepower model). In turn, the S-4B ended up being the forerunner to the Cessna CH-1, which, among other things, based its rotor and drive systems on those of the S-4B.
A New Division
Once the purchase of the Seibel Helicopter Co. was completed, the Seibel team ended up in a small second floor office at Cessna's Pawnee production plant. There, during the spring and summer of 1952, work began on the early design of the CH-1 prototype under the direction of Seibel, now chief engineer of Cessna's helicopter division.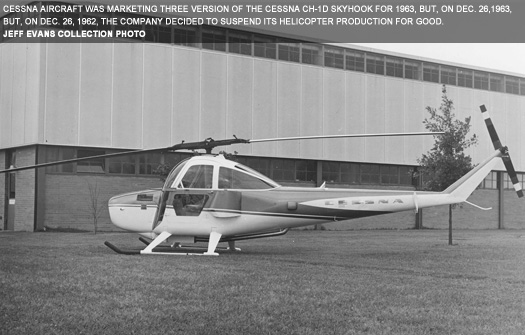 The first CH-1 was basically a flying test vehicle and made its first hover in July 1953. The eventual prototype made its initial flight in 1954.
The all-metal CH-1 Skyhook had a number of unique elements, including having its belt-driven cooling fan and supercharged Continental 260-h.p. engine mounted in the nose of the helicopter, which made for easy servicing and maintenance. The helicopter controls were boosted to help eliminate feedback. The spacious cabin could hold two passengers (four in the CH-1A) and provided 360 degrees of visibility. The push/pull rods, meanwhile, were enclosed within the main rotor shaft, and the two-bladed metal main rotor blades were attached to the mast by flexible steel L-section hinges, eliminating the need for pitch-change bearings.
Gross weight of the pre-production CH-1 was 3,000 pounds. The helicopter's never-exceed-speed was an impressive 122 miles an hour, and it had a climb rate of 1,000 feet a minute.
The CH-1 received CAA Type Certificate 3H10 on June 9, 1955 (the four-place CH-1A, which had a revised stabilizer system, received certification a few months later). In September, to demonstrate the newly certified helicopter's capability in high altitudes, chief test pilot Jack Zimmerman — with U.S. Army representatives on board — became the first person to land a helicopter atop the 14,110-foot summit of Pikes Peak in Colorado.
Development of an improved version of the Skyhook, the CH-1B, was next. It had an upgraded Continental, gear-driven, supercharged engine and cooling fan; a larger constant chord moving stabilizer; and an automatic collective pitch reducer. In May 1956, the U.S. Army agreed to a $1.1-million US contract with Cessna for 10 CH-1Bs (designated YH-41 Senecas) for military evaluation.
In December 1957, in an attempt to build on its high-altitude reputation and potentially secure other military contracts, a specially equipped CH-1B flown by Capt. James E. Bowman of the U.S. Army reached an altitude of 30,355 feet, smashing the previous record, which had been set by a turbine helicopter.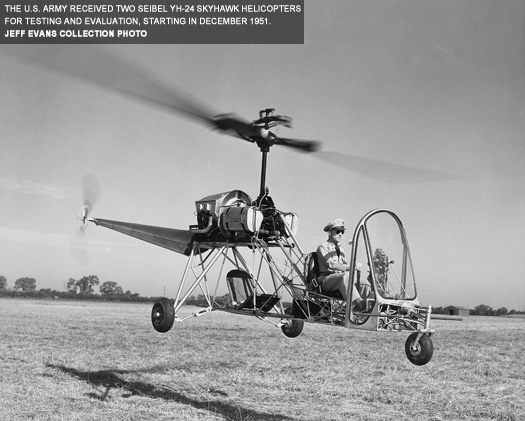 The Army's first YH-41 was delivered in September 1957 to Edwards Air Force Base northeast of Lancaster, Calif., where it was used for altitude testing. The remainder were delivered at the end of 1957 and beginning of 1958 to the U.S. Army Aviation Center in Fort Rucker, Ala., where major testing took place. While the military appreciated some aspects of the Seneca, including its high-altitude performance, there were also said to be some issues with maintainability, stability and control.
In the end, no additional contracts were forthcoming and some YH-41s ended up being re-purchased by Cessna. Others did continue to operate into the 1960s before eventually being scrapped by the Army; one survived and is presently in storage at the U.S. Army Aviation Museum at Fort Rucker.
Cessna's next model, the CH-1C, addressed many of the concerns of the 1B, and received U.S. Federal Aviation Agency type certification on July 28, 1959. While this new model, like its predecessors, was designed for military contracts, Cessna's market research indicated that business helicopter sales were ready to expand in the 1960s. Given that forecast and a worldwide aircraft dealer and support network it could leverage, Cessna announced in 1960 that it was getting into the commercial helicopter business with its improved CH-1C Skyhook, priced at $79,960.
The new commercial CH-1C instrument trainer, embodying inherent stability characteristics comparable to those of fixed-wing aircraft, was also soon announced. That four-place helicopter was designed for observation, light transport and instrument training missions.
The CH-1C had a maximum gross weight of 3,100 pounds and an empty weight of some 2,050 pounds. It was powered by a Continental supercharged reciprocating engine de-rated to 270 h.p. It had a new, larger horizontal rectangular stabilizer that was free-floating, plus a new mechanically driven stabilization system. The larger fuel capacity of 90 US gallons (when using auxiliary tanks) provided for a range of about five hours. Cruising speed was between 90 to 120 m.p.h. and high-altitude operations could be performed at full gross weight and high cruising speed. An instrument variant of the CH-1C, meanwhile, became the first helicopter to ever receive instrument-flight-rules certification and is said to be the only helicopter ever qualified for instrument flight without an autopilot or electronic stabilization.
A Surprising End
While the beginning of the decade seemed promising for the Cessna helicopter division, the 1960s actually ended up producing a variety of bad news.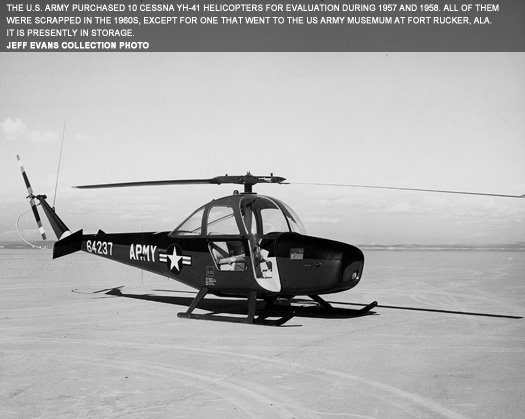 In 1961, the company submitted a proposal for the CH-4 light turbine, hoping, after the company had lost out on other contracts, that this newly planned model would fit the military's light observation helicopter needs. Unfortunately, that lucrative contract famously went to Hughes Tool Co.'s aircraft division (and then to Bell Helicopter in a subsequent re-opening of the bidding process).
In the spring of 1961, just a few months before scheduled deliveries of the CH-1C were to begin, a Skyhook on a marketing demonstration tour crashed near Midland, Texas, killing pilot Oliver Hopkins. It was not only a tragedy, but a public relations disaster, especially with reports that the crash was due to equipment failure.
Deliveries of the new Skyhook commenced in the fall of 1961, but sales were very slow. In total, only 23 or so civilian models were sold and delivered. Military models were marginally more popular. While accurate production records have never been located, Seibel was quoted as saying that 50 CH-1Cs were produced.
Amidst it all, there was still some reason for hope.
Seattle Helicopter Airways Inc. operated Skyhooks as a part of the official passenger service during the 1962 World's Fair in Seattle, Wash. And in late 1962, Cessna announced an improved CH-1D, with a new engine driveshaft, upgraded Continental "Whirlaway" engine, a new supercharger clutch, a rotor brake, new crankshaft damper weights, a new exhaust system, optional floats, an 800-pound cargo sling, a new rescue hoist and an optional five-place cabin.
But, even while marketing of the CH-1D proceeded, Cessna executives were secretly pondering the future of the helicopter program.
In a surprise move, on Dec. 26, 1962, Cessna decided to suspend production of the Skyhook — just days after the CH-1D had received certification. Former Cessna flight test engineer Steve Remington (who was with the helicopter division for most of its 10+ years of existence), in his own extensive article on the division, discussed what he thought might have led to the final decision: "Accumulated problems, poor timing, looming turbine-powered competition, lack of sales, a poor fit in the Cessna company, loss of potential military sales or maybe conflicting attitudes in management — whatever the reasons, Dwane Wallace, chairman of the board, made the announcement in January 1963. All existing CH-1Cs in the field were bought back by Cessna in order to eliminate any ongoing servicing support. . . . The returned ships were scrapped, along with unsold inventory. . . . The end of the line for the Cessna helicopter — a rather sad way for a record-setter to die." Eventually, Remington said Cessna even got the original type certificate revoked, erasing even more trace of the CH-1s from history.
While the Cessna helicopter division never truly succeeded, various team members did end up leaving their mark in the industry. And Seibel himself wound up at Bell, where as chief experimental project engineer he was instrumental in the creation of the HueyCobra (209/AH-1).
Bob Petite is an air attack officer with the Alberta Forest Protection Division. He has over 40 years of experience working on wildfires both on the ground and in the air, utilizing air tankers and helicopters.