Estimated reading time 17 minutes, 35 seconds.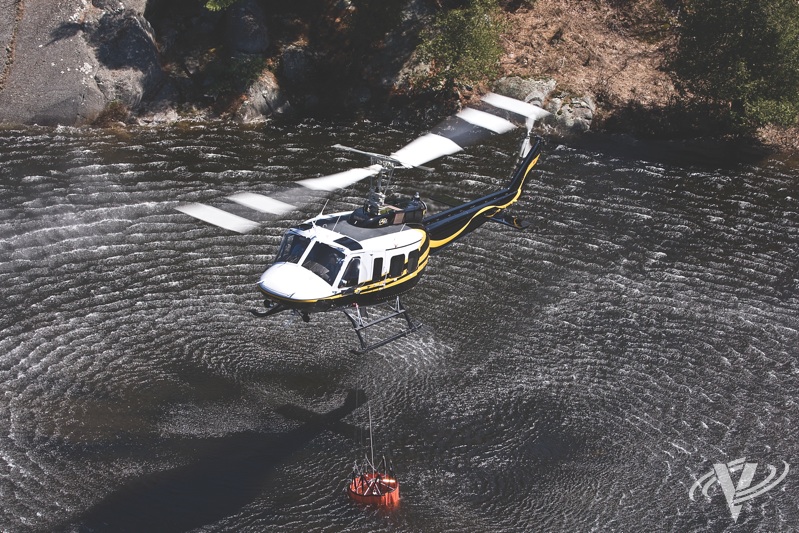 When the original Bambi Bucket debuted in 1982, it revolutionized the aerial firefighting industry. Suddenly, helicopter operators no longer needed to trailer bulky, rigid buckets to fire sites – they could just throw a collapsible Bambi Bucket in the back of their aircraft and go.
Almost three decades later, another revolution is taking place in the firefighting bucket industry. New technology is making buckets more capable than ever, giving pilots the ability to control load volumes and perform multiple drops, much as they can with fixed tanks. The original Bambi Bucket is modernizing, while offering a new, lightweight, multiple-dump "next generation" bucket. Its primary competitor, the FAST (Fire Attack Storm Tank) Bucket, is likewise now offering operators similar features and capabilities.
But that's not all. Firefighting buckets now are closely tied to some of the most innovative data-collection technologies on the market, which take advantage of automated flight following equipment to transmit load, fills, drops and other data. These technologies – which are being trialed during the 2011 fire season – have the potential to transform not only aerial firefighting, but a host of other industry sectors, as well.
The Bambi Bucket
Before the Bambi Bucket was invented in 1982 by SEI Industries founder Don Arney, firefighting buckets were made of solid fiberglass or plastic, or were metal frames with canvas sides. These rigid buckets had to be trucked to fire sites or flown in on the hook – either way, it was a slow and inefficient process. Also, their dump valves could be slow to open, and they typically required complicated electrical or hydraulic hook-ups.
Then came the Bambi Bucket.
"What made Bambi Bucket revolutionary was the collapsible bucket," explained Shawn Bethel, manager of SEI's firefighting division. Inspired by the design of SEI's submersible air cells, the collapsible, lightweight Bambi Bucket offered a number of advantages: not only could it be transported inside the helicopter, but it used gravity to open its udder valve, greatly decreasing its electrical requirements and simplifying hook-up compared to previous buckets. And, because the valve opened quickly, the Bambi Bucket discharged a solid column of water rather than a spray, making the water dump much more accurate and effective.
Not surprisingly, the Bambi Bucket has become the industry standard and the bright orange icon of aerial firefighting. According to Bethel, it represents about 90 percent of the world market and is in use in 110 countries worldwide. It is now manufactured in 20 different sizes, ranging in capacity from 72 to 2,600 US gallons (270 to 9,840 liters). SEI even offers a twin Bambi Bucket system for the world's largest helicopter, the Mil Mi-26.
SEI Industries also has continued to innovate over the years. For example, in 1997, it introduced its first multiple-drop technology, the Torrentula Valve, allowing operators of larger Bambi Buckets to split their drops, rather than dumping all of their water at once. In 2001, it introduced Powerfill, a bottom-filling technology that allows operators to fill their buckets in sites that are unsuitable for dipping, including shallow creeks. When operators combine the Powerfill system with a long line, they can fill from tree-lined shallow streams and ponds that are not accessible to tanked helicopters due to rotor clearances. The Powerfill technology is available in both an internally mounted form that is integrated with the dump valve, and as an external snorkel. The Bambi Powerfill system is currently designed to operate off of DC electrical power, but SEI is developing AC and hydraulically powered systems for customers that prefer this option for specific helicopter types.
Another advantage of SEI's Powerfill technology is that it allows operators to precisely manage their water load, and, consequently, their performance. That's one reason why firefighting agencies are moving toward requiring the technology in their contracts. For example, the United States Department of Agriculture Forest Service recently introduced a requirement for powered-fill or gated buckets on its exclusive-use contracts. While not required for call-when-needed operators, Bethel suggested the technology might be a competitive advantage for them, too.
To address the requirements of agencies that use firefighting foam, SEI offers its Sacksafoam product line for a wide range of buckets and helicopter types. The Sacksafoam system includes a built-in injection pump, control unit and dispense timer with drop counters. In hot, dry climates, these products can be more effective than water alone.
All of these capabilities have allowed the Bambi Bucket to compete head-to-head with fixed tanks, which have long offered operators precise load control. "What we've seen is a real shift from specifying tanks to offering more bucket contracts," said Bethel.
Todd Petersen, vice-president of marketing for Columbia Helicopters, agreed that Bambi Buckets compete favorably with tanks. "We have experimented with putting tanks on our aircraft, but we always seem to find that buckets are more versatile and provide a better application for fighting fires," he explained. "We use SEI's Torrentula Bucket fitted with their Powerfill system. Every fire season we've used this system, fire managers have given us feedback that we're faster and more accurate than most of the tank-equipped aircraft."
To further compete with tanks, SEI Industries has introduced the ability to offload water from a bucket suspended beneath a hovering helicopter to refill blivets (flexible, portable tanks) used by ground crews for localized firefighting operations. SEI uses a small "porthole" in the bucket to provide this capability, which was introduced last summer. This fire season, eight units capable of offloading from Bambi Buckets will be operating in the field with Valley Helicopters, Sequoia Helicopters and Kokanee Helicopters.
Although the Bambi Bucket has long been the industry standard, SEI Industries is now developing a "next-generation" version that promises to be lighter and more capable than ever. According to Bethel, the next-gen bucket will be Powerfill compatible, will have a power draw less than 10 amps, and will permit unlimited drops, split drops, coverage level control and adjustable load control. It will be offered in sizes ranging from 240 to 2,600 US gallons (the traditional version will continue to be offered in the smaller sizes). The weight savings from its next-generation valve will be considerable: for example, Bethel said a 660-gallon next-gen bucket would be 180 pounds lighter than its multiple-drop predecessor (and, in fact, lighter than the original "udder valve" bucket of the same size).
Bethel said the next-gen bucket is being trialed this fire season by Alpine Helicopters, Transwest Helicopters, Brainerd Helicopters, Columbia Helicopters and McDermott Aviation, and is expected to go on the market in 2012. "Any new product has to fly at least one fire season to ensure that it meets customer expectations and can achieve our performance standards," he explained. "We want to make sure we put our best foot forward on the fire line – our reputation and our customers' reputations are at stake if we don't."
SEI is targeting its next-gen bucket toward medium and heavy helicopter operators, because those companies benefit most from multiple-drop capability. ("Once you get below a medium, there's not much point in multiple dumps and it becomes more about regulating loads at the dip site," noted Bethel.) However, the company is looking at ways to improve its original Bambi Bucket technology, as well. For example, this fire season, it is trialing a dump valve that attaches to the original Bambi Bucket via a waterproof zipper. This will allow worn-out udder valves to be zippered out and replaced in a matter of minutes, rather than the several hours currently required for a valve replacement.
The FAST Bucket
Absolute Fire Systems debuted its yellow FAST Bucket in 2008. Since then, it has given the orange bucket a run for its money – it is the most serious competition the Bambi Bucket has had in its almost 30-year history.
Unlike the udder valve of the traditional Bambi Bucket, the FAST Bucket uses a flexible rubber flapper valve inside a solid base. The bucket itself is suspended from a small hydraulic actuator system, which converts the weight of the bucket and the water to hydraulic energy. When the bucket is filled, the weight of the water fully pressurizes one cylinder. When the pilot presses the drop switch, a solenoid is opened and the pressurized fluid then moves into a second cylinder, pushing its piston upward and opening the flapper valve. When the switch is released, pressure is removed and the valve closes under the weight of the remaining water. Using the weight of the water to operate the gate allows the pilot to perform multiple drops until the FAST Bucket is empty. The actuator's springs reset the cylinder each time the empty bucket hits the water to refill.
Because the valve design is consistent across bucket sizes, even small FAST Buckets can perform multiple drops (although splits are naturally more effective with larger loads). Time-on-trigger volume control is also standard: "The pilot always has complete control over the load," explained Steve Matthews of Absolute Fire Systems. Overall, the valve design results in a lightweight, gated bucket with a low power draw, a chief source of the FAST Bucket's appeal. And, like the Bambi Bucket, it is collapsible, portable and features a simple electrical installation.
Other strengths of the FAST Bucket include its solid base, which provides a convenient place to mount accessories, all of which are designed to be taken on or off quickly and easily. Absolute Fire also offers a FAST Fill pump that operates in a manner similar to SEI's Powerfill and provides similar advantages. The FAST Fill comes in two options: internally mounted and an external snorkel version that uses the same pump and impeller, but offers improved flow rates in poor fill areas, such as swamps and grassy areas. Finally, the company's FAST Foam and FAST Gel systems are easily installed and removed options that integrate with the FAST Bucket for foam and gel firefighting applications.
Tracking Efficiencies
Clearly, all of these innovations are designed for better, faster, more efficient aerial firefighting operations – but how much better, faster and more efficient? The desire to quantify these gains has driven exciting advancements in data collection.
When Absolute Fire Systems was developing the FAST Bucket in 2007 and 2008, it realized that the bucket's volume control could offer tremendous advantages over traditional buckets that had to be cinched to restrict volume. An operator who cinches his or her bucket to, say, 70 percent capacity at the beginning of a flight does not have the ability to take on greater loads as the helicopter burns off fuel, whereas a FAST Bucket operator has the flexibility to take on more water throughout the flight. Said Matthews, "If you have to preselect that volume, at the end of the day you've lost the ability to replace fuel burnt during the cycle with additional retardant." He estimated that, compared to cinched buckets, FAST Buckets can offer productivity gains of 15 to 18 percent for light helicopters, and as much as 30 to 35 percent for heavy helicopters.
Knowing this, of course, is not as powerful as being able to show it. "We knew that our bucket was significantly more efficient," recalled Matthews. "We became interested in: how are we going to show that?"
Part of that how was already building in a parallel stream of development. In the mid-2000s, firefighting agencies in the U.S. and Canada had started to require automated flight following (AFF) equipment on contracted aircraft. This satellite communications equipment was intended to transmit information about an aircraft's position. However, it also offered an opportunity to collect and transmit a wealth of other data, including load and drop data.
With the co-operation of several satcom companies, Absolute Fire developed FAST Trac, a system that records firefighting event data and transmits it using installed AFF equipment. The tracked event data includes drops, fills, volumes, times and locations. FAST Trac can be used in conjunction with any bucket – not just the FAST Bucket – and with fixed tanks, as well. Indeed, FAST Trac can be used to collect data for virtually any type of remote hook operation, including logging and mining operations. "For us, it was all about the FAST Bucket, [but] it has moved well beyond buckets," said Matthews.
The first satcom company to work with Absolute Fire was SkyTrac Systems, due in large part to its in-house software engineering capabilities. Utilizing those assets, SkyTrac was able to fully integrate FAST Trac data into its SkyWeb mapping engine. (However, according to Steve Fuhr, SkyTrac VP and director of business development, SkyTrac's hardware "is capable of integrating with a wide variety of aircraft systems, using an assortment of different protocols." That functionality, along with an in-house software development team that is capable of partnering different hardware with a user interface within its flagship SkyWeb software, has meant that, in addition to satcom, voice and AFF, "SkyTrac is focused on moving [all] aircraft data, whether it be load cell information or HUMS exceedances.")
SEI Industries, meanwhile, partnered with Latitude Technologies on a similar load tracking system, the Air Tanker Information System (ATIS). Although it was initially designed for tanked firefighting operations, including fixed-wing tankers, ATIS, likewise, is "operational load management more than anything else," said Latitude president and chief executive officer Mark Insley. Accordingly, "We tailor the system to what the operator wants to see." That means it can work with just about any aircraft, as well as all Bambi Buckets, most belly tanks and even some ground-deployed reservoirs. Four operators – Great Slave Helicopters, Swanson Group Aviation (formerly Superior Helicopter), Alpine Helicopters and Wildcat Helicopters – are trialing ATIS with their Bambi Buckets this fire season using Latitude's IONode satcom transceivers.
The implications of this new data collection are manifold, for both operators and contracting agencies. "Our customers have seen it principally as an advantage or a differentiator," said Insley about ATIS. Matthews, meanwhile, noted that some operators may use load productivity data from FAST Trac to package their services more efficiently, for example, by quoting accurate turnkey or flat rates for jobs rather than hourly rates.
For firefighting agencies, the benefits may be even greater. "All governments are very careful with their dollars these days," observed Matthews. "They're under pressure to account for their decisions and their dollars, and they want to look at technologies that help them get the best value for their dollar." Whereas it has always been relatively easy to collect data on fixed-wing assets – air tankers operate from fixed bases with known loads – it is much harder to quantify the effectiveness of rotary-wing assets. Agencies could conceivably use data from systems like FAST Trac and ATIS to make better, more-informed decisions about how to manage helicopter
assets on a fire.
Moreover, as David Thomas, VP of business development for Latitude, pointed out, these systems could even be used to transmit situational atmospheric data such as temperature, humidity, and wind direction and speed. That raises the prospect that even call-when-needed helicopters could someday fill the role of "tactical weather stations," helping decision-makers predict fire behavior dynamically.
That day won't come immediately, however. Bob Roth, a United States Department of Agriculture Forest Service aviation management specialist, cautioned that the technology poses many unanswered questions. "The actual data on real fires is very limited at this time," he said. The Forest Service is conducting a limited trial of drop data collection this summer, and will evaluate the results at the end of the fire season. Roth said the Forest Service must evaluate both the accuracy and the relevance of the data: "Are we going to be collecting more data than we're able to use effectively?"
Nevertheless, he acknowledged the potential of the technology: "As an agency we're always interested in improving our effectiveness and efficiency, and figuring out how technology can help us solve problems."
What's Next?
Although the firefighting bucket industry is still a small club, the competition between SEI Industries and Absolute Fire Systems will result in tangible gains for operators in both the short- and the long-term. In fact, SEI's Bethel told Vertical that, while SEI has always been an innovator in its markets, the competitive marketplace is "driving us toward continuous improvement and to develop new products more quickly."
An even bigger driver, though, may be the firefighting agencies, which, as Matthews pointed out, "drive the requirements and standards that the helicopter operator has to meet."
Bethel agreed: "The agencies are pushing a lot of R&D, but our focus will continue to be responding to customer-driven changes."
As the firefighting agencies explore data collection technologies and develop better tools for analyzing the effectiveness of their aerial assets, bucket and other firefighting technologies will no doubt evolve in turn. Consequently, no matter how the 2011 fire season pans out in the short-term, the trials taking place this year are likely to have a lasting impact on the industry for years to come.
Elan Head is an FAA Gold Seal flight instructor with helicopter and instrument helicopter ratings. She holds commercial helicopter licenses in the U.S., Canada and Australia, and is also an award-winning journalist who has written for a diverse array of magazines and newspapers since the late-1990s.