Estimated reading time 6 minutes, 42 seconds.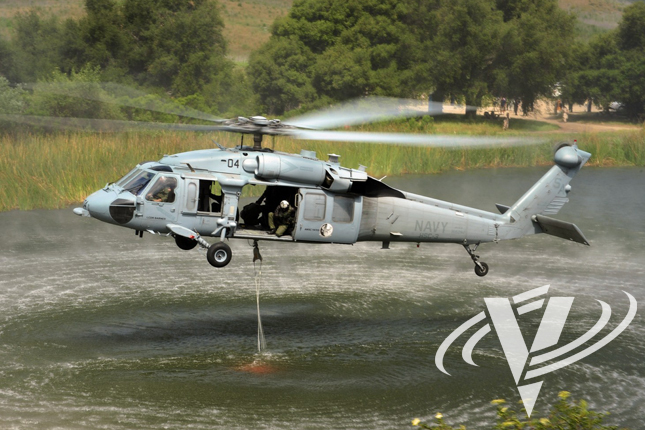 With the threat to lives and property from wildfires in Southern California particularly high from September through December, local firefighting agencies are on alert to respond rapidly to wildfire emergencies.
One of these is CAL FIRE, which, as the state of Californias firefighting agency, is responsible for protecting more than 31 million acres of state responsibility area (SRA). With so many acres to protect, CAL FIRE has developed a unique working relationship with regional military units, including United States Navy Helicopter Sea Combat squadrons HSC-21 and HSC-3 based at Naval Air Station (NAS) North Island, San Diego.
Battalion Chief Ray Chaney of CAL FIRE Ramona Air Attack explained that events such as the 2007 Southern California fire siege demonstrated the need for additional aviation assets during major fire events. Consequently, CAL FIRE started a comprehensive safety and training program that would allow Navy aircraft to integrate in close air support with civilian aircraft, he said. Now, when a severe red flag event is anticipated by CAL FIRE, the senior watch officers of the Navy and U.S. Marine Corps are contacted, so that they can prepare to dispatch their assets as required.
According to LCDR Jeremy Vellon, former Operations Officer with HSC-21, It is not typical for the military to participate in actual firefighting events, as that is the responsibility of CAL FIRE. But in the event that the military is needed, a request for assistance from CAL FIRE would be made to CNRSW [Commander, Navy Region Southwest], then forwarded to COMTHIRDFLT [Commander, U.S. Third Fleet] which would coordinate with COMHSCWINGPAC [Commander, Helicopter Sea Combat Wing, U.S. Pacific Fleet] which would muster HSC-21 and/or HSC-3.
CAL FIREs agreement with the Navy is established through the Defense Support to Civilian Authorities (DSCA) process. CAL FIRE can request military resources such as HSC-21 and HSC-3 when we reach a critical drawn down or a time of disaster, according to Chaney. Agreements with the Navy are not established for initial attack incidents. Chaney emphasized that the primary role of the Navy is national defense, and that their support to civil agencies is ancillary to this duty. We feel very privileged to have their support, he said.
Military aircraft operate under the control of the Air Tactical Group Supervisor (ATGS), who is responsible for all aircraft tactical use and safety in the airspace during a fire incident. The ATGS is part air traffic controller and part wildland fire tactician, but the aircraft safety mission is primary. CAL FIRE ATGS personnel fly in the Rockwell OV-10A Bronco. To assist the Navy helicopter crews with airspace coordination and targeting, a Military Helicopter Coordinator (MILCO) or an ATGS, flying in a light helicopter such as a Bell 407 or MD500, serves as a lead helicopter. And, when appropriate, a Military Helicopter Manager (MHM) is also part of the Navy flight crew. The MILCO helicopter guides military aircraft toward targets just as a lead plane does for air tankers.
Navy and U.S. Marine Corps aviation squadrons train for the firefighting mission each spring, with classes being held on the Fire Traffic Area, communications, tactics, safety, and fire behavior. HSC-21 firefighting pilots conduct their flight training on San Clemente Island, which is Navy-owned. The HSC-21 Blackjacks operate the Sikorsky MH-60S Knighthawk and use two types of Bambi Buckets to fight wildfires: the Model 2732, with a capacity of 324 U.S. gallons, and the Model 3542 which carries 420 U.S. gallons. Training concludes with a large, multi-day exercise with CAL FIRE (see http://www.verticalmag.com/news/articles/21036-preparing-for-the-firefight.html).
In a wildfire emergency, three aircraft and two to three crews are available to deploy from NAS North Island within six to 12 hours, with four to six aircraft and five to seven crews available within 48 to 72 hours. This August, NAS North Island deployed three MH-60S Knighthawk helicopters fitted with 324-gallon buckets to the Vallecito Lightning Complex Fire in San Diego County. The flight crews were mostly from HSC-3, although they were joined by several crews from HSC-21 over the course of three days of activity. All of the Navy water drops were on the two main fires of the complex, the Stewart Fire and Wilson Fire.
The cooperation between the Navy helicopter crews based at North Island and CAL FIRE is a major development that provides an additional capability in fighting wildfires something that has not gone unappreciated. Our experience with military aviation has been very positive, said Chaney. They are consummate professionals. They have the desire to serve and protect the public as we do. I would describe our relationship as outstanding.