Estimated reading time 6 minutes, 5 seconds.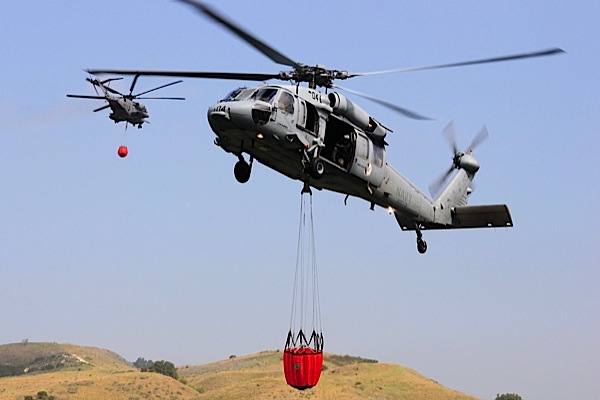 After wildfires devastated Southern California in 2007, the United States Marine Corps, U.S. Navy and Army National Guard began working with the California Department of Forestry and Fire Protection (CAL FIRE) to provide aviation support to CAL FIRE in times of need. CAL FIRE now utilizes military helicopters when contracted civilian helicopters are unavailable or unable to respond in a timely fashion. These military helicopters include the Marines Boeing-Vertol CH-46E Sea Knights, Sikorsky CH-53E Super Stallions and, soon, Bell UH-1Y Venoms; the Navys Sikorsky MH-60S Seahawks; and the Army National Guards Sikorsky UH-60 A- and L-model Black Hawks and Boeing CH-47D Chinooks.
As part of this effort, the 3rd Marine Aircraft Wing (MAW), Marine Corps Installations-West (MCIW) and Navy Region Southwest have, since May 2008, conducted annual wildland fire exercises to prepare for Californias fire season. This year, they put on a demonstration at a lake in Camp Pendleton: a cooperative effort with Marine Corps Base Camp Pendleton, U.S. Navy Third Fleet, CAL FIRE and the San Diego County Sheriff's Department. Participating helicopters included a Marine Medium Helicopter Training Squadron 164 CH-46E, a Marine Heavy Helicopter Squadron 465 CH-53E and a Navy MH-60S from Helicopter Sea Combat Squadron Three. Flying as command and control was a Bell 407 from the San Diego County Sheriffs Department, carrying a CAL FIRE official who directed the firefighting helicopters.
The event underscored the growing partnership between the military and public agencies in the fight against catastrophic wildfires. Said Brig. Gen. Vincent Coglianese, commanding general of MCIW, We have a long relationship with the state and local fire departments. This exercise is extremely important to continue to build on it and get better. Thats what we do as a military. We train for the worst and are able to respond with that training.
Vertical was present for the demonstration; shown here are selected photos from the event.